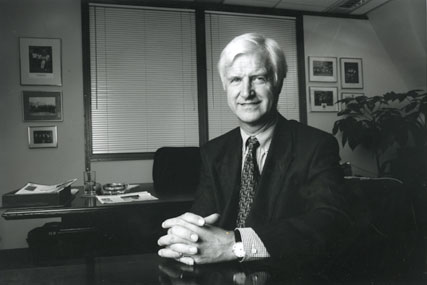 He passed away in a Clapham hospice on Tuesday, having undergone extensive treatment and two operations for a brain tumour first diagnosed in February last year.

Douglas will be best remembered as part of one of adland's most famous and longest running double acts with Graham Hinton.

The pair first met as graduate trainees at SSC&B Lintas in 1969. Their partnership thrived in the mid 80s when they were challenged with stabilising DMB&B, formed by the merger of D'Arcy McManus Masius and Benton & Bowles.

The 1985 marriage provoked a near-fatal haemorrhage of clients. But, as joint chairman, Hinton and Douglas staged such a remarkable turnaround that DM&B was named Campaign's Agency of the Year in 1987.

Douglas began his agency career as a trainee at SSC&B Lintas and joined D'Arcy McManus Masius in 1982.

He and Hinton worked together for a decade at DMB&B until Douglas was ousted in February 1995. Hinton left six months later to become the chairman of Bates Dorland.

After backpacking alone across Australia Douglas returned to become the first person from the private sector to take charge of the COI.

During his two-year spell here he laid the foundations for the commercially orientated organisation that the Government's information arm has now become. That included creating a more dynamic and agency-like structure, and creating new agency rosters for PR and integrated communications.

In September 1998 he returned to the agency world as FCB's European chairman with a brief to bolster the network's operation across the continent in the wake of the collapse of the disastrous agreement between FCB's True North parent and Publicis.

However he lasted little more than a year in the job, having fallen victim to FCB's internal politics and a tidying-up operation prior to a global merger of the FCB and Bozell networks.

Hinton and Douglas revived their partnership in Mav 2000 for a short-lived marketing venture. Since then, Douglas had been working as a marketing consultant until last year.

Hinton said: "Tony was one of the good guys. Even though we were quite different we had complete trust in each other."

Douglas is survived by his wife, Jackie, and their daughters Amy and Laura.
The funeral will take place on Friday 29 October at All Saints Church, Putney Common, at 1pm. Family and close friends are invited. Family flowers only. Donations to Trinity Hospice, Clapham, c/o Ernest Larner, funeral directors (020-8788-2942) A memorial service will take place at a later date.