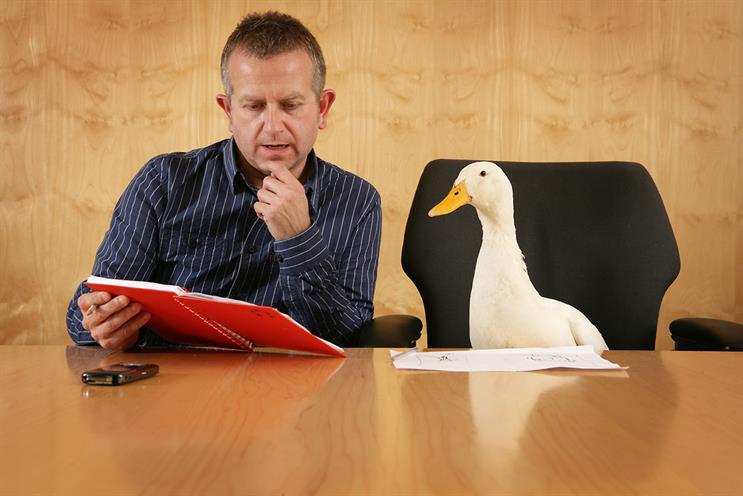 Turns out there's been a serious duckelgänger on which we must report.
The more eagle-eyed readers among you might have experienced a sense of déjà vu when looking at Mother's new global chief executive, Michael Wall, posing with a duck in last week's issue of Campaign.
There's a reason for that. In 2010, Bartle Bogle Hegarty's executive creative director, Nick Gill, also posed with a duck for a piece he wrote about how creativity should be random and surprising.
Obviously, Wall wasn't paying attention. Will a duck or some other feathered friend now replace the staircase as the photographer's prop of choice? Here's hoping Sir Martin Sorrell will trounce them both by appearing with a brace of doves or perhaps some of those grey swans he's always talking about.
Responsible drinking
Fingers crossed for Two Fingers Brewing Company, which is hoping to win a share of the $1 million prize in Chivas Regal's competition to find social entrepreneurs. Two Fingers (pictured, right) was started by seven Karmarama employees, including the founder Dave Buonaguidi, who have all since left and who give their profits from sales of the beer to Prostate Cancer UK. The brewery is the UK finalist in the contest, called The Venture, and will find out if it has been successful on 24 July. The public can vote at www.theventure.com/gb/en.
There's a 'c' in 'Kick'
They say copywriting skills are on the decline. For some, even transcription is a task too far. Vinnie Jones' ad for Kik e-cigarettes on YouTube contains subtitles that read as if they were written by Joey Essex. Errors include misusing "your", spelling "reckon" as "recon" and, worst of all, writing: "There is over 80 flavours." It's like waterboarding for grammar pedants.