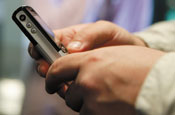 As the company's business development manager, Laurence Aderemi will be responsible for expanding AdMob's global partner network, which currently stands at more than 4,500.
Aderemi was previously the Europe general manager for domain monitisation and syndicated search at Yahoo, where he was responsible for negotiating, establishing and implementing new partnerships.
AdMob has also appointed Katy Reed as account manager for AdMob's advertisers. Both Aderemi and Reed will be based at the company's London office.