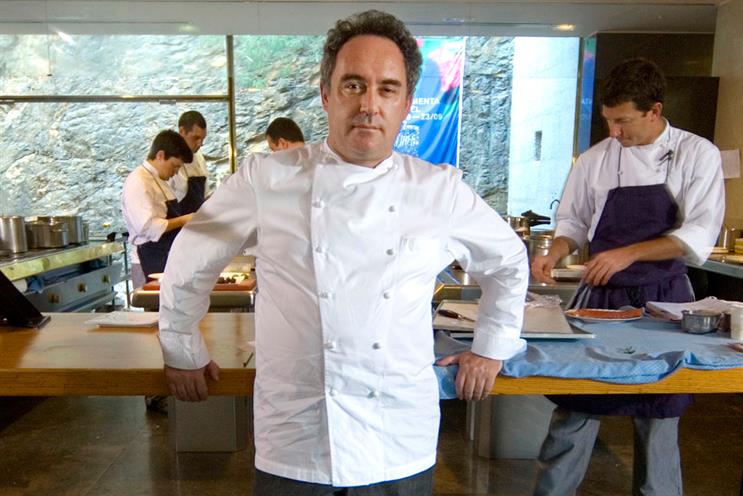 I was once asked: "If you could get anyone to deliver a keynote at Cannes, who would you ask?" The person I have always longed to hear speak is Ferran Adrià, the man I consider to be at the forefront of art, technology and transformation.
I have been fascinated by how Adrià changed elBulli from a decent local restaurant into arguably the most lauded and inventive organisation in the world. Move over, Zuckerberg and Dorsey, the inspiration for a new generation of creative pioneers is a chef, not a chief technology officer. So when an invitation arrived from Wayra, Telefónica's tech start-up accelerator, inviting me to meet him, I cancelled all other plans. This is what he said:
"ElBulli was only ever open six months a year, but that's hardly surprising when you think that we were located on the Costa Brava – tourists simply didn't come here in the winter. For the first 14 years,
elBulli did not make money, but we believed in something and that was what mattered.
"When success came, it was important to make time to reflect and think. So we decided to close at lunchtime. We lost £1 million a year, but it was necessary. When we won our third Michelin star, we got rid of the menu. By 2010, we had two million requests a year for reservations; we had 48 seats. This was the point that we knew we had to change.
"I said that we were going to close and take a three-year sabbatical. No-one believed that we just needed some time out to focus on creativity. No-one understood when we announced a new restaurant and laboratory. They all thought we were crazy. But that is exactly what we are launching in Cap de Creus.
No-one understood when we announced a new restaurant and laboratory. They all thought we were crazy" Ferran Adrià
"The space will be utterly flexible. Like a film set, you're meant to move things and change it. We don't want anyone to fall into routine; we'll do little things like change the pencils that we use every year. Never be too comfortable, always think new. We will have three distinct spaces – one for reflection, one for brainstorming and one for work-sharing, and we will invite 'agitators' from other disciplines to give us their point of view. This is about creating dialogue.
"We want to create the most ef-ficient environment possible. Just because you are creative, it's not like you have any divine right – you still have to be efficient. We all take out the trash, we all clean the kitchen and we are all creative. We are also efficient. I want to think about how best people work – are you more efficient if you work five days and then have two days off, or are you better working ten days and then having four? Are you better in mornings or evenings? In a group or solo? We need to think about how we work.
"We are also building Bullipedia as an online resource where you can learn with precision, accumulate knowledge and get inspired. Think of it like a curated search engine; I think of it like a neat and tidy cupboard with lots of drawers.
"Telefónica is my technology partner, but the site will not be sponsored by brands, as we want creative freedom and I want to make the decisions. People will pay for it, but we are working out the payment model. It's not fair that a young chef pays the same as a large corporation. It has to be economically viable – that's what the internet revolution is about. We have to make money. The solution is not about giving everything away."

Amelia Torode is the head of innovation and venture strategy at Chime Communications