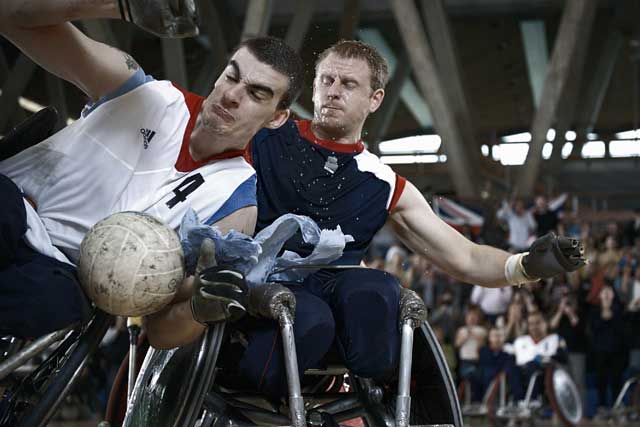 So, we're off again. Wednesday night's Paralympic opening ceremony, starring Professor Stephen Hawking, kicked off an event that isn't just an afterthought but an important phenomenon in its own right. It will, some say, not only reignite the national feel-good factor that first sputtered to life as the torch bearers carried the Olympic flame to London back in July, but will also stir different and more subtle emotions too.
And from a marketing point of view, the big difference between the Olympic Games and the Paralympics is the fact that the former was televised by the BBC, whereas the latter is a commercial television proposition. Channel 4 plans to show more than 500 hours of live coverage between now and the closing ceremony on 9 September.
If ratings are any good, that will add up to a decent amount of spot advertising inventory, some of which may prove rather desirable.
And, of course, if there's widespread public interest, commercially funded news channels (both onand offline) can also expect to benefit. For instance, many newspapers (echoing their coverage of the main Games) will be offering tailored sections designed to snare not just readers but advertisers too.
However, assessing the commercial pulling power of the Paralympics on a big-picture basis will prove difficult, because many sponsorship and outdoor ad packages covered the period of both the Olympic and Paralympic Games.
And, though there's evidence that the outdoor market is currently buoyant, that has little to do with the Paralympics. In fact, according to contractors and outdoor specialists, the advertisers currently active in outdoor are actually implementing "post-Olympics" strategies.
1. The 2012 event is being portrayed in some quarters as a landmark moment for the Paralympics. Sceptics suggest otherwise. They point out that it's still not regarded as an event with international pulling power. NBC in the US, for instance, will run only a few highlights shows. Ticket sales have been impressive - by mid-August, 2.2 million of the 2.5 million total had been sold, easily outstripping the 1.8 million total in Beijing - but some observers believe people are interested in "experiencing the venues" rather than in the sports themselves. Some media planners predict that UK television viewing interest will start reasonably high but then tail off rather rapidly.
2. Paralympic Games partners include Coca-Cola, Lloyds TSB, EDF Energy and Sainsbury's, which is the first high-profile consumer company to sign up as a Paralympics-only sponsor.
3. Sainsbury's has been working with Channel 4 since 2010, when the broadcaster won the Paralympic TV rights. It has run three series (30 executions) of 90-second Paralympic-themed films, and it carried coverage of a live branded music event in support of the Games, Sainsbury's Super Saturday, in Clapham Common in September 2011. The broadcaster and Sainsbury's have also created a blind football game for Channel 4's website.
4. The Channel 4 Paralympic coverage has two broadcast sponsors: Sainsbury's and BT.
5. Channel 4 has been selling commercial access to its Paralympic coverage in mixed packages of eight to ten spots across daytime and peaktime. The opening and closing ceremonies have been highly demanded; and although, as of last week, there was still some availability against other events, the sales director, Jonathan Allan, said he was "pretty pleased" with uptake across a broad range of blue-chip advertisers.
6. Like-for-like comparison is difficult, because BBC coverage of the 2008 Games leaned heavily towards highlights packages. But the general trend in UK TV viewing across the last three Paralympics has been upwards, and Channel 4 believes it can attract double the audience levels achieved by the BBC at the 2008 event, which is believed to have attracted an average viewing level of 1.82 million across all coverage.
7. Telegraph Media Group has arguably been the event's most enthusiastic supporter in the print sector. The Sunday Telegraph has produced a series of BT-sponsored Sports Life supplements geared towards the Paralympics; and The Daily Telegraph's preview section this week was sponsored by Channel 4. The papers will have a separate Paralympic section every day over the Games.
WHAT IT MEANS FOR ...
Channel 4
- Senior managers at the broadcaster believe this to be the biggest event in Channel 4's history. If you believe that the broadcaster's image was eventually tarnished across the noughties by its association with the reality TV show Big Brother, then this is the perfect antidote.
- Channel 4's sales director, Jonathan Allan, has described the event as "not a commercial endeavour" and more to do with "brand and remit". It ticks all the right boxes for a broadcaster originally mandated to serve minority tastes in a progressive and enlightened manner. So that's all good.
The media marketplace
- The TV market, in particular, needs all the help it can get this autumn - and newspaper brands will also be doing their best to make this feel like an event with momentum behind it, while helping to maintain a national feel-good factor.
Advertisers
- The marketing community would dearly love the main Olympic Games to be carried by a commercial broadcaster. It's not going to happen any time soon, as the BBC has already tied up rights for the next two summer Games - though, with BBC funding still a big political issue, shared coverage may become a reality sooner than you think.
- But you can't really argue that this is a rehearsal for an across-the-board commercial TV Olympics. Some advertisers clearly see it as a next best thing, however.
- Interestingly, though, media agencies say that, while they're prepared to gamble some money upfront on the Paralympics, they're sceptical about whether genuine levels of interest will be maintained and are holding some money back. Next week could be an interesting one in the airtime market.