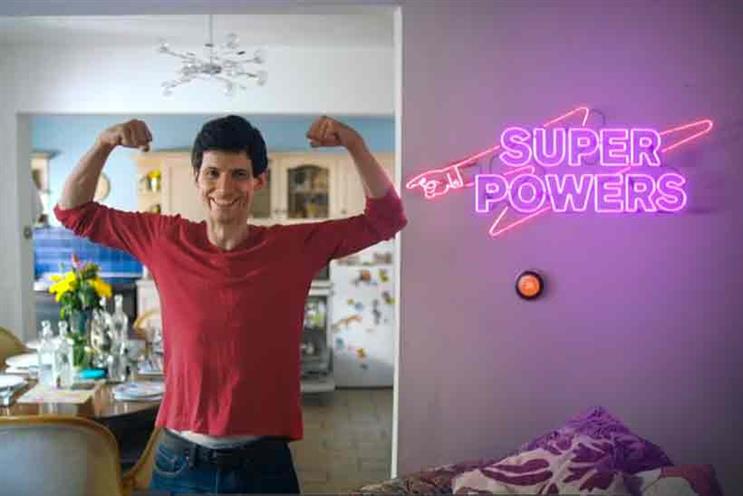 It used to be that characters such as Kenny, who can tell you the day of the week of any date in history, or Sam from Wimbledon, who likes to juggle with some of the contents from his kitchen, were confined to Britain's Got Talent.
Or a "fly on the wall" look at how a family in Blackpool are confronting today's high-tech challenges would probably have made it on to BBC Two.
Not any more. This kind of entertainment is now to be found just as commonly in the ad breaks as in the programming as advertisers clamour for a greater emotional connection with consumers.
And what more credible connection could there be, they ask, than having ordinary people helping to promote their products through just being themselves on screen?
Which is why Kenny and Sam are integral to Npower's "Super powers" ad by FCB Inferno. It's also why CHI & Partners went beyond the so-called "London media bubble" to film "authentic" family moments for TalkTalk's "This stuff matters".
While what's happening isn't new (Ogilvy & Mather's "Real beauty" campaign for Dove broke in 2004), this kind of "amateur night" approach to much TV advertising has never been more popular.
This year has seen Nationwide launch a series of ads showcasing poets speaking about everything from being a mum to owning a home. "Sometimes advertising is at its most effective when the hand of the client and agency can be least detected," Jim Thornton, deputy executive creative director at VCCP, which created the campaign, says.
Charities, too, have latched on to the advantage of using real people in a fiercely competitive sector. Among them is Cancer Research UK. Its agency, Anomaly, drafted in The Garden, the TV production company behind 24 Hours in A&E, to showcase stories of cancer patients getting their diagnosis and test results and undergoing treatment.
Some suggest the move towards using real people in ads is down to money. In a period of economic
uncertainty, this kind of advertising is cheap to produce. At the same time, major advertisers are
increasingly reluctant to sign a big-money deal with a celebrity, only to have their brand damaged if that celebrity becomes mired in scandal.
Others believe it is more likely a response to a time when multiple screens and video-on-demand are making it harder for brands to engage with consumers. So to be effective means building an emotional connection. And what better advocate for your brand is there than a real person – rather than a hired celebrity – using your product?
Moreover, the effect of using real people can extend well beyond a TV campaign by sparking conversations across social media.
At least that's the theory. In practice, the danger is that these campaigns will become too ubiquitous to be memorable.
"The ad industry doesn't admire these kinds of campaigns," a leading agency creative chief says. "Putting a group of ordinary people together and filming them isn't necessarily a creative idea. It's just far too easy to do. While this strategy may have some legs left in it, I think it will only last as long as people don't become bored with it."
---
Marketer
Roisin Donnelly
Non-executive director, Just Eat;
former brand director for northern Europe, Procter & Gamble
"It's never been more important for brands to win consumers' trust, and using real people in ads is a very good way of doing this.
"Also, people don't much like celebrities in ads and are mistrustful
of them because they are paid to endorse products.
"Using real people will be a continuing trend, particularly as we enter a period of economic uncertainty.
"However, it won't work if you just pull in members of the public and get them to tell their stories. The brief has to be just as tight as for any other campaign."
---
Consultant
Mhairi McEwan
Group chief executive, Brand Learning
"By using real people in their TV advertising, brands are mirroring what's happening on social media, where conversations between consumers are almost as professional as those taking place between advertisers and consumers. "It's all part of a social trend in which there's increasing emphasis on authenticity. "It's difficult to know whether this is something that's here to stay but I think this attention being paid to the way people act and behave will continue for some time. "Also, the celebrity cult has lost its glitter because it runs counter to the desire for authenticity, transparency and integrity from brands"
---
Marketer
Jonathan Mildenhall
Chief marketing officer, Airbnb
"When I first joined Coca-Cola, one of the conclusions we reached was that our advertising was becoming less relevant to millennials because they could see right through the marketing. "So for the London Olympics, we began bringing a greater sense of authenticity to our activities because there are now very few consumers who like being advertised to. "At Airbnb, every 'host' and 'traveller' who appears in our advertising is real. "Nevertheless, there are lots of US ads featuring real people that are turning off millennials. Without a really innovative creative idea, you just end up with wallpaper. "
---
Creative
Russell Ramsey
Executive creative director, J Walter Thompson London
"This is a trend born out of brands rushing to make themselves feel authentic. However, I don't think the strategy is as effective as it should be because so many of the ads are interchangeable and people are becoming bored with them. "A good example is the McCain advertising using real families. The advertising isn't as good as what the company was running three years ago and looks like a step backwards. "What's more, this advertising is restricted to a limited number of product sectors. "I said some time ago that this kind of advertising will never win awards. I still believe it."