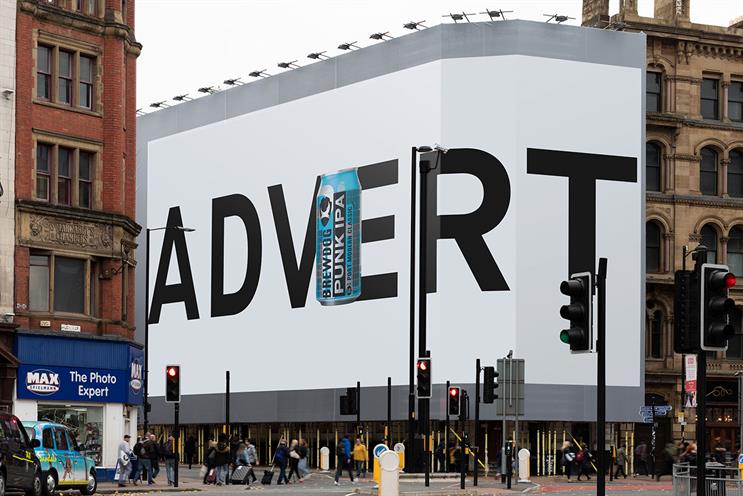 Bold claims will always invite the loudest critics, as BrewDog showed again last week with its campaign purporting to be "the most honest ad ever". The brand released a TV spot, by Uncommon Creative Studio, which simply displayed the BrewDog beer can with a white screen and the word "advert" in capital letters, accompanied by a metal track. Its outdoor executions took the same minimalist approach, with a bus ad reading: "Advert on a bus."
The response to the campaign was divisive. While some praised the work for its simplicity, critics – including Campaign's Simon Gwynn in Turkey of the Week – argued that the so-called "honest" ad was nothing of the sort, since BrewDog has relied just as heavily as others on building its brand through marketing and advertising tactics.
"While this new work from Uncommon Creative Studio purports to strip away the trappings of advertising, it actually does the opposite: it's throbbing with implied messages that ring false," Gwynn wrote.
BrewDog's idea to get real about the fact that it is selling product is not an original one. In 2015, Oasis took a blunt approach in ads by The Corner that read: "It's summer. You're thirsty. We've got sales targets." Last year, a campaign for protein bar RXBAR, created by Wieden & Kennedy Portland, included lines such as: "A really, really big poster."
In a press release about the campaign, BrewDog said it was speaking to the advertising cynics who distrust marketing and "know brands make outrageous promises to win your attention" with "lame jokes, generic casting and bullshit social scenarios".
This is an audience that Uncommon co-founder Nils Leonard has spoken about often and the basis on which he has built his own agency. "People are paying money to avoid what we spend our lives making," he wrote in Campaign last year. "Three-quarters of brands could disappear from the face of the earth and no-one would care."
Undoubtedly, this is a powerful truth that more advertisers are waking up to. It is why so many marketers have ventured into "branded entertainment", seeking to grab attention with content as captivating as a Netflix series. Yet, at the end of the day, every advertiser's job is still to sell their brand. Consumers are savvy enough to know that. So perhaps it wasn't BrewDog's radical honesty that won over some fans, but a tried-and-tested advertising approach: employ a creative idea that can stand out from the noise.
But should ads be more honest about selling?
David Kolbusz
Chief creative officer, Droga5 London
Usually, I avoid doing Question of the Week because they're never black and white. Also I tend to overthink everything, so the discipline of sticking to 100 words strikes fear in my heart. But this one was easy. It's an ad. This reminds me of that interminable scene in Heat where for seven long minutes Robert De Niro and Al Pacino talk about how one of them is a criminal and the other is a cop and that's just the game. One's job is to break the law and the other is to apprehend him. They both understand their respective roles and the consequences of their actions. Similarly, advertising is part of the social contract. It's been around long enough that if you don't understand that they're designed to sell, more fool you.
Neil Christie
Chief executive, Wieden & Kennedy London
There's an implication in the question that ads are somehow dishonest if they don't explicitly say: "Buy this product!" This is not an issue. People are perfectly capable of recognising an ad. They see thousands of them every day, so by now they have learned how to identify, block, skip, ignore and avoid. I'm all in favour of honesty in advertising. But, in addition, we should be using wit, intelligence, charm, intrigue, provocation and whatever other wiles to make our messages more welcome and persuasive. The issue isn't that ads need to be more honest about selling. They need to be less shit.
Rania Robinson
Chief executive and managing partner, Quiet Storm
One of the most brilliant and memorable moments of the film The Invention of Lying is the real advertisement of Coca-Cola. I don't know if Coke had anything to do with it, but it made me like them so much more. The film's set in a world where lying had not been invented. Meaning ads were not only honest they were selling, but really honest about what they were selling. In Coca-Cola's case: "Basically, just brown sugar water… very high in sugar… lots of calories… and a polar bear on the can so the kids like us." Genius!
Richard Huntington
Chairman and chief strategy officer, Saatchi & Saatchi London
Whatever agency people think the role of advertising might be, consumer expectations are that all advertising has something to sell. Ads shouldn't be more honest about selling; we need to be more honest with ourselves that our job is to sell. And cut the pretence that we are here to help brands give lovely warm hugs to people so they like them more. I'm with David Ogilvy on this one: "We sell or else."