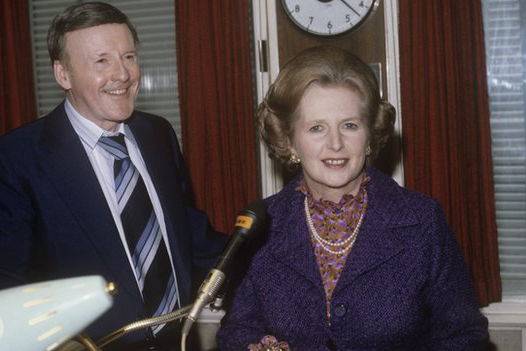 1. Thatcher wanted the BBC to carry ads
Margaret Thatcher considered allowing advertising on the BBC shortly after she became Prime Minister in 1979.
The controversial proposal was revealed in files released by the National Archives.
Thatcher suggested the move when the broadcaster had a deficit of £50 million.
She was met with opposition from her press secretary Bernard Ingham and the Home Secretary Willie Whitelaw and eventually decided against it in the short term.
2. The Honey Monster is not so good after all
The breakfast cereal Sugar Puffs, owned by Halo Foods, has been banned from claiming it contains "honey goodness" by the Advertising Standards Authority.
An ad on the cereal's website used the line: "Yummy honey goodness for a monsterfied breakfast."
But the Children's Food Campaign argued there was no evidence to back up this health claim as honey behaves the same way as sugar once in the body.
The brand owner, Halo Foods, argued it had increased the amount of honey in the product while reducing the amount of sugar as part of a relaunch.
The ASA said the claim was not accompanied by a specific authorised health claim and ruled it must not appear again in its current form.
3. Apple accused of false advertising
Apple is facing a lawsuit after being accused of falsely advertising the storage capacity available in its iPhones, iPads and iPods.
The lawsuit, filed in California, said Apple's new operating system required huge amounts of data storage to run.
"In reality, nothing close to the advertised capacity of the Devices is available to end users. Indeed, the discrepancy between advertised and available capacity is substantial and beyond any possible reasonable expectation," the plaintiffs' attorney Jonas Mann wrote in a court filing.
4. "When the fun stops, stop", new responsible gambling message launches
All advertising from the members of The Senet Group, the new body for the gambling industry, will now include prominent warnings about the dangers of gambling.
The message "When the fun stops, stop" will appear on all forms of advertising from the body's members: William Hill, Ladbrokes, Coral and Paddy Power.
The advice site gambleaware.co.uk will also feature more prominently in the new straplines.
Later in January, the body will launch a broader campaign to promote responsible gambling including a TV and radio advertising campaign. The Corner will create the campaign.
5. Hacked Off is told off
An ad for the campaign group Hacked Off has been banned by the ASA for misleading consumers about the nature of Lord Leveson's involvement in the royal charter on press regulation.
A national press ad from the group featured a number of names and said: "What do all these people have in common? The Leveson Royal Charter Declaration."
The ASA said that the information was "ambiguous" and that Hacked Off should ensure future ads make it clear that Leveson had not proposed, recommended, written or endorsed the royal charter.