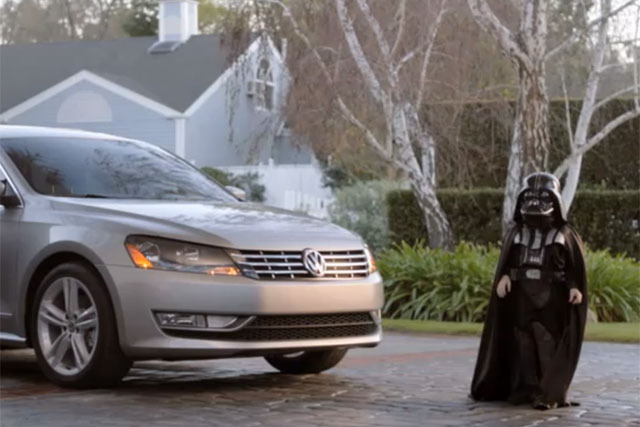 Unruly Media's annual list is led by Deutsch USA's 'The Force' ad for Volkswagen, featuring a mini Darth Vader, which has racked up a massive 4.8 million shares across social networks since it hit the web.
The ad was seeded online before being shown during the Super Bowl in the US, and was also shown on UK television.
It has been shared in over 4.5 million Facebook updates, 170,000 tweets and just under 3,000 blog posts. It has been viewed more than 46 million times.
Sarah Wood, the founder of Unruly Media, said sharing content was now much more popular than last year: "There was a 20% increase in the number of views the top 20 attracted, to 240 million, but a fivefold increase in the number of shares they attracted to 25 million."
The highest-placed film from the UK was Saatchi & Saatchi's 'The T-Mobile Royal Wedding' with 1.74 million shares in fourth place – narrowly beaten by Saatchis' Italian office with another effort for T-Mobile, 'Angry Birds Live'.
The longest piece of content, at a whopping nine minutes, was the second-placed DC Shoes in-house creation, 'Hollywood Megamercial'.
The chart ranked ads according to the number of times they have been shared on Facebook, Twitter and the blogosphere.
See the weekly Campaign Viral advert charts produced in conjunction with Unruly.
1. Volkswagen 'the force' by Deutsch USA
4,774,889 shares
2. DC Shoes 'Hollywood megamercial' made in-house
2,071,900 shares
3. T-Mobile 'Angry Birds live' by Saatchi & Saatchi Italy
1,814,926 shares
4. T-Mobile 'royal wedding' by Saatchi & Saatchi
1,736,800 shares
5. Kia 'party rock anthem' by David & Goliath USA
1,458,180 shares
6. 20th Century Fox 'apes will rise' by Mekanism San Francisco
1,149,733 shares
7. David Cornfield Melanoma Fund 'dear 16-year-old me' by Evidently
1,125,028 shares
8. Activision 'Modern Warfare 3 reveal trailer' by Ant Farm
1,070,049 shares
9. Nissan 'poneis malditos' by Lew'Lara\TBWA
966,674 shares
10. Nestle 'ma contrexperience' by Marcel Paris
991,080 shares
11. Activision 'the vet & the n00b' by 72andSunny
978,963 shares
12. Carlsberg 'bikers in the cinema' by Duval Guillaume Modem
946,302 shares
13. Ojai Valley 'taxidermy' Rhett & Link
869,109 shares
14. Red Bull 'the art of flight' by BETC
874,018 shares
15. McDonald's 'BFGF' by Leo Burnett
757,301 shares
16. Channel 4 'industrial revolutions' by Cut Media
710,024 shares
17. Trace Urban 'the most amazing beatbox video ever' by DDB Paris
726,768 shares
18. Pepsi 'unbelieveable' by TBWA/Chiat Day LA
551,041 shares
19. Samsung 'unleash your fingers' by Heaven
557,499 shares
20. Westfield Stratford City '100 years' by The Viral Factory
536,888 shares