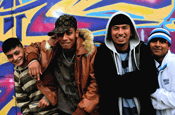 "Yeah but no but yeah but ..." may be Vicky Pollard's nonsensical response to any question thrown her way on TV's Little Britain but, as advertisers line up to target teens, it seems that communicating to them is as complicated and confusing as understanding the Kappa-clad uber chav.
One thing that is clear is that teenagers are a huge audience for advertisers. If it's not tackling knife crime, binge drinking, drug abuse or sexually transmitted diseases, then the food giants, sport brands and game retailers are knocking hard on youth's door.
Over the last month, this activity has become even more intense with a number of pitches kicking off aimed directly at teens, as well as anti-knife crime work for Tower Hamlets Borough Council, the Home Office and Channel 4.
It is widely accepted among media industry heads that the key to communicating with this age group is to have grounded insights into how they tick. But this is where the problem begins, Damon Collins, the executive creative director at Rainey Kelly Campbell Roalfe/Y&R, believes.
"The complication with teenagers is that those seven years cover such a broad spectrum of emotional development that it is impossible to pigeon-hole them. And because they are constantly changing and developing as people, so are their tastes and opinions," he says.
"The issue for advertisers is to pinpoint exactly what they are into at any given time. If we get it wrong the results could be disastrous; we are talking to probably the most unforgiving audience."
Another obvious rule of thumb is to avoid patronising, boring or lecturing your audience.
But Geoffrey Goodwin, the head of BBC Switch, the broadcaster's new TV, radio and online brand aimed at UK teenagers, says there are paradoxes with this age group that further complicate the issue.
He argues that although teens can consume more media channels simultaneously than adults, it does not necessarily mean they all have the money to buy a computer, iPod or WAP mobile handset.
"We shouldn't assume we need to innovate for its own sake in order to reach teens, but at the same time we should remember that teens get distracted easily and need to be engaged in a potent way. Teens like randomness, but also need to easily navigate content," Goodwin says.
"TV is important, but advertisers need to move beyond a traditional heavyweight broadcast campaign; it will increasingly result in wastage. TV is not the definitive place to speak to this audience anymore."
However, Bridget Angear, the joint head of planning at Abbott Mead Vickers BBDO, believes the power of TV should not be forgotten: "It is an important symbol: if it's on TV, it's seen as a big brand."
Another important tool is comedy and Chris Clough, a producer of E4's TV drama Skins, which deals directly with issues such as sex and drugs, believes that advertisers are not using this enough.
"Young people enjoy and are very knowledgeable about comedy and this is a vital ingredient to getting any message across to a young audience," he says.
Bearing this in mind, it is easy to see why agencies and clients are often wary of trying to reach this market. But, as the recent spate of ads and pitches shows, it is an audience that is becoming more important so the way they are targeted must be taken extremely seriously.
CREATIVE - Damon Collins, executive creative director, Rainey Kelly Campbell Roalfe/Y&R
"Teenagers aren't a different species, they're just people who are, technically at least, no longer children and not quite adults. They are by definition cynical, rebelling against whatever they can, and so take pleasure in ignoring advertisers' messages to them.
"That said, advertising to them needs the same approach as every other target audience: talk to them about stuff they're interested in, in ways that appeal to them.
"Because of this we created our Youth Think Tank to work with teenagers, not only to mine for insights, but to collaborate with them to create work guaranteed to be talking to them in ways that won't turn them off."
TV PRODUCER - Chris Clough, producer, E4's Skins
"You must treat teenagers as adults: don't talk down to them, don't patronise and be honest.
"We give our characters proper emotions and emotional dilemmas as though they were in adult relationships.
"We've got the youngest writers in the business. We also invite teenagers into the writing room to comment on scripts and storylines so it emanates from a teenage base.
"I think people underestimate teenagers a lot. In the media, teenagers are always drunk, wearing hoodies, abusing drugs and shagging each other senseless. The media damns them all with a large brush of huge disservice and paints a bleak picture of a very creative generation."
PLANNER - Bridget Angear, joint planning head, Abbott Mead Vickers BBDO
"A good analogy is the way that really good teachers get to students by not trying to be a teenager but by finding a way to communicate the thing they know well in a language that sparks their imagination.
"You've got to know your audience really well but you need to be the expert on what you're inspiring them to be and work out the kind of conversation you can have with them.
"They have a cynical view of the communication world and you've got to find a way to avoid that first reaction. For that peer group, fitting in is still important. You want shared experiences to talk about, and I'm sure that Cadbury's 'gorilla' was one of those."
BROADCASTER - Geoffrey Goodwin, head, BBC Switch
"We have tried to communicate to our teen audience in a way that is authentic, fun and aspirational. We've worked hard to really get to know this audience and the insights we have collected are at the heart of everything we do.
"It is vital to break down your brand's story into small chunks and distribute these through the right channels, which are increasingly digital.
"But above all, your brand message needs to be potent so it can add value to the audience's lives: brands need to create social currency that gives both them and their audience social currency in the playground, park or on the backseat on the bus."