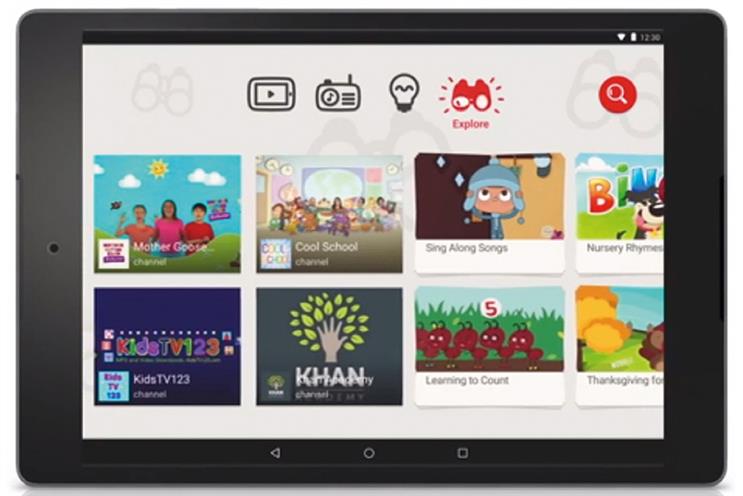 Parents have given the thumbs up to the new ad-funded YouTube Kids. The app, with filtered content, addresses concerns about children being able to access darker content on YouTube. But will kids take to it? And what opportunities does it offer to advertisers?
Launched in the US last week, the app is expected to come to the UK. The roll-out is being touted as a milestone for YouTube and highlights the increasing segmentation in social media.
"This is the first step towards reimagining YouTube for families but, with your help, the app will continue to get better over time," the platform's group product manager, Shimrit Ben-Yair, writes in a blog.
The app appears to be aimed at preschoolers and has been welcomed by The Children's Media Foundation in the UK for protecting kids from harmful videos. But the CMF is concerned about older children who are more at risk of viewing distressing content online. Some wonder if there could be more curated apps targeted at other ages on the way as the platform segments its audiences.
With four categories – shows, music, learning and explore – Kids features content from the likes of Sesame Street, Thomas The Tank Engine and Khan Academy.
Parents can limit viewing via a timer function and block searches. YouTube has opted for a limited ad model for the launch – a controversial move given the age of many users.
But there are rigorous restrictions in place. No ads for food or drink – whatever their nutritional profile – or beauty and fitness products. The guidelines also prohibit "promotions and content that incite children to purchase a product or service or to urge parents or others to buy the item". All advertising – which includes skippable 60-second and non-skippable 30-second pre-rolls – is vetted by YouTube's policy team.
Jordan Stone, the strategy director at We Are Social, thinks there could be great opportunities for brands to link up with educational and entertainment content through native advertising and sponsorship.
"I'm looking at advertisers being smart about the responsibility they would have with children of this age range," he says. "Parents are using YouTube to help their children learn and better themselves – that's an opportunity I'd love to see brands explore."
Richard Oliver, the managing director at Magna Global UK, says Kids is "another event that chips away at the landscape" for TV channels as children turn to tablets, PCs and mobiles for gaming and content. He points to Barb figures that show commercial TV impacts for children declined 7 per cent year on year in 2014 – a steeper decline than other categories.
But Oliver thinks brands could still benefit from TV: "Kids TV is pretty cheap, they do a good job of collecting lots of kids viewing in one place." By comparison, YouTube can seem expensive for brands.
Success of the app is by no means assured, James Kirkham, the global head of social and mobile at Leo Burnett, warns. "Children have an uncanny ability to surprise with their behaviours and media habits," he says. "For all the reasons why this new app should be a match made in heaven, our kids might decide that it is not for them."