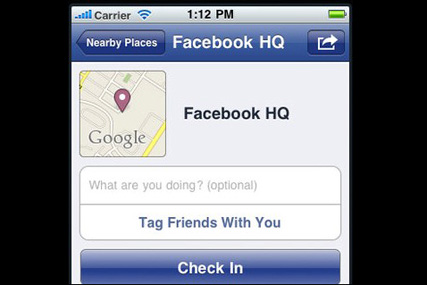 A number of agencies have confirmed they are already in discussions with advertisers about the potential opportunities surrounding the location-based social networking app, even before its official launch in the US last week.

In the UK, Facebook has 26 million 'active users', meaning people who have logged into the site within the last month.
The launch of the app could unleash the ability to target people based on where they are and what they are doing, opening the door to many types of promotional marketing opportunities, especially for high street food and lifestyle brands.

John Paul Edwards, executive director, futures, at Manning Gottlieb OMD, described Facebook Places as a "Foursquare-lite" but said it had the potential to make a far bigger splash than its established rival.

"Foursquare is for cool early adopters but Facebook is very good at taking ideas to the mass market and it will do this with Places," he said.
He added it will be a useful tool for brands as they will be able access trend data about location and activity.
Last week, a Facebook spokesperson claimed there were currently no plans to work with brands to offer deals at check-in locations, describing the service purely as a way for users to let their friends know where they are located and what they are doing.

Today, the social network's stance already appeared to be softening, when a spokesperson said: "The user experience is paramount, we'll definitely consider working with marketers on interesting features for the future."

Edwards, along with many in the advertising business, said he would be "surprised" if Facebook does not enable brands to develop commercial messages for the app soon.
Adam Field, head of social media at MPG, believes the step change Facebook's new geo-tagging app could bring should not be underestimated.

He foresees Facebook Places being propelled virally as a brand through its day to day use, and believes any brands associated with it could find an exciting new platform.
"Location gaming is important to brands at the moment because users are engaging on the move and in real time," he said. "We are excited about it and hoping brands will embrace it and reward users."
No date has been given as to when Places will launch in the UK but Andy Kinsella, innovation director at Glue Isobar, also expects it to be hugely popular when it does.

"It will be massive and eventually we will get all the nice bits of Foursquare, such as check in location data, feedback, competitions, redemption, vouchers, loyalty schemes and social gaming, but with the 500 million users of Facebook," he said.
He said that it is "early days" to know exactly how Glue Isobar will be using Places in future campaigns, but it is preparing decks to use with suitable clients.
Ian Crocombe, planning director at AKQA, said that Facebook Places itself is not particularly interesting, but its 500 million users and open API is.
"Social media was purely the domain of pure digital campaigns. Facebook Places will increase the need for joined up digital and offline campaigns as the need to establish digital presence offline increases." He added: "The ability to 'like' a location in the physical world means there will be no distinction between digital and real worlds."
There has been speculation about when the location based app would be launched since Mark Zuckerberg announced plans at the International Ad Festival in Cannes in June.
Today, Facebook further strengthened its positioning in location based social media networking with its
acquisition of local-based social networking site shop Hot Potato
.