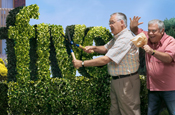 As Campaign went to press, Five had not agreed a deal with VivaKi, the trading unit that represents Starcom MediaVest Group and ZenithOptimedia, and major advertisers such as O2, Procter & Gamble and L'Oréal.

Five also faced difficulties concluding a deal with Opera, the Omnicom trading unit, which had led to advertisers pulling off Five.

However, an agreement reached on Wed-nesday is expected to see a return of OMD and PHD clients to the broadcaster.

Sources indicated that attempts by Five to maximise the share of its main channel had led to prolonged negotiations.

One issue is that audience gains achieved last year by Five's acquired show Neighbours are no longer a factor in its favour.

Other broadcasters are thought to have concluded their deals with agencies but discussions are said to have been more heated than usual after Sky entered the trading season in particularly bullish mood, demanding greater levels of share following the return of its channels to the Virgin Media platform.

This in turn put greater pressure on rival sales houses to justify their positions.

One sales director said: "Advertisers are holding out for greater value and we're moving from a traditional situation where everybody trades with everybody to one where it is possible for agencies not to trade with somebody."

Sources predicted that total TV revenues for January could be down by between 12 and 15 per cent year on year.

ITV's revenues are expected to reflect the market, but the sources said that revenue was holding up better for Channel 4, which is expected to be just 5 per cent down.