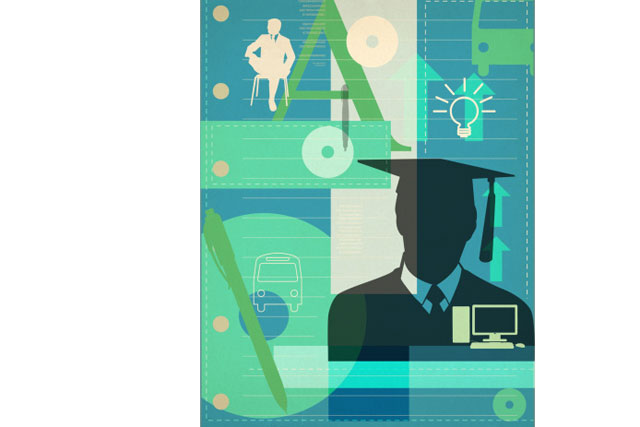 Here, four graduates describe a selection of the courses available to the next generation of adlanders.
Finding a job is a tough challenge these days. Finding one in the ad industry is even tougher. And getting a degree is just the start. Adland's grads face years of training once they've got their feet under the desk, and the industry is all the better for this sort of continuing development.
Of course, how much training new recruits get exposed to depends both on the company they've joined and how motivated they are themselves to pursue after-hours learning. And with many agencies feeling under- resourced, grads are often piled with work and responsibilities from the get-go. That's a great way to learn on the job, but isn't necessarily conducive to a thorough and broad introduction to the long-term demands of their role.
Some agencies are better than others at offering bespoke in-house training. And while some encourage staff to take up as much external learning as possible, others do little to inspire their young staff to keep broadening and deepening their skills.
Then there's the question of exactly how best to train people in account management, say, or planning - business-critical disciplines that aren't always given enough thought when it comes to nurturing the next generation of departmental leaders.
On top of all of this, there is a dazzling array of courses on offer, but it's not easy to understand how they compare and know whether topping up with an external training programme is preferable to taking an agency's own internal course.
Or perhaps you should just put your social life on hold for a couple of years and try to squeeze in as much training, on and off the job, as you possibly can.
We asked four grads who have tried a range of industry courses what they took out of their experiences and how they feel better-equipped to face a successful future in advertising.
OGILVY & MATHER'S PLANNING FELLOWSHIP
Laurie Hills, planning fellow, Ogilvy & Mather UK
Having won a place on Ogilvy's inaugural Planning Fellowship last year, I entered advertising with a confidence that years of education had equipped me with an intelligence that could stand up to any challenge. Only a few weeks into my first placement, I realised my initial arrogance could not have been more misplaced, and left the office miserable and angry for missing my first-ever deadline.
On the bus home that evening, I realised two things. First, a broken promise is as good as a lie. Second, whatever the secret to being a great planner is, it is not fearsome intellect alone but something altogether more demanding. Cleverness in the ad industry is only a means to an end, and that end is not a great brief but brilliant creative work. I also realised that the pace of this world does not afford you the luxury to learn, and then do. Rather, by doing, you learn.
But the real reason lies in the smaller moments: from the flush of blind panic when you're asked to write a brief for the launch of a self-foaming cleanser in Japan, to being on the verge of tears because a creative director has looked at you with a face that says: "Is that it?" It is these moments that reveal what Ogilvy has given me: the freedom to fail. And by virtue of that freedom, I have, in fact, been given the best possible chance of success.
This was brought home to me recently during a strategic presentation to a client in the midst of a rebrand. I got the distinct impression I was being thrown in at the deep end when I was tasked with writing the strategic set-up and positioning territories.
I recalled the advice I'd previously been given: "You're being paid to have an opinion, so you better start having one." I went for a walk and came back to write what I thought. It was a point of view, as opposed to "the answer", but it was formed by distilling all that I knew and making a leap of faith to what I believed the solution to be. Obvious, perhaps, but when 18 years of education have rewarded you for expressing complex ideas in complex ways, it takes a degree of bravery to communicate simply.
As I looked around the room during that meeting, I realised in that moment that planning is not an occupation at all, but a preoccupation for life. But, ultimately, I've learnt it's not a planner's job to add more weight to our data-rich, content-heavy world. The real challenge is to lighten it, and cut through to the absolute core of what matters.
JWT'S PROJECT MANAGEMENT GRAD SCHEME
Emma White, graduate project manager, JWT London
To say this year has been varied is an understatement.
I have had five roles in the 12 months since I stepped through the doors of JWT London as a graduate on the agency's inaugural Project Management Graduate Scheme. My experiences have ranged from timing plans, spending three months at Google, producing a client Christmas show and creative reviews. Yet, while life at JWT is dynamic, challenging and fun, there is the inextricable sense that we are on the precipice of an industry shift.
With courses such as Squared (see page 23) that I was lucky enough to go on (three months of digital training based at Google, where the mission statement was "to empower the next generation of leaders to drive the industry (r)evolution"), it seems the immediacy of change is more powerfully felt than before.
The sense of empowering ourselves for the future is increasingly prevalent and I do not believe that I would be better-positioned anywhere else than I am as a project manager. As our industry and campaigns become increasingly channel-neutral, so must we. As new talent and new skills are required within the agency offering, so the individual must be able to speak the language of these technologies and talents.
To date, I have worked on projects that span digital, mobile, print and video. I feel more equipped and empowered (there's that word again) all the time to lead more and more projects. I am still yet to experience the life of a producer within the TV department or JWT Live (experiential) here at JWT - those six-month placements are coming up next and will complete my two-year training programme covering all key channels at JWT.
Anyone in advertising needs to constantly adapt to their ever-changing environment, but I believe project management is where this change will be most keenly felt. As the lines of project management become ever-more blurred, we need to push ourselves outside a list of roles and responsibilities to find skills elsewhere and open up our doors to new opportunities. Squared was one of the doors that opened to me, as was my current role of mobile producer.
With such schemes and companies recognising the importance of wider skills, I feel confident about my role in an industry that is embarking on one of its most exciting times yet.
SCHOOL OF COMMUNICATIONS ARTS
Martin Headon, creative, Beattie McGuinness Bungay
Shortly after starting my first job in advertising, I was asked to come in on Sunday and stay late on Monday. Halfway through Tuesday, I was told the work wasn't what they wanted, so I stayed late that night too.
"What's new?" you're probably wondering. Well, if you'd been an advertising student for the past three years, quite a lot - unless you went to the School of Communication Arts.
Set up in 1985 by John Gillard but closed in 1995 due to his failing health, the school was reopened in 2010 by the former student Marc Lewis. Tuition fees are high, but scholarships funded by the ad industry create a diverse student intake.
Unlike other colleges, which apply a somewhat ill-fitting academic model to the task of training creatives, SCA sets up the classroom like an agency - with live briefs, portfolio briefs, 60-hour weeks, last-minute panics, tight deadlines and all-nighters. Students come out of the course accustomed to a nine-to-five minimum work routine.
And unlike most advertising courses, there is constant contact with the industry. SCA has only a couple of teachers - the bulk of the education is provided by mentors from within the industry, who take a day or two out of their time to give masterclasses, pass on their advice and comment on the work.
So, from the earliest opportunity, SCA students are exposed to the exacting standards they can expect to encounter within the industry - which may come as a rude awakening for those only used to the rather less-demanding attitude of the college tutor.
The results are self-evident. SCA dominated Cream 2012 and the Shelf Awards, bagged a Clio - and my partner Olly Wood and I took home a D&AD Student Pencil and its award for Students of the Year. Following the ceremony, we were approached by Trevor Beattie - a sponsor of the school - and are now happily working at Beattie McGuinness Bungay.
When I quit my job last August to pursue a career in advertising, spending all my savings on the course, I was haunted by warnings of the industry's impenetrability and horror stories of teams spending years on eternal placements. Yet barely a year later, here I am with Olly, earning a living as a creative - and it's SCA that deserves the lion's share of the credit.
IPA FOUNDATION COURSE
Caitlin O'Keeffe, account executive, JWT London
When I heard that I would be facing an advertising exam, I wasn't exactly overjoyed. Hadn't I left my student days of coloured pens, index cards and highlighters behind me? Yet, despite my reservations, I found myself five months later among nearly 800 (not so) bright-eyed and bushy-tailed recent starters in adland.
And, I have to admit, I was proved wrong.
The IPA Foundation exam is aimed at those at the beginning of their advertising career. Those taking the exam were from agencies including creative, media, digital and search. The exam modules complemented this diversity, with content ranging from learning what different media slots cost to advice about how to handle a creative brief.
One of the highlights for me was gaining a greater understanding of other roles and disciplines. Throughout the course, collaboration and integration were seen as key to the success of our industry. To achieve this, those in different specialisms need to be able to understand and empathise with one another, and covering this in the course has proved invaluable to my role. Having a basic understanding of the different projects, jobs and pressures within agencies will help us new starters to navigate our way through the first few years of our careers.
Similarly, the module that focused on the life of the client proved invaluable. It is easy to get caught up in the ad bubble, but realising that we take up a comparably small part of our clients' day was important to reflect on. Advice such as making sure that phone calls to clients are clear and precise and that you are there to make their lives easier has helped me as I progress and take on more client-facing responsibilities. Learning about the marketing mix, the different agencies one client will deal with and the different components of a campaign have given me a solid grounding for my first year in adland.
The content was taught through online modules. Business leaders took the time to create videos with hints and tips, and the written modules were concise and engaging, supported by online tests. The support shown by our agencies to give us time to prepare and take the exam, and the effort from everyone involved in producing and creating the exam material, showed that this industry is committed to training new starters. Taking part in the Foundation Certificate was also a great way to bond with other graduates, which was nigh-on encouraged at the great party at the end of it!