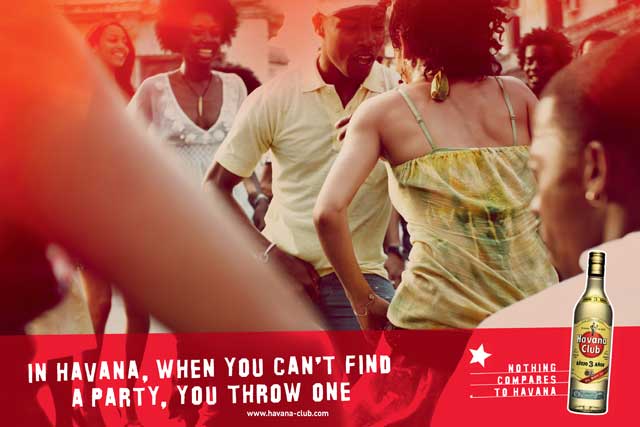 The judges decided that just six campaigns from a record number of entries across Europe deserved a gold award at this year's Euro Effie Awards, held this Wednesday at the Viage casino in Brussels.
The Havana Club campaign by M&C Saatchi.GAD Paris was deemed worthy of the Grand Prix and Grey Europe bagged the coveted Effectiveness Agency of the Year award for the fifth time in the history of the awards.
Grey Europe's "breathe happy" for Febreze and Wieden & Kennedy Amsterdam's "love football, play football" for Fifa 12 were among the golds awarded on the night. There were an additional ten silvers and six bronzes presented.
Over the years, the Euro Effies have become a fine precursor to submissions for the IPA Effectiveness Awards - one can consider them a very good "first draft" for a full-blown IPA award.
In fact, there is now a history of Euro Effie winners that are also IPA Effectiveness successes. And the launch of the Global Effectiveness Index by the US-based Effie organisation has given added strength to the Euro Effies, putting them on the radar of many agencies seeking to climb to the top of the index.
This year's IPA Effectiveness Awards have set the bar for international entries, with a host of global submissions and winners. With the advent of non-traditional media, data collection and analysis have become more accessible, allowing for more robust submissions being sent from non-UK participants.
From sitting on the Euro Effie final judging panel this year, I found that Europe may have some catching up to do on BRIC countries when it comes to submitting cases that actually demonstrate commercial value creation.
Apparently, this year, Cannes also experienced a large number of effectiveness submissions that lacked robustness or a concerted attempt to demonstrate marketing effectiveness at a commercial level, with agencies submitting "lazy papers".
This is a worrying turn of events. With the explosion in data (supposedly, 90 per cent of data has been created in the past few years) and the expansion in media beyond traditional forms of communication, agencies must get a handle on how they create value for their clients. I do not mean back-end evaluation once the campaign has been executed, but thinking about how the campaign may work and in how many different ways, from the front end of the strategic process to putting in place a framework for measuring the agency's value before execution.
Until agencies and marketing departments can take on the return on marketing investment agenda at a much higher level, being able to demonstrate value creation to the company board and, in particular, the chief financial officer (and procurement) with measures that they are interested in, we will not be doing justice to the hard work that goes into producing creativity that changes business fortunes. Also, by not taking effectiveness seriously, we are only weakening our case for fairer agency remuneration.
Done properly, the IPA Effectiveness Awards and the Euro Effies have the potential to be the most important weapons in agencies' armoury.
Despite the general lack of strong submissions at the Euro Effies this year, there were sparks of brilliance that were fairly awarded a gold prize by the judging panels. These included the Febreze campaign by Grey. The aim was to counter consumer scepticism that air-fresheners only "masked" odours, whereas Febreze actually eliminated them. The campaign used real consumers in a Candid Camera format to experience the Febreze effect.
The results speak for themselves. Value share exceeded client share objectives by 20 per cent and value sales grew by 21 per cent during the first year. Significantly, Febreze penetration grew by more than 10 per cent in both key markets.
Fifa 12's gold-winning campaign by W&K Amsterdam tells the story of how it defied a steeply declining video-games market to achieve record-breaking sales and share. To make matters tougher, Fifa's specific appeal among football gamers had reached saturation. The football games market had been mined for all it was worth. The campaign objectives were to sustain Fifa's previous record-breaking performance of EUR394 million in revenue and more than nine million units sold across Europe within one year by attracting football fans who didn't typically buy football games. The campaign not only managed to surpass previous sales by 24 per cent but also increased Fifa's value share by 35 per cent.
The Havana Club Grand Prix-winning "nothing compares to Havana" campaign by M&C Saatchi.GAD Paris was about the company setting a clear ambition to become an iconic premium brand, sold at a premium price. This was the brief to develop the new campaign, to be used in more than 30 countries. It was decided to make Havana Club a "cultural brand": the icon of the rich, vibrant and non-aligned Cuban culture. It was shown that, across markets, Havana Club improved its share, sales and brand image against Bacardi, the global leader.
The Euro Effies are rapidly evolving into a serious commercially focused competition and an ally to the IPA Effectiveness Awards. They have the respect of marketing clients and media owners and already have hundreds of case studies that we as an industry can learn from.
In an era of uncertainty and a renewed focus on the marketing budget, the Euro Effies are a much-needed friend to the agency brand team. It is an awards scheme that every European agency should participate in and then celebrate by cross-selling effectiveness successes across client portfolios and CFOs.
Gurdeep Puri is a founding partner of The Effectiveness Partnership and sat on the final judging panel at the 2012 Euro Effies.