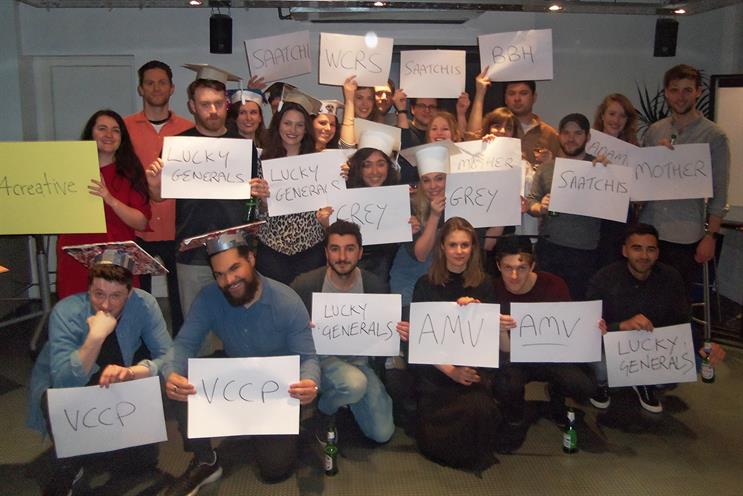 Advertising is rubbish. It's broken. Busted. Kaput.
There are no standout agencies. No standout campaigns. No hot shops. No creative boutiques. There's no creative jealousy.
The words "I wish I'd done that" are words rarely uttered by writers and art directors these days.
There was a time when the ads were better than the programmes. When the cinema ads entertained and when creatives fought for the poster briefs. And the radio ads did cool things to your ears.
This is great news.
You have come in to an industry that is on its knees. What a great opportunity you have. You are in a fantastic position. Because the only way to go is up. Standards-wise, we can't go down any further, in my view.
So what do you do?
The answer is simple: you fight. You fight for more time. Clients want to see ideas too soon. It might be good for the agency/client relationship but it's not good for creativity.
It is proven that the most talented creative professionals play with ideas for longer. They are prepared to suffer the anxiety you feel when you haven't cracked a problem in an original way.
Creatives get tense and anxious after they have brainstormed ideas. So, to release the tension you feel you have to make a decision. They decide to present, or they are asked to present their ideas, too soon and run with them. The creatives who want original ideas do not make a quick decision. They are happy to live with this tension and dissonance for longer periods. And in doing so come up with ideas that are more original.
Fight for the right to wallow in the anxiety you need to create great work. Fight for more time. Fight for simplicity.
You need to take on the introverted, risk-averse clients who are using advertising for the sole purpose of furthering their own careers by introducing confusion and complexities just so they're seen to solve the confusion and complexities they themselves introduced.
Fight for the six-word brief. Fight against the big words and the overblown intellectuals.
When I worked at Lowe Lintas there was a head of planning who was a big hairy man with a wizard's beard and who wore linen tops that had embroidered sleeves. He had books on his shelf about Eastern philosophers (the creatives had Viz, The Beano and Spike Milligan).
He walked around bare foot. The clients thought he was the guru of all things advertising. He would stroke his beard and utter big complicated words. He would say things like: "the purpose of the brand journey is to maximise the transportative conveyance to register consciousness with a brand mnemonic".
What he was trying to say was: write a memorable ad.
Advertising is your mum your best mate and your brother and the little old lady next door.
Fight for simplicity.
Fight for fun and fight for humour.
Fight for the right to entertain.
Take on those who stand by the water cooler, waxing lyrical over The Book of Mormon, Three Lions and Alan Partridge and then return to their desks and are scared shitless at the thought of presenting your funny script.
Fight the client who lost his humour with each sprout of his pubic hair and who last laughed when he saw the dinner lady slip over a spilt bowl of rice pudding in the dinner hall at Eton.
Fight for fun.
Fight for your own space.
Fight for more walls. Walls are not barriers. They are quite the opposite. Walls are creative canvasses where your collection of madcap images, quotes, illustrations and photos talk to you in wondrous tones and with magical voices. Walls are an organic, ever-changing tapestry of your own unique creative culture, a tangible inspiring display of the creative you, which confirms that you are not working in a bank or telesales centre, but in the nourishing womb of a creative advertising agency that respects the notion that the creative mind needs a creatively stimulating environment.
Fight for your own space.