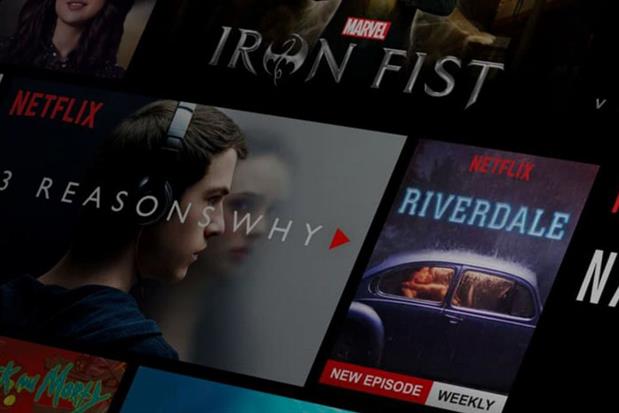 The subscription service admitted that it has been testing skippable promotional videos designed to flag up selected Netflix content that some viewers might like.
"We have been looking at ways to insert rich video into our experiences for several years," said a company spokeswoman. "In this particular case, we are testing whether surfacing recommendations between episodes helps members discover stories they will enjoy faster."
The news prompted an inevitable backlash from many of Netflix's 100 million-plus subscribers, who are used to a hitherto uninterrupted viewing experience.
But is it time for Netflix to go the whole hog and let advertisers in?
Lindsey Clay
Chief executive, Thinkbox
Netflix's decision to run ads for its own content (something Amazon Prime already does) is hardly surprising and is surely the beginning of a process which ends with it selling third-party TV ads.
It's a great brand but it needs to find more income, which it can only do by increasing prices or taking ads, and offering subscribers the choice. Both options will be challenging and the climb-down will be mildly embarrassing.
It also raises many questions: how much info will this famously secretive company share with advertisers? Will it join Barb? Who will it hire to run the advertising offer? Will it join Thinkbox?
Jade Tomlin
Creative director, Tribal Worldwide London
The answer is in the question — do people want additional messaging during their shows? No one needs more distractions from life, especially from a platform you like and trust. The reason so many use Netflix is the pure content it provides.

Most marketers would be excited to advertise to a Netflix audience — they're the new and engrossed generation. Getting in front of a youthful audience those who watch less linear television—would no doubt be welcome.

Creatives will be excited too. What Netflix ads might comprise is still largely unknown, offering creatives the potential to tinker with new formats, be it interactive ads, creative optimisation, or even longer form, cinematic ads too lengthy for television.

But the experience would be disturbed, we'd revert to a feeling of watching TV. Heightened changes in messaging mediums have made consumers fickle with brands, this change could cause a switch in loyalty.

In a new world of informed decision-making, I would suggest testing two options. A subscription with 'added promos' at £5.99 a month or a subscription with 'no promos' for £10.99. Or whatever the mark-up Netflix's need. If they truly care about the integrity of their business, they wouldn't risk sacrificing their community for 'fake news' profit margin.
Martin Woolley
Chief executive, The Specialist Works
Netflix's in-house promo trial seems to suggest that it is actually testing what effect carrying ads might have on subscriptions. It's a fine line for the pay-TV behemoth – the subscription pool is ultimately finite. They'll have to increase income per user eventually. Does future income growth come from heftier subs packages or a controlled deployment of paid-for messaging? I suspect there's a tipping point somewhere on the 'controlled ad inventory' side of the seesaw.
As an agency with international clients, I'd relish the chance to advertise across borders to a geodemographically-targeted selection of their 130 million subscribers. Even if it shrank somewhat, that's still a lot of international reach. If ad volumes are low, it'll be high impact too.
Keep testing Netflix, we're ready when you are.
Keith Welling
Managing partner, investment, UM
Netflix would be shooting itself in the foot if it were to run ads. It has become one of the most recognisable brands in the world, there are still international opportunities for expansion and there's, as yet, been no sign of subscriptions plateauing.

As a premium content company this would simply dilute brand values. It wouldn't make sense for Netflix to undo all the good will it's generated by bringing ads to its proven subscription format. Consumer backlash would just be too great a risk.

If that stance changed, there's little doubt brands would be climbing over each other to get first mover advantage on the platform. It has a really broad spread of users and, by its very nature, a highly segmented audience data.
Kathryn Jacob
Chief executive, Pearl & Dean
It is clear from cinema that appropriate advertising can enhance the viewer experience. Audiences appreciate quality in both the films they are watching on the big screen and the campaigns targeting them. Given that Netflix has been building its own brand with its content strategy, advertising does have a role to play.
July this year brought the news that Netflix had failed to hit its second quarter target for subscriber numbers. The questions facing marketers are: does the slip mean there is a limit to the growth of video streaming? Is Netflix adding to the targeting options available? What's the ROI? Also, is my advertising enhancing the viewer experience?
Great content will always have a key role in any well-honed plan. Both cinema and television have shown that audiences will seek out and celebrate the narratives that they enjoy.
Jonathan Waite
Head of product, Amplifi
I personally believe it's only a matter of time before Netflix introduce an advertising-funded model. I question the sustainability of a purely subscription-based model given the rate at which Netflix is producing and acquiring high-quality content. Even with the benefit of cross-market digital efficiencies for distribution, at some point subscriptions will plateau.

It's not inconceivable that Netflix can make an ad-funded model work, Spotify has done it for years to great effect and let's not forget that Sky enjoys both an ad-funded and subscription-based revenue model (and these aren't even separate – subscribers get ads and lots of them). If the value exchange is right, e.g. loads of high-quality content at your fingertips, then I think there will be an appetite for a second-tier model where people are served ads on Netflix for either a free service or lower monthly fee, but I think the choice will be key and a fully-paid / ad-free model will still be a preference for many.

For advertisers, I think Netflix could be an incredibly powerful proposition, merging the benefits of the TV screen (and other screens) with the data required to serve messaging addressably to household and even Netflix user accounts. In many ways it's what the UK broadcasters are trying to achieve at the moment with partnerships with companies like Sorenson Media and Smart TV manufacturers, but it's native for Netflix and they could have a real advantage here. However, Netflix should be careful not to clutter the platform and harm the user experience, I can imagine a well-placed pre-roll before your chosen show starts would not be too intrusive, but multiple breaks with multiple ads take away much of the benefit of these players which users value for their choice and control.
Simon Law
Chief strategy officer, Possible
Netflix is one of the few big media brands that have moved personalisation tactics on from simply following users around the Internet, feeding them more of the same stuff they've had before. Netflix points us to a truer personalisation experience, by expanding a user's view and enticing them towards trying out new genres and formats. This tells us that Netflix has worked really hard to understand human behaviour – not just Internet robotics. People don't want more of the same, they want the new, the exciting, the compelling, the nuanced.
But Netflix's ongoing investment in content has to be funded, and that might mean opening the platform to advertising. This would easily draw great brands near, and could (like the early days of Instagram advertising) even be regulated for quality.
If Netflix can find the right kind of advertising for its users, localising and personalising in the right way, maybe it can be made to work without ruining the platform. I just hope they find a truly innovative set of media options that give brands a great platform, rather than deprecating the current experience of TV and movies free-from ad breaks.
Matt Dyke
Chief strategy officer and founder, AnalogFolk
Netflix is notorious for the sophistication of the algorithm that powers its recommendation engine. Yet, most users would probably agree that it is actually quite hard to find content on the platform.
A limited form of promotional content may in fact be welcomed by users, but the key will be to do this in a hyper-relevant way that doesn't interrupt 'the boxset binge' viewing behavior. This is a service where even programme intro and credit sequences can be auto-skipped, so good luck trying to introduce sponsorship idents idents!
It is worth remembering that existing customers joined Netflix for on-demand access to high-quality content, not because there are no ads. But for a more price-sensitive audience that is lapsed or yet to sign-up, an ad-supported model may be highly desirable. In the music streaming business, services like Spotify have been running this two-tiered model for years. I see no reason why such an approach wouldn't work for Netflix. In addition to an ad-free experience, maybe premium paying customers would get access to high-profile new content first and at high-quality streaming rates (such as 4K or 8K in time).
Amazon Prime has been rumoured to be working on an ad-supported free version of their video-streaming service for the past nine months. In fact, offering this may be key in the negotiation with TV companies to license their content. The problem for Netflix is that Amazon has so many other services that it can bundle with Prime, making the step to a premium model a no-brainer for many customers. These same customers may then think twice about paying for two or more video-streaming services.