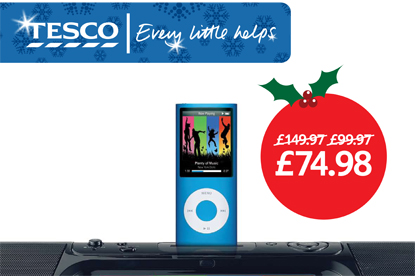 The poster showed an iPod nano plugged into a docking station next to a price tag of £74.98, with £149.97 and £99.97 crossed through. Additional small print stated "Ipod [sic] not included".

Three people complained that the ad was misleading as it implied that the iPod was included in the price.

Tesco Stores argued that the iPod was shown installed in the docking station for illustrative purposes only and the small print at the foot of the ad supported this.

Tesco believed that customers would not expect that the iPod was included in the offer as it generally retails at about £100.

The ASA felt that the main body of the ad, which featured just the illustration and price, did not explain properly what was for sale.

The small print was not felt to be sufficiently prominent to ensure it was not overlooked by customers. Therefore, the watchdog concluded that the poster was likely to mislead and must not be shown again in its current form.

Tesco assured the ASA that it would give clearer item descriptions in future advertising.