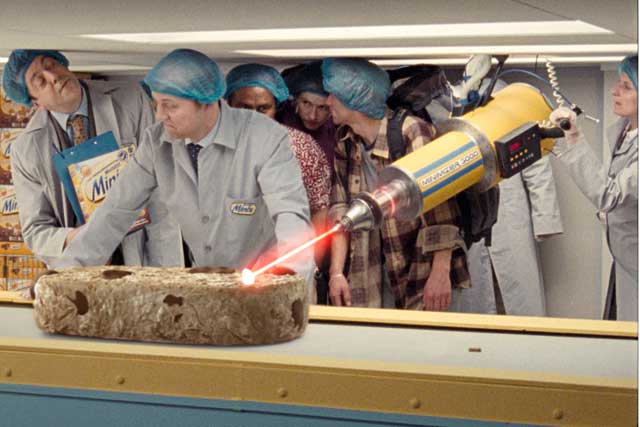 To borrow from a past campaign line, Sally Abbott is clearly someone who has had their Weetabix.
The Weetabix marketing director begins each new day with a bowlful of her product, one of a billion consumed every year in the UK. "I'm very much a Weetabix consumer," she confirms. "And I always was."
In fact, the morning high-fibre fix may be an essential prerequisite as Abbott and her company fly the flag for Britain in a cereals market where foreign players dominate. And news this week that Weetabix's owner, the private equity company Lion Capital, is in talks about a sale to the Chinese state-owned Bright Foods can only up the need for an energy boost.
Whatever the outcome of the talks, though, Abbott remains laser-focused on her marketing challenge. Although Abbott's adspend is not exactly modest - reportedly more than £20 million and set to increase by 40 per cent this year - it still pales in comparison with the mighty market leader, Kellogg, and Cereal Partners, the Swiss-based joint venture between Nestle and General Mills of the US, whose brands include Shreddies and Cheerios.
While Kellogg has market leadership, with almost 40 per cent value sales, Weetabix is second with a value share of around 16 per cent. However, Weetabix is the UK's bestselling cereal brand.
"We are fighting global players who play a different game," Abbott says. "It means we have to be creative and efficient with our spend because they have infinite budgets. But we do not feel that we are David against Goliath. Weetabix is a great British success story and a brand that is well-loved by consumers."
Nevertheless, it's a fight that often calls for steely resolve. And not just in the constant need to define what distinguishes Weetabix at a time when pressure on consumer budgets brings a greater threat from own-label. Discounting is even more menacing.
"We turned away from buy-one-get-one-free three or four years ago because it's just a race to the bottom," Abbott argues. "It doesn't add value to consumers and it doesn't fuel category growth.
"We won't play that game. We'd much rather rely on great marketing to encourage consumers to buy our brands regardless of discounts. Our competitors don't make it easy for us, but retailers give us grudging respect."
Weetabix entered its 80th year in bullish mode, announcing a £20 million investment to improve production facilities at its British and North American plants. Meanwhile, Bartle Bogle Hegarty, appointed to the Weetabix account a year ago, has just unveiled its second "fuel for big days" commercial.
The ad introduces Weetabix Golden Syrup, a biscuit baked with syrup but said to contain nearly half the sugar of the average cereals in the sweetened category. "Cereal are healthy, but some are healthier than others," Abbott says. "We are really proud of our nutritional integrity, which is now so important for consumers."
Weetabix Golden Syrup is one of four new products from the company, whose stable includes Alpen, Ready Brek and Oatibix, and chimes with the Weetabix strategy of expanding in a mature market where the scope for growth is limited. Nine out of ten UK consumers are reckoned to eat breakfast cereal, three in five of them daily.
One answer is to expand the number of usage occasions, presenting the Weetabix brands as dinner replacements or as after-school snacks for children.
Chocolate Weetabix, launched in July 2010 as a chocolate cereal healthy enough to be advertised to children, is seen as one of the means to that end, as are branded "breakfast replacement" cereal bars.
"Innovation is the lifeblood of the brand's future growth," Abbott stresses. "Our success is because innovation has been incremental. Chocolate Weetabix has not stolen sales from the core brand."
Another response has been to stretch the appeal of other stable brands. Alpen porridge, launched at the end of 2011 and promoted with a BBH campaign that broke in February this year, has delivered sales nine-fold greater than forecast. "It snowed," a grateful Abbott says. "The gods smiled on us."
Meanwhile, renewed efforts are going into expanding the Weetabix brand globally. "People don't know that we are an international business," Abbott points out. "We sell to 80 countries and we have a presence in most European markets."
The biggest challenge may be North America, the home of the Weetabix owner. Weetabix has only a limited presence there through the natural foods company Barbara's Bakery and a small Weetabix plant in Canada.
However, with the appointment of a new chief executive and head of marketing for the US, the company is signalling grander intent.
It was against that background that Abbott took the decision to call the pitch that resulted in the end of WCRS's four-year tenure of the account and the move to BBH.
"The problem is that the brand has been around so long that people think they know all there is to know about it," she explains.
"We wanted to find a platform for growth and one that would tell a story about 'fuel'. We were so impressed with what BBH presented to us. It has taken that truth about the brand and amplified it."
Hand-in-hand with that is what Abbott says has been "a stepping up of our conversation with consumers". Not, she stresses, as an alternative to TV advertising, but to complement it.
The past 18 months has seen the launch of a Facebook page attracting 61,000 visitors, and Weetakid, an augmented-reality game whose hero (voiced by Brian Blessed) must save his world from being robbed of energy by the Evil Eater.
"We're building a database of knowledge," Abbott explains. "For example, we know the right time to begin talking to mums is at about 8pm. That's when they've managed to get the laptop off the kids and have put them to bed."
Not before having their nightly bowl of Weetabix, no doubt.
THE ABBOTT LOWDOWN
Lost in translation
Born in Liverpool and raised in the Midlands, Sally Abbott went from school in Solihull to Sheffield University to read French, German and Spanish. She considered becoming a translator - but not for long. "I thought the work would be a bit solitary," she says.
Unilever opens the door
The university milk round provided a tantalising glimpse of how much more fun marketing might be, and Unilever provided the entree as well as her first brand management job on John West.
From cheese to chocs
When Unilever put the brand up for sale, Abbott departed for Kraft Jacobs Suchard, where brands such as Dairylea and Toblerone - and a two-year stint in retail sales - helped to flesh out her CV.
Marketers on top
She became the Weetabix marketing chief in 2008 and reports directly to Giles Turrell, the recently appointed chief executive and a former senior marketer at Kimberly-Clark and GlaxoSmithKline. "I felt excited joining a company owned by private equity," the mother of three says. "Their skill is making money. Ours is in running the business."