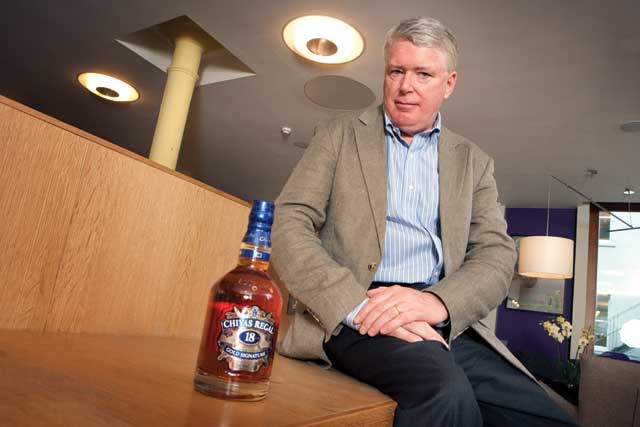 Naming his favourite tipple is hard for Martin Riley. And not just because he has responsibility for promoting one of the most formidable array of wine and spirit brands ever amassed by a single company.
Pernod Ricard's global marketing chief is partial to a tot of Chivas Regal or Jameson whiskey - mainly because of strong professional associations with both - and also confesses to a growing appreciation of cognac.
But, like any other consumer, he will choose a drink to match the mood, the occasion or just the time of day. It's often an emotional choice rather than a rational one, he says. Which helps explain why he sees his company's mission as "creating conviviality".
Fortunately, he can call on a stable of famous brands to help him do this. Absolut Vodka, Beefeater gin, Martell cognac, Malibu and Havana Club rum, Ballantine's scotch whisky, Mumm Champagne and the Jacob's Creek wine range are just a few of the names to be found in Pernod Ricard's drinks cabinet.
For Riley, such an aggregation presents both opportunities and challenges. Because of a number of significant acquisitions, which include the 2005 purchase of Allied Domecq, Pernod Ricard now owns a slew of brands with great heritages and histories that, in many cases, predate that of their 80-year-old parent.
The task now is recognising what has made those brands what they are and putting that knowledge to use on the global stage.
"So many of our brands have stood the test of time," Riley explains. "All of them have core values that we have to understand.
"That means gaining real insight about our consumers and learning where, when and how they do what they do. Try turning a brand into something it isn't and you get found out."
He cites Chivas Regal, Pernod Ricard's flagship brand, as a prime example of what he means. "Chivas enjoys extraordinary status in the US," he says. "It was the drink of choice for Frank Sinatra's Rat Pack and a symbol of success for the Mad Men generation. Our task is to interpret and extend those core values and make them relevant across the world."
More specifically, that means the emerging markets of Asia, and particularly China - which is proving a key driver of growth and contributed to the company delivering a half-year net profit boost of 20 per cent to EUR800 million to 31 December 2011.
That growth is mirrored in a steadily increasing global marketing spend, which now stands at around EUR1.4 billion. Euro RSCG, Publicis, TBWA and M&C Saatchi share creative duties on the top 14 brands that account for almost two-thirds of the group's sales, with Vizeum handling media planning and buying.
Pernod Ricard's decentralised structure - "We want to operate as close as possible to our markets and consumers," Riley explains - means local managers are cut some slack. "We encourage them to use our main roster agencies," he adds. "But if they feel there is a strong alternative, they have the option to use it."
What's more, he points out, the group has a good balance of business between the Americas, Europe and Asia, meaning that it is not overdependent on one region's fortunes. That's just as well, with sales growth in Western Europe dropping 2 per cent during the latter part of last year.
It's a much different story in China, where the country's rising socioeconomic status is manifesting itself in a clamour for premium whiskies and where Pernod Ricard is reaping the benefits of sustained advertising for Chivas Regal, currently being promoted by Euro RSCG under the "live with chivalry" theme.
Riley says the initiative is all about tapping into China's spirit-drinking culture while exploiting its burgeoning obsession with luxury brands. Chivas, Ballantine's and Martell are among the market-leading spirits brands there.
"China is a huge market - four times bigger than the US - and presents us with a massive opportunity," he declares. "Also, the Chinese are travelling more, while lots more young Chinese are being educated abroad. As they return home, they're bringing new tastes along with them."
As a result, China has seen a lot of digital activity by the group, particularly in support of Absolut. It includes I'm Here, a complex love story directed by Spike Jonze, which made its online debut last year, and "Absolut greyhound", a viral from TBWA\Chiat\Day with music by Swedish House Mafia and featuring Mad Max-style characters racing robotic greyhounds across a desert. The spot attracted more than ten million viewings in four weeks.
It reinforces Riley's belief that China's evolving drinking habits are more than a passing fad and why Pernod Ricard is forging ahead with what it calls the "premiumisation" of its portfolio.
"We firmly believe that our future is not about volume but value, and encouraging people to savour and appreciate the taste of our brands," he says.
Fulfilling those ambitions means pushing creative boundaries and it is no coincidence that Riley and around a dozen of his senior marketers have become regulars at the Cannes Lions International Festival of Creativity.
"Cannes is more than just a networking opportunity," he insists. "It also gives us a chance to see the best of the new work - and not just in our own category, which isn't as exciting as it could be. We're all about encouraging greater creativity."
That need may rise further in years to come if - as Riley fears - restrictions on advertising in general, and the promotion of alcohol in particular, grow ever more Draconian across the world.
"French alcohol advertising has been highly restricted for some time, but that hasn't stopped some very good work appearing," he observes. "But it doesn't alter our feeling that the rules are going to get even tighter. Not only do we have to be creative, but our messages have to be responsible."
THE RILEY LOWDOWN
Hassling Hucknall
The son of a Manchester scaffolder, Martin Riley recalls one of his tasks as a prefect at his school was to get a younger pupil to spend more time on the sports field and less listening to music. The reluctant athlete was Simply Red's Mick Hucknall.
First port of call
Having flirted with the idea of trying to become a foreign correspondent, Riley responded to a call by Sandeman for graduates fluent in German. His first job was at Offley, in which the port and sherry producer had a half share, to help grow port sales across Europe.
Doubles all round
He came of age when Sandeman was acquired by the drinks conglomerate Seagram. After a stint working out of Antwerp, he returned to London to marry and settle down, joining James Burrough as the marketing manager for Beefeater gin and launching Burrough's Mixed Doubles range of pre-mixed drinks.
A drop of Irish
In 1997, he joined Pernod Ricard as its marketing director for Jameson before taking over international marketing duties at the company's Chivas Brothers subsidiary. Named as Pernod Ricard's chief marketing officer - the first non-Frenchman to occupy the role - in February 2009, he divides his time between the UK with his wife and children and Paris.