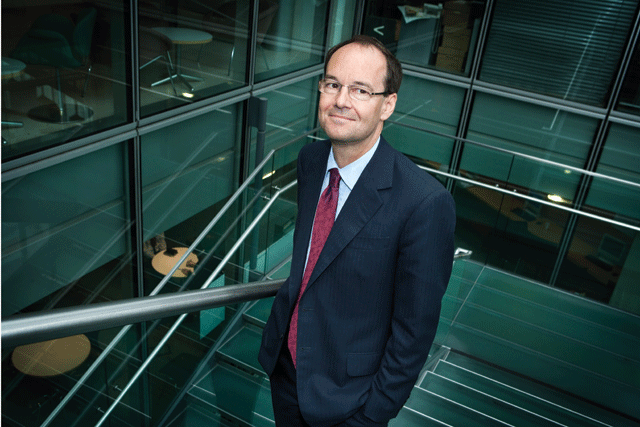 Complacency is Mike Coupe's sworn enemy. The Sainsbury's commercial director has had no time to bask in the reflected glory of what proved to be an astute decision by the supermarket group to sponsor this summer's Paralympic Games.
And certainly not with the arrival of the year's busiest trading period, heralded by firework nights and Halloween parties, climaxing in the run-up to Christmas and not dying down before the second week of January.
"We have to keep holding up a mirror to ourselves," he insists. "We must keep focusing on our customers and doing the right things. The time we get complacent is the time it all goes horribly wrong."
The figures add up to a compelling vindication of Coupe's philosophy. While Tesco struggles to regain its equilibrium after reporting its first decline in profits in two decades, Sainsbury's has just delivered its 31st consecutive quarter of growth. Sales in the 12 weeks to 30 September increased its market share from 16.2 per cent a year ago to 16.5 per cent as the group benefited from its association with the Paralympics.
While the chief executive, Justin King, has personified the strategy of single-minded focus on customer needs at the UK's third-largest supermarket, the unassuming Coupe is said to have been hugely influential in evolving it. Some cite him as King's heir apparent.
"Coupe and King are so close that they finish each other's sentences," an insider observes. "What's more, they've built a first-class management team."
Cilla Snowball, the group chief executive at Sainsbury's agency Abbott Mead Vickers BBDO, says: "Mike is both commercial and creative. He's a consummate retailer."
Coupe's dedication is certainly relentless. He says: "We have hundreds of different data sources and I'm getting sales updates four times a day." And when he is not in stores listening to what customers and staff are saying, there are Facebook pages to monitor: "If there are any doubts in customers' minds, chances are that social media will offer the first signs."
Coupe sees the Paralympics sponsorship as an extension of this strategy. It not only alerted staff to the needs of disabled people in particular, but also influenced the way they deal with customers in general, he believes.
Sainsbury's agreed to become the major Paralympics sponsor some five years ago, having decided against involvement with the main Olympic Games. With hindsight, it was an inspired move at a time when nobody could have known how successful the Paralympics would be in capturing the public's imagination.
"I suppose you could say it was a brave decision," Coupe suggests. "But we felt that the Paralympics were more relevant to our business and that changing perceptions of disabled people was an important thing to be doing."
The clincher was the close connection between the Paralympians and their localities. "Whereas a lot of Olympic athletes train abroad, the Paralympians are rooted in their communities," he explains. "It felt like a good fit for us. What's more, Channel 4 did a fantastic job with its coverage. When we committed to them, they predicted an opening ceremony audience of two million. In the end, it was more than ten million."
Coupe believes the sponsorship has benefited Sainsbury's in two significant ways. For one thing, it galvanised staff. "We brought 5,000 of them to the Paralympics in a single day," he says. "Our involvement set off a warm glow throughout the organisation." For another, it has helped Sainsbury's become better-known beyond its South-East heartland. "We have around a 20 per cent market share in the South East, but only 10 per cent north of Birmingham," he points out. "There are some 'wastelands' out there that present opportunities."
Above all, Coupe believes the association chimed with the philosophy of a 143-year-old company founded on the principle of providing good food at fair prices and where corporate social responsibility is part of the DNA. Indeed, he suggests that CSR is of mounting importance to customers and shareholders: "Five years ago, the idea that shareholders cared about an organisation's ethical principles was imaginable. Today, there's increasing evidence that shareholders recognise the link between such principles and performance."
Hand-in-hand with this has been a sharp growth in the supermarket's direct and personal communication with customers. "I can't see that big TV advertising will ever go away," Coupe says. "But the amount we spend on digital has changed. Five years ago, it was nothing. Now it accounts for more than 10 per cent of our marketing spend. It will be an increasing part of our marketing mix."
Whether its ongoing TV presence will remain celebrity-led is an open question. The partnership with Jamie Oliver ended last year after more than a decade, amid suggestions that the chef had gone off-message once too often. Coupe denies this. "His commitments and our expectations meant it was time to go our separate ways," he says. "We parted on the best of terms."
Whether the signing of David Beckham to promote the Paralympics sponsorship and the Active Kids programme will evolve into a long-term relationship remains to be seen. "Having Beckham do the cooking would present us with something of a challenge," Coupe smiles. "But you can never say never."
What is standing the test of time, however, is the relationship with AMV. It stretches back more than three decades and seems to have emerged even stronger after a 2005 pitch in which AMV retained the Sainsbury's account against apparently overwhelming odds. Coupe describes it as "a lot like a marriage": "We have arguments - but so do all clients and their agencies. We know how passionate AMV is about our brand and the part it's played in making us successful."
Will that success ever lead to Sainsbury's snatching back its market leadership from Tesco, which still has a 31 per cent share? Coupe is not holding his breath. "We'll just focus on doing our job well," he says. "If we do that, the results will follow."
THE COUPE LOWDOWN
Brassed off
A one-time comprehensive school pupil who grew up in West Sussex, Mike Coupe could hardly have had a tougher introduction to the commercial world. Armed with a physics degree from the University of Birmingham, his first job was selling brassware during the depths of a Thatcherite recession.
Getting a 'proper job'
His marketing education began as a graduate trainee at Unilever's Van den Bergh subsidiary. "I realised I should get a proper job," he says.
Bringing Moore to Tesco
Tesco gave him his break in grocery retail. He began as a product manager and was part of the marketing team behind the Dudley Moore campaign that helped change Tesco's "pile it high, sell it cheap" image.
Riding the rollercoaster
He was Asda's trading director during the "rollercoaster years" of the turnaround orchestrated by Archie Norman and Allan Leighton before going to Iceland as the managing director. There, he had to wrestle with tumbling profits, but left the company in 2004 with sales in growth. He has been at Sainsbury's for seven years and was appointed an executive director in August 2007.