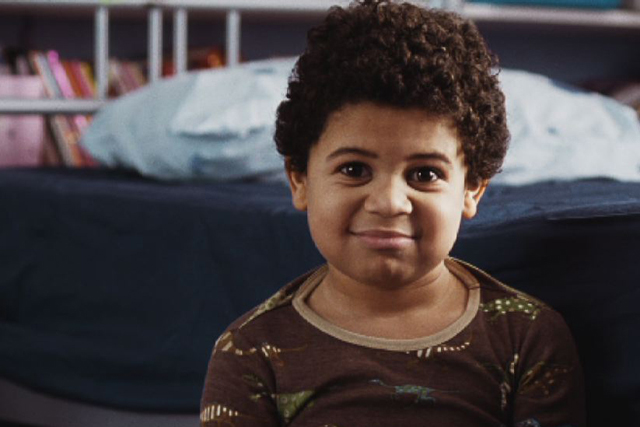 'I, Keith Jones. Father of two. Do solemnly promise. To spend more quality time. Together with my family. Chatting about the stuff of life. Doing what families do. Which is why I make this pledge to change my routine. And for just one night a week. Come home on time. Sit up at the table. Eating proper food. With proper gravy. So henceforth. From this day forward. This night. Will be aah night. Aahnight.co.uk.'
That was 'The pledge'. About five years ago I remember chatting with the creative director at the agency that did this ad and telling him that the new 'Aaah, Bisto' work was fantastic. I thought the ad was a real attempt at social work. Social media was young, but even then it was clear that a social movement was the most powerful attitude a brand like Bisto could take, and it could work in any medium, even telly. Especially telly.
The conversation started out as debate and soon ended up as a celebration of the fact that this ad was something the government should have done.
The Labour government could have been putting out constructive messages like this through the COI and making a real difference to real issues on family values that actually cost the taxpayer a lot of money.
This ad had a charm rarely seen in COI work and a message that could do a lot to cure our social ills. Why hadn't the government done it? It certainly should have been putting out this message.
So why does the latest ad, 'I promise', feature a group of kids promising to tidy their room, do their homework and be good in return for a proper dinner? The latest ad carries on a great campaign sentiment. But did the brand research it? Has the campaign been put through rigorous testing and are the research results reflecting the new Coalition attitude?
The kids are promising to sit round the table together and be good in order to get a decent meal. Cameron and Clegg are doing the same, singing for their supper. Is that a young Cameron and Clegg around the table? And has the agency deliberately reflected the concerns of a nation? Ask any politician whether they've cleaned their room and they'll say they have - until you check it.
Whether this ad is the result of a focus group or a focused creative team, we may never know. Either way, it's a lovely execution that has once again captured the imagination of the nation. And thank God for that. Maybe Bisto should be campaigning as hard as the current government did. After all is said and done, advertising is still doing things governments can't.
We'll do aah bit, if you do your bit, lads.
Adwatch (Mar 2) top 20 most recalled ads
Latest
Mar-02
Brand
Agency / TV buyer
Recall %
1=
(–)
Gillette Fusion
BBDO New York/MediaCom
41
1=
(–)
Barclays
Bartle Bogle Hegarty/Walker Media
41
3
(–)
Nestle Aero
DDFH&B/Mindshare
35
4=
(19=)
Tesco
The Red Brick Road/Initiative
34
4=
(–)
Churchill
WCRS/MediaCom
34
6
(–)
Vision Express
Dare/Walker Media
33
7
(–)
Morrisons
DLKW Lowe/MEC
32
8=
(–)
Duck Toilet Cleaner
Draftfcb/Universal McCann
30
8=
(–)
Bisto
McCann Erickson/Starcom
30
10
-15
Argos
CHI & Partners/Mindshare
28
11
(–)
Dr Oetker Pizza
BBDO Germany/MEC
26
12
(–)
Butlins
Mother/Zed Media
20
13=
(–)
L'Oreal – Studio Secrets
McCann Erickson/ZenithOptimedia
19
13=
(–)
JML – Plushy bathroom mat
In-house/All Response Media
19
15
(–)
Rimmel – Lasting Finish Foundation
JWT London/OMD UK
18
16=
(9=)
Sainsbury's
Abbott Mead Vickers BBDO/PHD
17
16=
(–)
Maybelline – The Eraser Foundation
McCann Erickson/ZenithOptimedia
17
18
(–)
Npower
VCCP/Vizeum
15
19=
(–)
Boots No7
Mother/OMD UK
13
19=
(–)
Thomas Cook
(Beta)/Arena
13