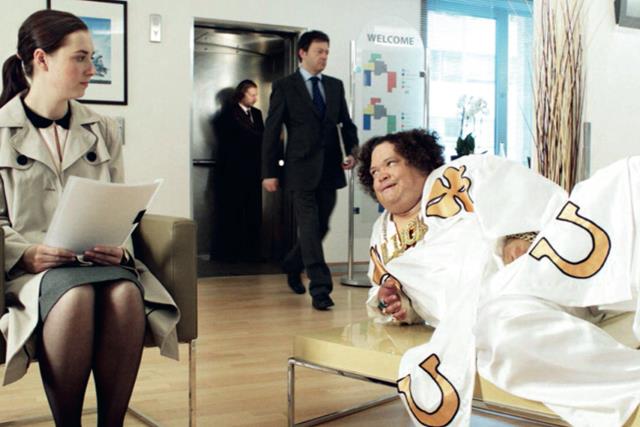 I remember the chill of reading creative jobs sections in trade mags and newspapers way back during an earlier and seemingly darker incarnation of a recession (though in reality this is potentially the Daddy of all global recessions) to find that one week no-one had even bothered running one. Because there weren't any. It was a gloomy feeling for a very young creative like myself at the time. These were after all your only visible avenues (bar door-stepping agencies) to finding a new position. Of course this was another world. A world of job-hunting with limited, established and uninspiring avenues.
Totaljobs.com lives in a totally different universe from before, where jobs are streamed and scattered forth into a digital wind. Positions fly at you from every avenue. Social networks, TV and tablets flash up various recruitment offerings desperate for your coveted email address. And now the all-conquering mobile is set to become your standard personal job shopper .
So the latest TV ad from TotalJobs.com aims to inform you of its new app but that message seems to be obscured by some screen-hogging, slightly incoherent, half Diva, half Ron Jeremy type character, representing 'Luck'.
Apparently I'm not getting the simple app message. It's buried under a family-sized serving of forced 'quirkiness'. The overall positioning of 'It's not luck, it's TotalJobs.com', to me, is strong. I get it. I actually love it.
The embodiment of 'Luck' though in this and previous ads just leaves me cold. Maybe it's because I want to like 'Luck' in some 'oh he's misguided but he's still charming' way. No charm with this guy. This 'Luck' character was, I'm sure, envisaged as a scene-stealer. Unfortunately he's become a screen-stealer, visually mugging me of what's an important message; another potential weapon for new and existing customer's jobseeking armoury.
Don't get me wrong. Love a bit of irreverence and the mischievous gods of advertising forbid we return to the soulless, bland and uninspiring recruitment platforms of yesteryear but this isn't working for me. I know I'm not supposed to like his advice but frankly I just don't even find him charmingly misguided which unfortunately makes me also question the brand that he hangs out with.
Maybe it's just an executional point in that I can hardly make out what he's saying in the commercial. Or maybe the 'let's do something quirky' option was too tantalising and somehow some of the hard learned rules to making 'quirky' work got forgotten this time round (learned the hard way myself, executions best forgotten). Whatever it is, Totaljobs.com, I'm not totally convinced. Though I swear I thought I heard someone mention something about a new app? That sounded interesting.

Brand Strategy Verdict
Totaljobs.com is an ambitious and entertaining brand and 'It's not Luck, it's Total jobs.com' is spot on. But when it comes to the new campaign character? Better 'Luck' next time.
6/10
Adwatch (Feb 22): Top 20 recall
Latest
Feb-15
Brand
Agency/TV Buyer
Recall
rank
%
1
(–)
Birds Eye
Abbott Mead Vickers
BBDO/Carat
61
2
(–)
Vodafone
RKCR Y&R/OMD UK
52
3=
(–)
The Health
Lottery
In-house, DLKW Lowe/
Walker Media
45
3=
(–)
Asda
Saatchi & Saatchi/Carat
45
5=
(–)
Wickes
MWO/MEC
42
5=
(–)
Travelsuper
market.com
Mother/MediaCom
42
7
(–)
Bet365.com
Drummond Central/
Feather Brooksbank
33
8
(–)
Schwartz
Grey EMEA/MediaVest
32
9
(13=)
Morrisons
DLKW Lowe/MEC
27
10=
(–)
Ryvita
Grey London/
ZenithOptimedia
22
10=
(–)
Totaljobs.com
VCCP/UM London

22
10=
(–)
Staples
Union Direct/MediaCom
22
13=
-5
BT Vision
Abbott Mead Vickers
BBDO/Maxus
21
13=
(–)
Simplyhealth
MWO/Cut Communications
21
13=
(–)
Andrex Washlets
The Outfit/Mindshare
21
16=
(9=)
Argos
CHI & Partners/Mindshare
19
16=
(–)
Dreams
RKCR Y&R/Starcom
19
18=
(–)
Huggies
Ogilvy & Mather/Mindshare
18
18=
(–)
Calgon
Euro RSCG London/
ZenithOptimedia
18
18=
(–)
uSwitch.com
The Gate/MediaVest
18