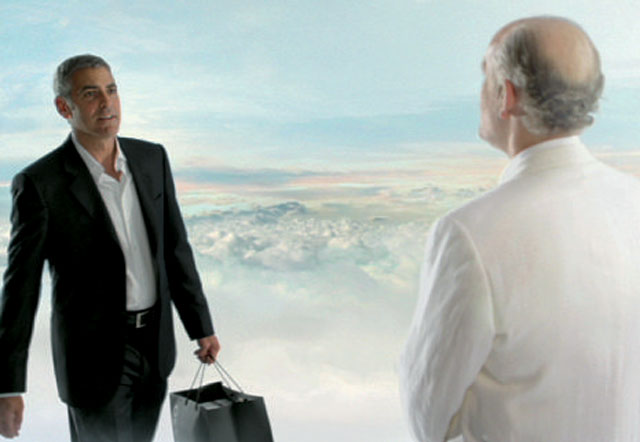 Pitch black, sniffles, pickled expressions and the slow trudge of feet as if being marched across Siberia toward incarceration in a frozen Gulag. Yes, HNY: I'm writing this in the first week back at work, and, judging by the expressions on the faces of the working masses, the first port of call will be the various dealers who ply their trade in the heavenly bean itself: coffee. So, what better commercial to pick over like my festively depleted bank balance than the latest Nespresso offering?
It's a simple little story. Man (George Clooney) buys Nespresso coffee capsules. Man gets killed in freak falling-piano accident. Man meets God (John Malkovich). God offers a straight swap; man's life back in return for the bag of Nespresso goodies. Swap made. Everyone happy ... apart from man, who has to go back to buy new coffee capsules.
So what does the commercial do for Nespresso and the viewer? Well, in all honesty, I've always viewed the brand's ads like cultural tourists. The art direction seems very European, as if the commercials were made for the Continent and translated into English. They are what I had expected to see flashing before my eyes over New Year's Eve in my Munich hotel room - Clooney wryly delivering lines in a smooth, lip-synced German voice. They're like those strange ads you see where A-listers promote obscure Japanese brands.
But it works.
The Nespresso offering comes across as a cultured (expensive) experience - a slower, more appreciative European approach to coffee, rather than the fast-fix street pedlars who deliver buckets of froth as a wake-me-up to Brits.
It's a stylish and intelligent product; Clooney effortlessly delivers the style, Malkovich reinforcing the inherent intelligence in the brand. And of course God would drink Nespresso! He's in no hurry, he'd love taking his time in the shop deciding whether to buy the blue, gold or red capsules to enjoy with his morning broadsheets; And who better to play God than Malkovich, a man with an eccentric, often unfathomable, sense of humour; surely a great fit for the role?
It's a simple premise, the whole offering hitting all the right aspirational cues for those at whom it's targeted. Nespresso drinkers are those who appreciate a more refined coffee experience; who want to buy their coffee in a dedicated, glossy emporium manned by well-groomed, BA flight attendant-style staff; whose only mortgage worries extend to their third home in Tuscany; and who could hold and appreciate a conversation about the meaning of life with the big man himself - Malkovich.
Adwatch 19.01.11 - Ad recall league
Latest rank
Dec-08
Brand
Agency/TV Buyer
Recall (%)
1
-1
Marks & Spencer
RKCR Y&R/Walker Media
64
2
(–)
Sainsbury's
Abbott Mead Vickers BBDO/PHD
56
3=
-6
Morrisons
DLKW Lowe/MEC
55
3=
(3=)
DFS
Uber/Brilliant Media
55
5
(7=)
Sky
WCRS/MediaCom
51
6
(9=)
Argos
CHI & Partners/Mindshare
48
7
(–)
Autoglass
Breakfast/Starcom
47
8
(–)
The Famous Grouse
Abbott Mead Vickers BBDO/MEC
39
9
(–)
McDonald's
Leo Burnett/OMD UK
38
10
(12=)
WH Smith
DLKW Lowe/Carat
37
11=
(–)
Comet
Euro RSCG London/ZenithOptimedia
34
11=
(14=)
Asda
Saatchi & Saatchi/Carat
34
11=
(–)
Amazon Kindle
In-house/Mindshare
34
14
(–)
Very.co.uk
VCCP/Carat
33
15
(18=)
Waitrose
MCBD/Manning Gottlieb OMD
32
16=
(–)
Toys 'R' Us
Active Pictures/MEC
31
16=
(–)
Lemsip Max
Euro RSCG/ZenithOptimedia
31
18=
(–)
NatWest
M&C Saatchi/MediaCom
30
18=
(–)
Littlewoods
Leo Burnett/Carat
30
18=
(–)
Nespresso
McCann Erickson Paris/ZenithOptimedia
30
Source: Adwatch research was conducted from 9-13 December 2010 by TNS as part of its twice-weekly OnLinBus omnibus among 1000 adults aged 16-64. For details of the survey, contact sue.homeyard@tns-ri.co.uk (020 7160 5550). Advertisements were compiled by Xtreme information (020 7575 1800) and Mediaedge:cia UK (020 7803 2000).