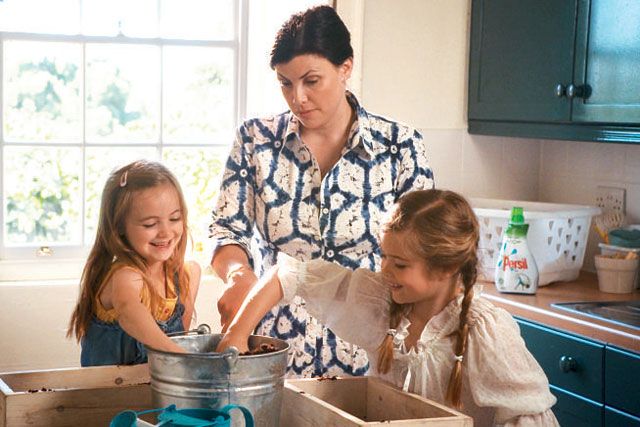 Unless you've been living under a rock for the past decade, you'll know that the world of marketing has changed; media-neutral, integrated comms, ideation, imagineering, blah, blah, blah.
It really comes down to one thing: people don't care as much about ads as they used to. Therefore, I applaud the intent of brands such as Persil, which are attempting to create experiences (through content, services, games) people feel are genuinely worth their attention.
However, I detect that the Persil ad highlights the single biggest error that brands and agencies make when taking this approach. In it we see Kirstie 'I wasn't born, I was knitted' Allsopp with her (alleged) children creating an indoor herb garden in just 30 minutes, as this is how little time it takes for Persil 'Small & Mighty' to do its thing. Of course, in the process of creating said garden, the kids get all mucky, and thus another dose of Persil is required; spot-on for the overarching and brilliant 'Dirt is good' strategy.
The ad also uses media placement to ensure that we see the 'before' herb garden ad half an hour prior to seeing Kirstie's garden in all its coiffed glory.
At the end of the ad we are invited to go to persil.co.uk/minimiracles for 'great tips on creating your own indoor herb garden and other ideas'.
The ad itself is unremarkable, but I would argue that this shouldn't matter if the online content that you are directed to proves to be compelling and rewarding.
This content is what should deliver incremental media value and advocacy. Sadly, in this instance, at the site you are presented only with a bread recipe, instructions on how to make a herb garden, and a competition to win a year's supply of Persil. The word 'afterthought' doesn't quite cover it.
It feels unfair to pick on Persil as it is by no means the only brand to have taken this approach. Indeed, I hold my hand up and admit I have committed this very crime.
It does highlight, however, that if you want to provide an experience for consumers and make a TV ad to drive people to it, you need to work out the genuinely compelling experience first and the TV ad second. You also need to spend at least as much time and money developing the experience as you do the TV ad that talks about it.
I still cite the Walkers 'Do us a flavour' campaign as one where it was done right. I can't really remember the TV ad for that campaign, but the idea at the heart of it was so strong that it doesn't matter.
Adwatch (July 27): Top 20 recall
Latest
Jul-20
Brand
Agency/TV Buyer
Recall
rank
%
1
(–)
Sky
WCRS&Co/MediaCom
48
2
(–)
Walkers Crisps
Abbott Mead Vickers BBDO/OMD UK
45
3=
(–)
BT
Abbott Mead Vickers BBDO/Maxus
39
3=
(–)
Asda
Saatchi & Saatchi/Carat
39
5
(–)
National Lottery – EuroMillions
Abbott Mead Vickers BBDO/OMD UK
35
6
(14=)
L'Oreal – Revitalist Repair 10

McCann Erickson/

ZenithOptimedia

33
7=
-5
McDonald's
Leo Burnett/OMD UK
32
7=
(–)
InjuryLawyers4U
The Gate Films/MediaCom North
32
9=
(–)
Domino's Pizza

Big Communications/

Arena Media

30
9=
(–)
DFS
Uber/MediaCom
30
11=
(–)
Tesco
The Red Brick Road/Initiative
29
11=
(–)
Burger King
Crispin Porter & Bogusky/Initiative
29
11=
(–)
Tampax
Leo Burnett Milan/Starcom
29
14
(–)
Uncle Ben's

Proximity London/

ZenithOptimedia

27
15=
(–)
Expedia
Ogilvy & Mather/PHD
26
15=
(–)
Persil
Addiction Content/Mindshare
26
15=
(–)
NatWest
M&C Saatchi/MediaCom
26
18
(–)
Wickes
MWO/MEC
25
19
(18=)
Comet

Euro RSCG London/

ZenithOptimedia

23
20
(–)
Nikon Coolpix S9100
Jung Von Matt, DCH/MediaCom
21