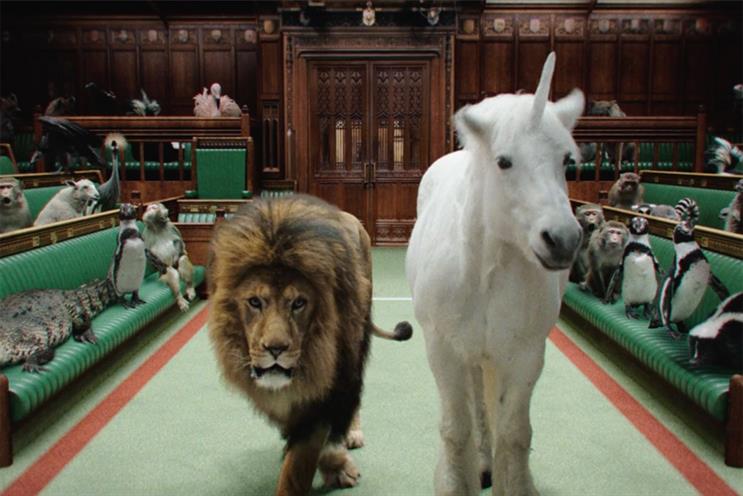 This month's Adwatch list was a roll call of some truly mind-numbing advertising, until The Times and The Sunday Times offered a glimmer of interest.
"Politics. Tamed" takes the phrase "political zoo" and runs with it, presenting Westminster as a hee-hawing menagerie until the iconic lion and unicorn from the papers' masthead enter, bringing order to proceedings.
At a time when so many feel let down by politicians, this characterisation seems fair – you could switch some of our actual politicians into this and no-one would notice. The metaphor makes for a highly campaignable device and an amusing film whose nonsensical tone suitably takes the piss, accurately capturing the mood of the nation.
Strategically, it reasserts the papers as the authority on politics (in an inherently branded way – tick!). What I particularly like is that it leans on the track, Talk to the Animals, whose lyrics add an extra layer of messaging. These brands are not only political heavyweights; they also make the complexity of today's politics understandable. It's subtle, but I admire their confidence in crediting their audience with enough intelligence to make the connection. Finally, it's economically captured in a pithy endline.
So I'm a fan. While this spot rightly reasserts the papers as Westminster heavyweights, I was disappointed, though, when it didn't tackle fake news – an insidious shaper of public opinion. I also wonder whether equating "politics" with Westminster fails to reflect modern-day realities. Parliament's paralysis over Brexit has left Westminster looking impotent. As people are left to find their own solutions, and the balance of power shifts away from the politics of Westminster and into the hands of the people, is there a fresher place for a contemporary news brand to play in?
TV ads 11 Febraury-10 March 2019. Adwatch research is conducted via an internet omnibus survey among 1,000 adults in Great Britain, aged 16-64, through Research Express, part of Kantar TNS, one of the world's leading data, insight and consulting agencies. Data supplied by Ebiquity.
Alice McGinn is a strategy director at Lucky Generals