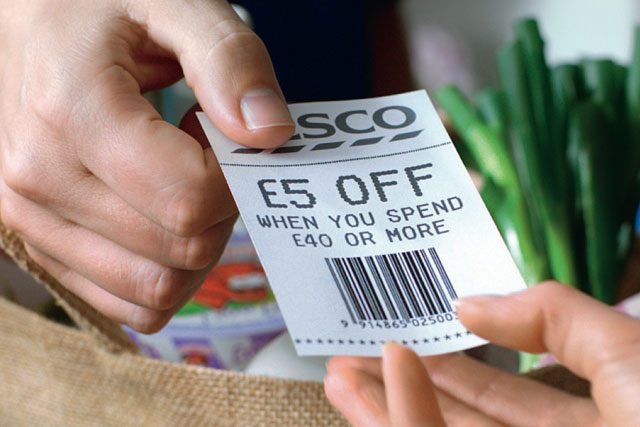 There isn't a more fascinating, complex issue in marketing at present than Tesco. Particularly for those of us who work in the sector - we handle the Morrisons account.
This Tesco ad showcases the latest offer sweeping the sector, '£5 off £40', which basically means 'give us your weekly shop, and we'll give you a fiver'.
This ad is representative of most of Tesco's advertising for the past two or three years. Some kind of themed price-cutting campaign or offer mechanic, hoping to attract this week's floating footfall.
If consumers can be bought this easily, however, even accepting the cash-strapped times we live in, what does this say about loyalty and the lack of difference between supermarkets? Or, put another way, is the '£110m advertising review', really an ad review, or a marketing one?
Tesco's chief executive, Philip Clarke, talks about running the stores 'too hot' and making them friendlier, as if Tesco's woes can all be solved by operational improvements. What is missing is any sense of strategic marketing. I humbly suggest the following might merit consideration.
First, what's the role for such a dominant market leader? Tesco leapfrogged 'food-focused' Sainsbury's by redefining 'super-market' to mean 'all of your weekly shop and more under one roof', but what does it mean now?
How does talk of Amazon-style ecommerce platforms for Tesco Direct, and format proliferation on the high street, chime with consumers' re-awakened yearning for specialisation and provenance?
Second, if 'running the stores too hot' is a euphemism for 'milking them', what is the opposite? Internet guru Tim O'Reilly, in an inspirational SXSW speech, distinguished between companies that seek to 'capture' value and those that strive to 'create' value, which he defines as 'trying to improve people's lives'. Tesco's halcyon marketing era was about the latter - creches, extra checkouts, mother-and-baby parking - encapsulated in 'Every little helps'. What does that line mean now?
Third, how do you mitigate 'big'? Why does Tesco's market share bedevil it in a way that McDonald's doesn't?
Fourth, how attractive is the homogeneity systemic to Tesco? Can it learn from the diversity of retail experiences that Starbucks is introducing across its estate?
Fifth, in our retail-obsessed society, how helpful is it to talk about 'maximising share of customer wallets over their lifetime' or, 'accounting for £1 in every £7 spent' by British consumers?
Brand strategy verdict: 1 out of 10
'£5 off £40' is designed, and used, to mask the absence of a brand strategy.
Adwatch: Top 20 recall
Latest
Apr-18
Brand
Agency/TV Buyer
Recall
rank
%
1
(–)
Comparethe
market.com

VCCP/
ZenithOptimedia

67
2
(11=)
Sky
WCRS/
MediaCom
56
3
(–)
Boots
Mother/OMD UK
40
4=
(–)
OXO
Dare/Starcom
39
4=
(–)
DFS
Krow/MediaCom
39
4=
(–)
Cadbury
Creme Egg
Fallon London/PHD
39
7=
-3
Aldi
McCann Erickson
Manchester/Universal
McCann Manchester
37
7=
(–)
Tesco
The Red Brick Road/Initiative
37
7=
(–)
Huggies

Ogilvy & Mather
Advertising/Mindshare

37
10
(–)
B&Q
McCann Erickson/
ZenithOptimedia
36
11
(-)
ASDA
Saatchi & Saatchi/Carat
34
12
-17
Currys &
PC World
M&C Saatchi/
Walker Media
33
13
(-)
Tropicana
Juniper Park/
OMD UK
32
14
(-)
Haribo
Quiet Storm/
Walker Media
31
15=
-6
McDonalds
Leo Burnett/OMD UK
30
15=
(-)
KFC
BBH/Walker Media
-
17
(25=)
The
Co-operative
TBWA Manchester/
PHD Rocket
28
18=
(13=)
Homebase
Leo Burnett/Mindshare
25
18=
(-)
TK Maxx
In-house/Mindshare
25
18=
(-)
Purina
(Gourmet Gold)
DDB UK/Mindshare
25