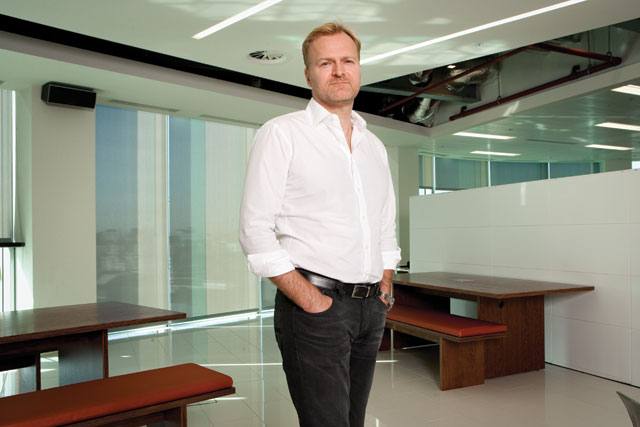 Better late than never. We've been promising to profile John Murray, Aegis Media's latest big digital signing, for ages now. And it's also true that you can have too much of a good thing. We'd already committed ourselves to a profile of Mrs Murray (aka Frances Ralston-Good), which we delivered a couple of months back.
We also (and this is our last excuse) sort of managed to misplace the Murray-Ralston-Goods in transit. Their much-heralded return from Australia has been a long time in the making - and we'd sort of assumed that they'd chosen to embark by tramp steamer and it had got stuck in the Suez Canal or something.
Ralston-Good's appointment as the managing director of PHD, in succession to Daren Rubins, was announced back in January; Murray, who had chosen to reorientate himself in dear old Blighty before assessing his options, revealed in May that he had accepted an offer to take up his current role - president of Aegis Media's Digital Action Group.
He has only just got his feet properly under his desk. Or, actually, to be more accurate, under the seat in front. The job, which involves overseeing network product consistency and the transfer of best practice globally, involves a hell of a lot of travel. He has now completed his initial tour of nine countries; and, as many of those territories host more than one Aegis agency, even at the level of an establishment survey, that involves the absorption of a devilish amount of detail.
His job will primarily involve the networking of the best in ideas, policies and trade crafts: "a framework for people to be effective", he maintains. But it will also involve the evolution of a network-wide policy towards the development of accountability systems and (a slightly more numinous goal, this one) the encouragement of "thought leadership". "There isn't anything about which we shouldn't have a view," he explains.
Howard Nead, the business development director of PHD Worldwide (and Murray's former boss at PHDiQ), reckons this is a tailor-made opportunity. "He's a no-nonsense guy. He can see through people when they're giving him flannel, whether they're asking for something or coming to him with supposed grievances. He has a knack of cutting through to the essence without antagonising people. That's quite a rare skill," he says. "It helps when you're slightly physically scary. You can tell he used to mix it on the football pitch with the likes of Ian Holloway."
That's Ian Holloway, currently the manager of Blackpool Football Club and, as a player, a legend in the annals of Bristol Rovers. Murray and Holloway played together in the Rovers youth team - so, clearly, he was pretty useful until his appetite for other aspects of life caught up with him.
Murray's diplomacy skills will come in handy in his new role. Some media agency networks, especially those that were slow digital adopters, have been injecting expertise (rather like cavity wall insulation) into the very fabric of their full-service media agency products. And, of course, Aegis has done more than a little of that, as witnessed in the UK, for instance, by the fact that Robert Horler, formerly the boss of the group's Diffiniti brand, is now the chief executive of Aegis Media.
But Aegis has also spent the past seven years building (sometimes more by accident than design) a network of digital-only agencies, some of which are creative shops, under the Isobar banner. So Murray, who reports directly to Isobar's worldwide chief executive, Mark Cranmer, while also co-ordinating his activities with local and regional managers of the Carat and Vizeum brands, is effectively being asked to square all sorts of interpenetrating circles.
He insists he has a clear remit and is similarly clear about the most important issue currently facing the market. "It's about over-supply of digital advertising inventory. It's the biggest challenge for all of us. The solution will come from using technology and insight to deliver better results for clients," he says.
Although he's not in any way geeky (his degree is in geography and economics), he's a true veteran of the digital economy. He began selling ads on Emap's computer titles back in the late 80s and, having crossed to the agency world, he was one of the founding executives of PHD's digital wing, PHDiQ, when it launched in 1999.
He had become its managing director when, motivated more by family lifestyle factors than any overt career ambition, he and his other half decided to emigrate to Australia in 2007. For the past few years, he has headed up the digital side of things at Mitchell Communication Group, an agency business that was acquired by Aegis in a deal announced in July 2010.
Although a relatively tiny market, Australia isn't the digital backwater you might think - and David Pattison, a former PHD chief executive and currently a consultant, suspects that he learned one or two things down under.
Pattison points out that Murray offers the right sort of blend - an enthusiasm for technological innovation allied to a good feel for brand communications issues.
He concludes: "Sometimes with that whole Bristol burr thing, people think he's very laid back. But you underestimate him at your peril. He's very opinionated, yet collaborative too. It's a good combination. And he's definitely got a rod of steel up his back. It's a good appointment."
THE LOWDOWN
Age: 48
Lives: Hampstead, London
Family: Married to Frances Ralston-Good
Favourite media: Cinema
Last book read: Bounce by Matthew Syed
Alternative career: Optician
Must-have object: A pen
Interests outside work: Food, horse-riding, Arsenal
Favourite holiday destination: Margaret River, Western Australia
Personal mantra: Never trust anyone who doesn't like toast