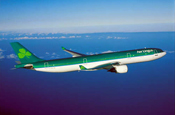 A regional press ad stated: No Aer Fare - Just pay taxes and charges. London to Dublin/Belfast/Cork. Book by 26 Sept '08. Every flight, Every day.
Fellow Irish airline Ryanair challenged whether the headline No Aer Fare wrongly implied that flights were free, as customers would still have to pay surplus non-optional charges, duties and fees.
The ASA noted that Aer Lingus believed the ad complied with the CAP Code on Travel Marketing. However, the main statement No Aer Fare was considered to be misleading as there were other charges involved.
The ASA concluded that not including information about extra charges in the headline was unacceptable, and said the ad must not appear again in its current form.