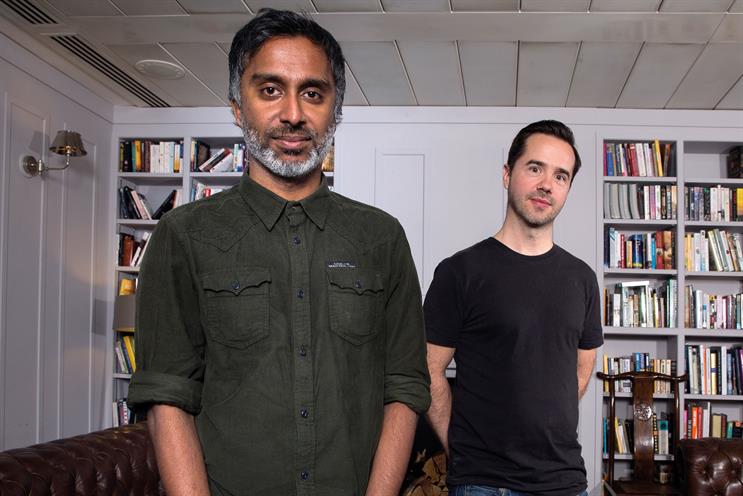 April's winners: Prabs Wignarajah and Jez Tribe creatives, Abbott Mead Vickers BBDO
Judge: Caroline Pay deputy executive creative director, Bartle Bogle Hegarty
Winning Ad: Tena Men 'Cat Choir'
Caroline Pay, deputy executive creative director, Bartle Bogle Hegarty
I love this ad because…
Of this month's radio ads, "Cat Choir" for Tena Men is by far the best… and made me chuckle the most. The whole Tena Men campaign is great, of course, and the film really floated my boat. But what I particularly love about the radio spot is that, while the idea is simple and the execution gold, above all else I just know that the team behind it had a lot of fun making it – you can hear it in the work. And that's the aim, surely: make the best radio work out there and have some fun along the way, right?
My three golden rules for a great radio ad
- Work with the best comedy actors to get the best performances, always improvising and evolving the scripts as you record to ensure the strongest finished ad.
- Don't underestimate the power of silence and space around your script – this will strengthen your chance of standing out in a break full of back-to-back T&Cs and music.
- Think laterally to find ways to be topical – get this right and your radio campaign can be relevant and top of mind. For example, our work for the teen mag Sneak involved recordingan ad a week to keep up with the
latest gossip.
Winning ad
Tena Men 'cat choir'
Sterling Gravitas: I'm a man of a certain age. I'm in control of all aspects of my life. Even this advert. Choir!
SFX: A choir sings.
SG: Of Persian cats!
SFX: The singing becomes cat meows with a deep beat underneath.
SG: Playing kazoos!
SFX: The meows become kazoos.
SG: Tiny kazoos!
SFX: The kazoo sounds become smaller.
SG: Hahahahaha! And when you're used to being in control, you can't have it taken away. Certainly not by something like urine leakage.
FVO: Tena Men discreet protection. Keep control. Go to Tenamen.co.uk for a free sample.
SG: Purrrrrrrrrrreow. That's hot. Silence!
SFX: The ad cuts abruptly on his command.
---
CreditsTitle
Cat choir
Client
Tena Men
Agency
Abbott Mead Vickers BBDO
Writers
Prabs Wignarajah, Jez Tribe
Producer
Jessica Tranfield
Post-production
Wave Studios, Wave Music
Sound engineer
Aaron Reynolds
Voiceover artists
Jason Bryden, Daisy Haggard
---
Could you do better?
Enter your work at
aerials.co.uk
---
The Aerials are awarded monthly to the creative team behind the best radio ads entered at aerials.co.uk and chosen by an invited creative-director judge. Winners are entered into the D&AD Awards for free.
#AerialAwards
campaignlive.co.uk/go/aerials