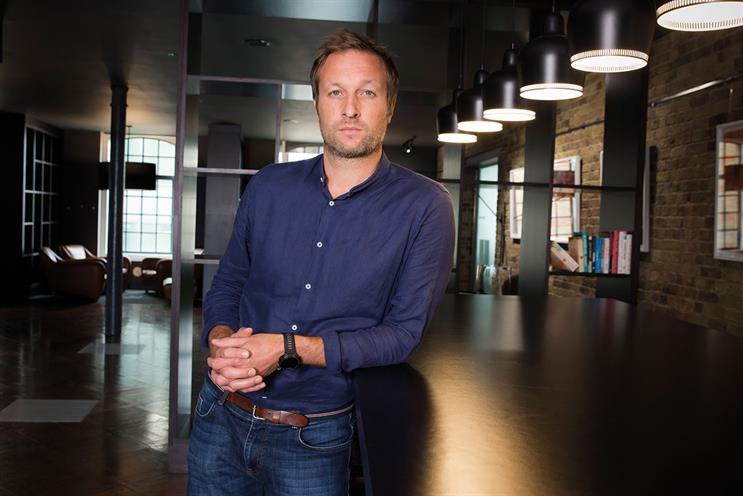 August's winners: Charlie Martin (main pic), Matt Collier and Wayne Robinson (right), Leo Burnett
Judge: Nick Hastings co-founder and creative director, Krow
Winning ad: Flash 'Colouring book'
Nick Hastings co-founder and creative director, Krow
I chose this ad because…
The Flash ad, "Colouring book", is sung to Queen's Flash Gordon theme. "Flash! A-aaah! Cleans up the impossible!" For Flash himself, it's a bit of a demotion from being "saviour of the universe", but the idea is fun, brilliantly branded, and we are mercifully spared the "voice of God" at the end. Good stuff.

A second Flash ad from the same series, also shortlisted this month, features a wife stressing because she has to clean up a greasy mess hubby has made doing his fry-up. Next time, missus, get him to do it himself – but don't tell him about Flash, so it's really difficult.
My three golden rules for a great radio ad
Soundscapes can paint a picture, but go steady on the SFX – or you'll end up with a Jackson Pollock.

Read every script for length, slowly, then add at least five seconds. Take out a precious joke or pointed remark if you have to. If it's too tight, none of it will work.

If you're going for laughs, make sure the humour is there to glorify the cause, rather than you. Then ask yourself whether it really is funny – not "ad funny"; properly funny. Get tough on your comedic arse, before someone else does.
Winning ad: Flash - 'Colouring book'
(Spoken) Oh no, Little Timmy's got hold of a marker pen. My wall looks like a colouring book. What am I going to do?
(Sung, to the tune of Queen's 'Flash')
Flash!
A-aaah!
Cleans up the impossible!
Wow he's really made a mess
It's a pain but we won't stress
In the hall
He has drawn
Overall
On the wall
Lots of scrawls
But we can clean this u-u-up!
(Spoken) Flash Magic Eraser we love you.
(Sung) Flash!
A-aaah!
Cleans up the impossible!
Credits
Agency Leo Burnett
Creative team Matt Collier, Wayne Robinson
Creative director Charlie Martin
Producers Serena Schellenberg, Adam Furman
Post-production Wave Studios
Engineer Ed Downham
Music Nick Payne at Wave Music
Could you do better? Enter your work at aerials.co.uk
Hear all the winning radio ads on the Aerials Hub
The Aerials are awarded monthly by Radiocentre to the creative team behind the best radio ads entered at aerials.co.uk and chosen by an invited creative-director judge. Winners are entered into the D&AD Awards for free.