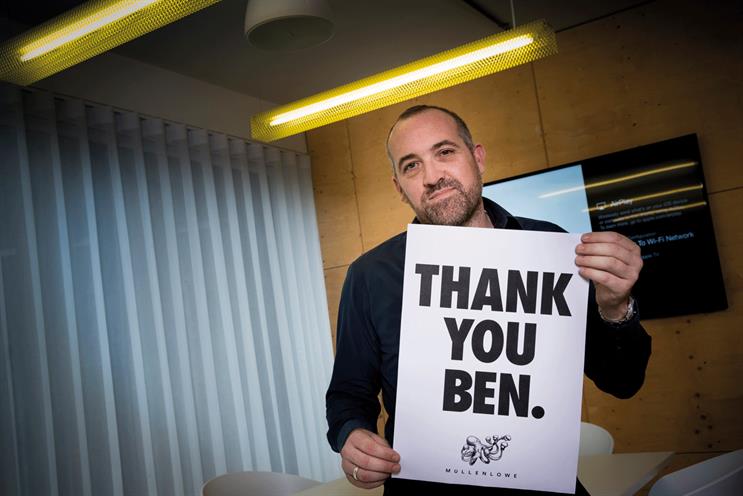 Winners: Ben Williams*, creative, and Mark Elwood, executive creative director, MullenLowe London
Judge: Jon Gledstone, executive creative director and partner, Mr President
I chose this ad because…
I always say the idea is king, but, in this instance, it is the writing. Or at least the writing is the queen, and she holds power over the king. And the charismatic prince in this somewhat laborious analogy is the great performance of the VO artists. Basically, the execution for this Byron ad is great.
It's a simple premise: Byron buns are better because they rejected 47 recipes before landing on the "perfectly squishable" 48th bun. And it's delivered brilliantly by two guys I should probably know, but don't.
Well done to the team that wrote it, presented it, rewrote it, sold it, tweaked it and crafted it to make it sound like it was recorded off the cuff. Lovely stuff.
How would you encourage creatives to 'See Radio Differently'?
Do one thing well. Decide what is the single, most compelling thing that you have to say, then say it. Really well. Let it breathe. Don't try to cram in too many words. Read the script aloud and time it. Give the sound engineer and VO artist enough wiggle room to add their own magic. (They're almost certainly funnier than you are.) Light and shade. Yes, it's only 30 seconds. But there still needs to be some sort of narrative arc and a compelling tempo to it. (And yes, for those of you playing ECD Bullshit Bingo at home, that's "narrative arc" and "compelling tempo"…)
*Ben was away when this was put together, so Mark (pictured) represented the both of them
---
Winning ad: 'Buns' for Byron
Jonny and Simon are in Byron.
Jonny Brother.
Simon Mm.
Jonny Guess how many bun recipes it took, for Byron to perfect these very soft buns.
Simon Uh… I don't know.
Jonny 47.
Simon 47?
Jonny 47. This is Bun 48. The perfect Byron bun.
Simon OK. And what does Bun 48 have that Buns one to 47 didn't?
Jonny It's perfectly squishable.
Simon Squishable?
Jonny Squishable.
Simon Squisssssssshable?
Jonny Squish. A. Ble.
Simon Squishable!
Jonny Squishable. It's almost as fun to say as it is to eat!
Simon …No it isn't.
Jonny No, you're absolutely right.
A woman's voice reads in the line: Byron. Proper burgers, in squishable buns.
Simon Who's she then?
Jonny The Byron Lady.
Simon: Oh.
CREDITS
Agency MullenLowe London
Creative Ben Williams
Executive creative director Mark Elwood
Producer Josh Burley
Account director Maurice Pfister
Account manager Holly Wells
Post production Wave Studios Sound
Designer Jack Sedgwick
Could you do better? Enter your work at aerials.co.uk
Hear all the winning radio ads on the Aerials Hub
The Aerials are awarded monthly by Radiocentre to the creative team behind the best radio ads entered at aerials.co.uk and chosen by an invited creative-director judge.
#SeeRadioDifferently