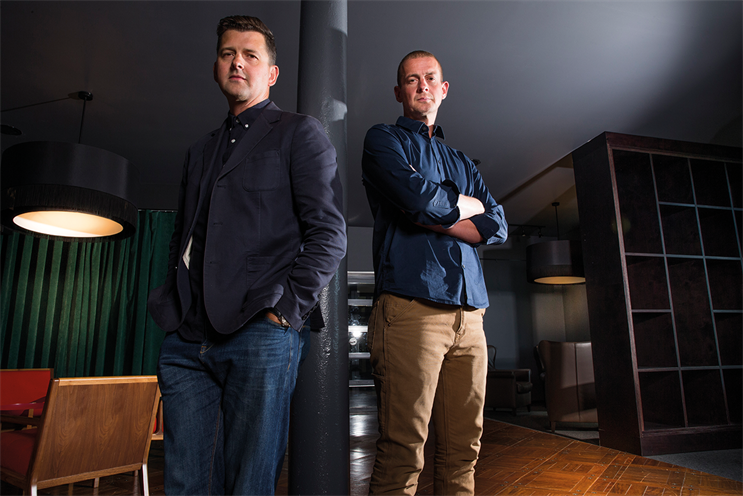 December's winners: Graham Lakeland and Richard Robinson, creatives, Leo Burnett
Judge: Ben Tollett, Adam & Eve/DDB
Winning ad: McDonald's 'Greg and Sean'
Judge: Ben Tollett, Adam & Eve/DDB


I chose this ad because…
I read a great quote somewhere about how radio grows your imagination, while TV shrinks it. Because radio has no pictures, we have to visualise the story in our heads. This ad does that brilliantly. A public display of affection between two guys causes people to stare – or so we are led to believe, until we discover the real cause.
This ad may be familiar territory for McDonald's – real life through a humorous filter – but the writing feels really fresh.
It shows the power of a great script, and a super bit of voice casting. No gimmicks. No SFX. And no pictures, except the ones it conjures in my imagination. Sweet. Like McDonald's hot apple pie.
How would you encourage creatives to 'See Radio Differently'?
- Play with it. Have fun. Try to bend the medium, or even break it. Remember, if you're trying to write something that has never been done before, you're probably gonna write a lot of rubbish. Embrace writing rubbish!
- Casting is key. A great voice can make a good script brilliant. It can even make a shit script brilliant. If you walk out of the sound studio thinking you got the voice wrong, recast and go again.
- Write more of it. Radio muscles grow with exercise, so give them a workout.
Winning ad: McDonald's - 'Greg and Sean'
McDonald's 'Greg and Sean'
Male VO Party's over. The bars empty. The streets fill. Covered in tinsel. Time to make a move. Grab Sean's hand. Off down a side street. Running hand-in-hand. Dive through a door. Laughing. Everyone stares. Christmas jumper still flashing. How can I help you? Big Mac and fries, please. Face the gossip tomorrow.
Voice two Over 600 McDonald's open 24 hours. We are awake.
(SFX McDonald's five-note sting.)
Credits
Client McDonald's
Agency Leo Burnett
Creatives Graham Lakeland and Richard Robinson
Producer Adam Furman
Facility house Factory
Engineer Dan Beckwith
Could you do better? Enter your work at aerials.co.uk
Hear all the winning radio ads on the Aerials Hub
The Aerials are awarded monthly by Radiocentre to the creative team behind the best radio ads entered at aerials.co.uk and chosen by an invited creative-director judge.