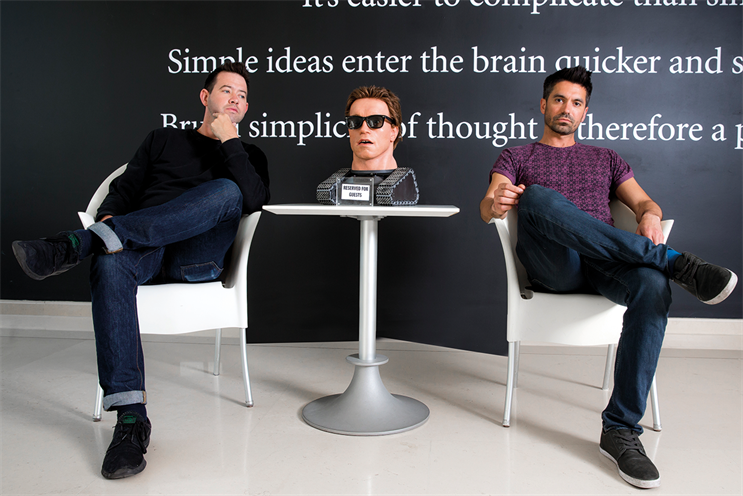 Winners: Dom Moira (left) and Kieron Roe (right), M&C Saatchi
Judge: Stu Outhwaite (below) chief creative officer, Creature London

I chose this ad because...
The chairman's wife and the chairwoman's husband listen to Radio 4. And right there is the joy of commercial radio.
You can get through all kinds of weird and wonderful stuff. Just like this 30 seconds of silliness. It reeks of a creative team having fun with an already distinctively daft campaign, and a client bold enough to believe in doing things a bit differently.
The additional joy of it is that it really doesn't need the TV spot to support it – in many ways it's better without it. I just wish they had scrapped the unnecessary expositional opening and written another verse instead.
In fact, I bet they did… on the day the chairperson's partner switched over from The Archers omnibus.
How would you encourage creatives to 'See radio differently'?
An elephant falls from a helicopter…
It's been said many times, but it's as pertinent as ever: you can paint any picture on radio – often more vividly and credibly than any Flame suite can spit out. Sound design adds an authenticity that digital slickness lacks.
'Don't point that gun at me!'
Radio's restrictions are its strength. Telling a story without spoon-feeding an audience is a hell of a job, but get it right – and have the confidence to let them fill in the blanks – and you'll be laughing… all the way to a numpty like me applauding you on these pages.
Two hours in Soho and sushi.
Radio costs less. When your TV budget will only stretch to Ringan Ledwidge's rider, stick your blockbuster spot on radio. There are only so many shoots in Kiev a creative team can take.
Winning ad: FCA 'Can't totally recall 90's'
Arnie Oh man, the 90s, so cool. Remember this bangin' tune? (Arnie starts to sing 90s hit Pump up the Jam, but can't recall the lyrics.)
Arnie Jump on the tram, catch it up,
Grab a sandwich and chomp it,
My nan she plays the trumpet,
Dun dun dun dun do…
FCA Lady Hmm, we can't totally recall the 90s. Like if you had PPI on a loan, credit card or mortgage, for example. Luckily, we don't have to. Many PPI providers now have online checking tools. Search "FCA PPI"…
Arnie Do it now!
Credits

Client Financial Conduct Authority
Creative agency M&C Saatchi
Creatives Dom Moira and Kieron Roe
Producer Mary Fostiropoulos
Facility house 750 MPH
Sound engineer Jeff Smith
Could you do better? Enter your work at aerials.co.uk
Hear all the winning radio ads on the Aerials Hub
The Aerials are awarded monthly by Radiocentre to the creative team behind the best work entered at aerials.co.uk and chosen by an invited creative-director judge.