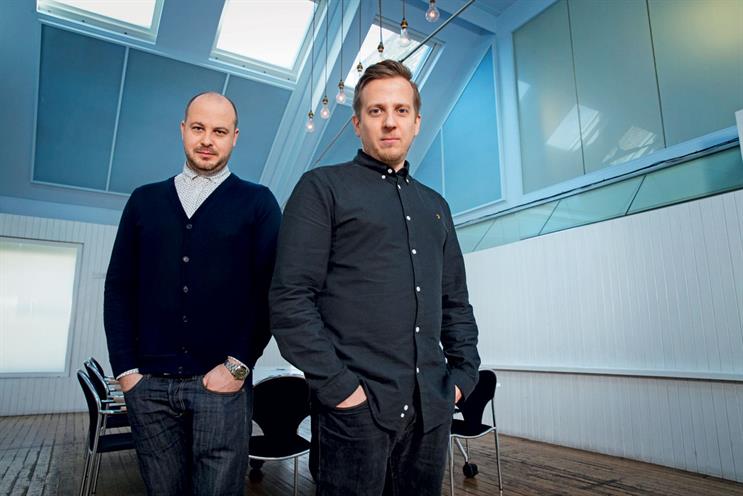 February's winners: Joe Williams and Andy Preston, creatives, Havas Worldwide London
Judge: Billy Faithfull, executive creative director, WCRS
Winning ad: RB/Durex 'Explore'
February's winners: Joe Williams and Andy Preston, creatives, Havas Worldwide London
Judge: Billy Faithfull, executive creative director, WCRS
I love this ad because…
The purists will be up in arms. Yes, it's a radio ad that comes with a case-study film. I've ummed and ahhed about this, asked a room full of creatives and almost started a fight, but I've come down on the side of Durex (pun intended). As a mode of transport, the Model T was no great shakes, but it paved the way. This award is for glittery-eyed optimism that radio could be more than radio but still (just about) be radio. There's plenty wrong with it – too much voiceover on the "film" bit of the radio ad – but it's brave and different and I wish I'd thought of it.
My three golden rules for a great radio ad
- If your script is funny, think twice about casting the latest stand-up star. Some comedians are great actors, but many aren't. Actors can deliver the gags on the page as you see them with the right direction.
- Download a dialogue-driven film script. See how incredibly sparse and bare the dialogue is? People don't talk the way you imagine. Imperfect, grammatical oddities, half-sentences. With 75 per cent of radio scripts, I'm thinking: "People don't talk like that…"
- Get there half-an-hour before the talent or call the engineer before. Set boundaries: only one person talks to the talent and gives notes. One or two notes maximum at a time.
Winning ad - RB/Durex 'Explore'
Durex 'Explore' music. We include sound effects that sync with action you'll see on your screens: uhhhs, ahhhs, two women giggling.VO: If you've downloaded the Durex Explore app on your mobile or tablet, open it now.

Just hold it up to the radio…
…then you won't miss out on seeing couples connected like never before.
…you won't miss out on seeing couples taken to the heights of passion.…you won't miss out on seeing couples discovering pleasures they've never tried before.In fact, you won't miss out on watching the world's first radio ad that you can actually see.
What you'll see is that Durex now discreetly delivers our exclusive range of toys straight to your door.Now go back to your app and start to explore the sex life you don't want to miss out on.Love sex. Durex.

Credits
Title Explore
Client RB/Durex
Agency Havas Worldwide London
Writers Joe Williams, Andy Preston
Producers Sarah Sharp, Amanda Newall
Technical architects Bongani Ndlovu, Jordi Narvinés
Production Love
Sound engineer Dave Robinson
Post-production Angell Sound
Voiceover artist Kaisa Hammarlund
---
Could you do better?
Enter your work at
aerials.co.uk
---
The Aerials are awarded monthly to the creative team behind the best radio ads entered at aerials.co.uk and chosen by an invited creative-director judge. Winners are entered into the D&AD Awards for free.
#AerialAwards
campaignlive.co.uk/go/aerials