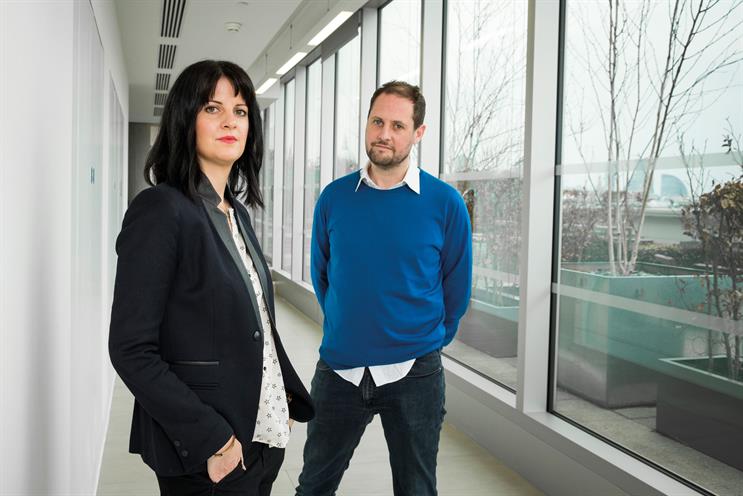 February's winners: Charlotte Adorjan and Michael Jones creatives, AMV BBDO
Judge: Matt Lever creative director, VCCP
Winning ad: Curry's PC World 'bootcamp'
Matt Lever, creative director, VCCP
I love this ad because…
It is rare that I'd be happy for a set of ads to interrupt my quest to win a hundred kilos of sausagemeat in the Spurt FM breakfast show's radio phone-in (with Caz and Benji).
But here are some. And "bootcamp", for Currys PC World, is my favourite – a campaign of three beautifully written, wonderfully paced and fantastically executed ads.
These ads are lovely. With great voice casting. And phrases such as "pints of your dignity", "weekend Wiggos" and "Full Metal Janet". I'm not ashamed to admit it: I lolled. Thrice. Thankfully, there wasn't a fourth ad or I might have mega-lolled. And that would just be undignified.
My three golden rules for a great radio ad
See the medium as an opportunity. No-one reads the little plaque on the gold Lion when it's nestling on the shelf in your open-plan cubicle.
Radio is an incredibly personal medium. A crappy radio ad is more of an invasion than a crappy ad in practically any other channel. Move me. Make me laugh. Whatever. Just don't be dull.
Seek inspiration beyond advertising. Podcasts. Audiobooks. Radio 4. (Although try to avoid the more middle-class, outdated comedy on Radio 4 these days or, before you know it, you'll be in a sound studio in Soho holding two coconut shells, some gravel and a rake. Which is not a good look.)
Winning ad: Currys PC World 'bootcamp'
SFX Muffled military fitness class atmosphere.
MVO "Wake up, soldier!"
It's 6.15am.
Balham boot camp.
The pigeons are sleeping.
You wish you were too.
You're in line with the other "squaddies".
PT Full Metal Janet appears inches from your face.
"Now drop and give me 20!"
20 what, exactly?
You can't tell, there's so much mud in your ear.
We recommend you go AWOL immediately.
And head down to Currys PC World.
You'll find more civilised advice on a great range of wearable tech.
Start training on your own terms, with no bombastic brigadier to stamp on your good intentions.
Jog on, Janet.
Currys PC World. We start with you.
Credits
Title Bootcamp
Client Currys PC World
Agency Abbott Mead Vickers BBDO
Creative direction Alex Grieve, Adrian Rossi
Creatives Charlotte Adorjan, Michael Jones
Producer Holly Pienaar
Sound studio Jungle
Engineer Chris Turner
Voiceover Matt King
Could you do better? Enter your work at aerials.co.uk
Hear all the winning radio ads on the Aerials Hub
The Aerials are awarded monthly by Radiocentre to the creative team behind the best radio ads entered at aerials.co.uk and chosen by an invited creative-director judge. Winners are entered into the D&AD Awards for free.