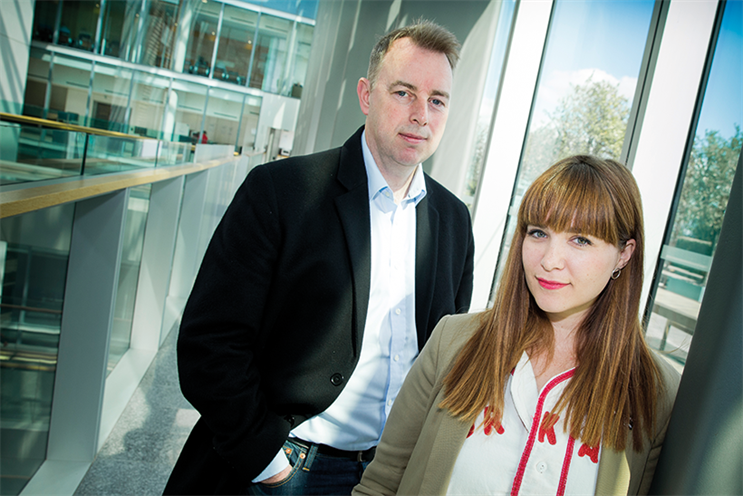 Winners: Martin Loraine*, Steve Jones, Nicholas Hulley and Nadja Lossgott*, Abbott Mead Vickers BBDO *Pictured
Judge: Micky Tudor, executive creative director and partner, CHI & Partners



I chose this ad because…
The image of a train smashing through an office block is just one part of this ad, but it is enough to make it my standout commercial. It's hard to shake off – a haunting and epic visual of horror, devastation and destruction.
In film, you could not create a spectacle with this impact without a Hollywood budget and director – and even then… It's one of the things that's powerful about radio and great about this ad. What's more, it is deceptively well-crafted, with unsettling music, voices that feel genuine and a story that makes the adrenaline flow faster.
It's not easy to write ads that make you feel some­thing, but this unnerved me a touch. My train home tonight won't be the same.
How would you encourage creatives to 'See Radio Differently'?
It can't be said enough how much radio is a visual medium. Let the listener see your idea and make the images extraordinary.
Avoid ideas solely based on 'rug pulls'. Once you have heard the end gag, the ad loses its joy. Radio needs to stand up to repeat, repeat, repeat listening.
Thirty seconds goes quickly. Write sharp first time, rather than cramming words in only then to slash them in a small, wee-inducing panic at the studio.
Winning ad: National Counter Terrorism Policing HQ 'Multiple Bombings'
Music (tense and urgent)
Narrator In 2004, Counter Terrorism Police were tracking a terrorist cell. Former senior Special Branch officer Nick Sloan…
Sloan They were "players" – they had been abroad, they had been to training camps.
SFX Sounds of gunfire, shouted orders in Urdu.
Narrator This is one of the men…
Male Voice 1 I knew that they wanted to get explosive training to do something in the UK.
Sloan We knew they were ready and willing, we just didn't know if they were able.
Narrator Luckily Counter Terrorism police were about to get a big break.
SFX Phone ringing.
Female Hi, I'm calling from the storage unit – we've got some guys that's storing nearly a tonne of fertiliser…
Male Voice 2 For example, in a large fertiliser bomb inside a built-up area like London, the explosive force would be like having a steam train pass through an office.
SFX Sound of approaching steam train… then breaking glass.
Sloan We suddenly knew where the bomb was.
SFX Sound of shouting voices – a police raid.
Narrator If you see anything suspicious, act on it. Call police on 0800 789 321. Confidentially. Call. Visit. Act. For the full inside story, visit gov.uk/act, or search Code: Severe, a podcast series.
Credits
Client National Counter Terrorism Policing HQ
Agency Abbott Mead Vickers BBDO
Creatives Steve Jones, Martin Loraine, Nicholas Hulley, Nadja Lossgott
Producer Anita Sasdy
Facility house 750mph
Engineer Ben Gulvin
Voices incl. Mark Strong (narrator)
Could you do better? Enter your work at aerials.co.uk
Hear all the winning radio ads on the Aerials Hub
The Aerials are awarded monthly by Radiocentre to the creative team behind the best radio ads entered at aerials.co.uk and chosen by an invited creative-director judge.
#SeeRadioDifferently