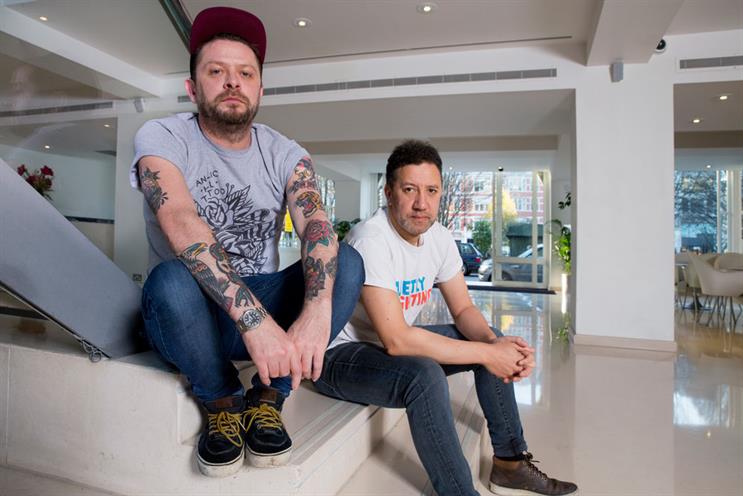 feature brought to you by Radiocentre
November's winners: Will Bate and Curtis Brittles creatives, M&C Saatchi
Judges: Laurent Simon and Aidan McClure creative directors, Adam & Eve/DDB
Winning ad: Transport for London 'road safety: distraction'
Laurent Simon and Aidan McClure creative directors, Adam & Eve/DDB
We love this ad because…
"Love" is a complicated word but what this ad does well is to take a truth about the way people use their phones while driving and deliver a simple yet convincing argument. If you were driving along while contemplating having a sneaky peak at that sext you received off that random on Tinder, you might think twice. Its strength will be catching people in the act. Good, but not quite as good as "two things at once" written a few years back off the same brief. Now that was love.
Winning ad: Transport for London 'road safety: distraction'
VO1: It was only one text.
From that one mate.
To remind you to meet
At that one place
That does those great burgers
That made you take your eyes off the road.
For just one second.
And plough into that one cyclist.
Killing her instantly.
Destroying her family.
That one time.
You read that one text.
One risk is one too many.
Think.
VO2: Transport for London. Every journey matters.
Credits
Title Road safety: distraction
Client Transport for London
Agency M&C Saatchi
Creatives Will Bate, Curtis Brittles
Producer Simon Blaxland
Post-production Soho Square Studios
Sound engineers Adam Smyth, Mark Hills
Voiceovers Alan McKenna, Emma Hignett
---
Could you do better?
Enter your work at
aerials.co.uk
---
The Aerials are awarded monthly by Radiocentre to the creative team behind the best radio ads entered at aerials.co.uk and chosen by an invited creative-director judge. Winners are entered into the D&AD Awards for free.