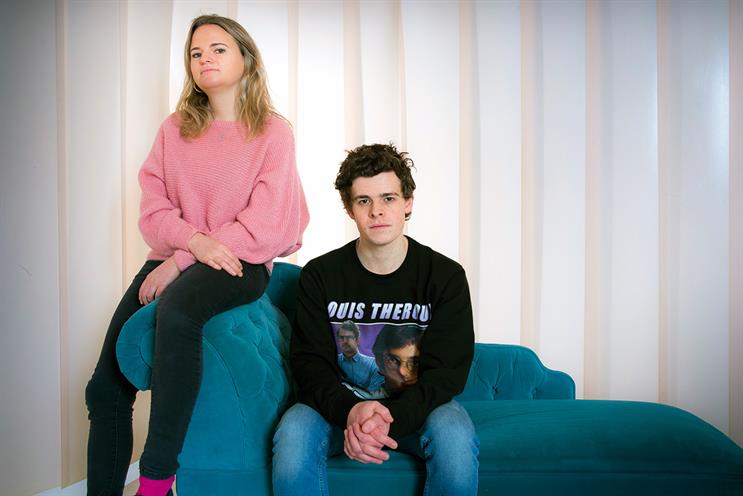 November's winners: Liv Adda and Bryn Walters, creatives (pictured), and Matt Leach and Jess Oudôt, creative directors, Mother
Judge: Mark Elwood, founding partner and creative director, 101 London
Winning ad: IKEA 'Don't have a nightmare this Christmas'
Mark Elwood, founding partner and creative director, 101 London
I chose this ad because…
November's winner is a pastiche of a 1960s horror-movie trailer. A fairly well-worn trope, but this spot has been executed with the right level of craft. That is what helped it stand apart from the rest of the potential winners.
There's good attention to detail: the casting of voice, the music, the sound design and punchiness of the script. The idea itself is a simple one: it's a potential nightmare running out of the everyday stuff we need at Christmas.
All of which will have helped this spot cut through among the sea of festive "jingles" invading the airwaves in the run-up to Christmas.
My three golden rules for a great radio ad…
- Make the audience want to listen. Casting is everything: will the voice(s) stand out? Is it/are they correct for the brand and audience? Are you writing the way the voice/audience actually speaks?
- Have a proper play. Let your talent read, add and say things in their own way. That's how to make it sound really natural – no one wants to hear a brand talking.
- Scripts need to breathe. Make sure you've read it, timed it and trimmed it appropriately before turning up to record it.
Winning ad: IKEA - 'Don't have a nightmare this Christmas'
A man with an amusing voice that sounds like it's straight out of an old horror-movie trailer talks about some of the common household nightmares we all encounter in the festive period – nightmares to which IKEA provides the solutions.
SFX A snippet of the classic music from the shower scene in Psycho.
VO Introducing… the horrifically bendy plastic knife you hand out when you've run out of cutlery.
SFX Lightning strikes.
VO …The cobweb-covered camping chair you have to make do with as an extra seat.
SFX Creaky cupboard door.
VO And… the hideous novelty mug filled with Champagne because you've got no more flutes.
SFX A woman lets out a comic scream.
VO Don't have a nightmare this Christmas. Visit IKEA in Leeds for all the homeware and decorations you'll need. IKEA – the wonderful everyday.
Credits
Client IKEA
Agency Mother
Creatives Liv Adda, Bryn Walters
Creative directors Matt Leach, Jess Oudôt
Producer Mary Paterson
Recording studio 750mph
Engineers Ben Gulvin, Mark Hellaby
Voices Jon Glover, Rickard Wolff
Could you do better? Enter your work at aerials.co.uk
Hear all the winning radio ads on the Aerials Hub
The Aerials are awarded monthly by Radiocentre to the creative team behind the best radio ads entered at aerials.co.uk and chosen by an invited creative-director judge.