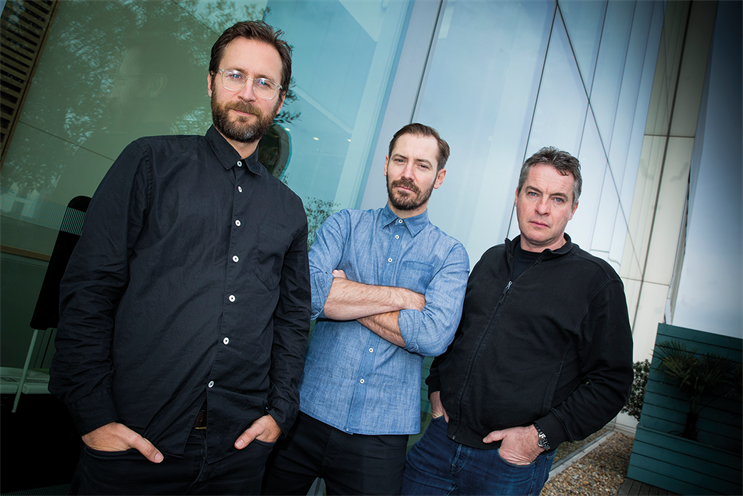 October's winners: Rob Messeter, Mike Crowe and Paul Burke, creatives, Abbott Mead Vickers BBDO
Judge: Remco Graham, executive creative director and partner, Now Advertising
Winning ad: EuroMillions 'Rooms'
Remco Graham, executive creative director and partner, Now Advertising
I chose this ad because
We live in a world of advertising wallpaper. We often pat ourselves on the back for pieces of work that pass people by.
Done well, radio is a brilliant medium to interrupt and engage. This month's winner stood out a mile. It interrupted with its thought and engaged with its scriptwriting; a conversation between a newly minted couple about where he'd left his keys in their huge mansion.
She suggests rooms he might have left them in. He replies "no" to her suggestions 11 times. It's this repetition that really works. Part of a brilliant campaign. Kerching.
My three golden rules for a great radio ad
Interrupt. People aren't paying attention. They are doing a million other things. Find a way of writing to a different formula or approach.

Craft. Choosing the right casting is everything – often the difference between something OK and great. Keep writing until it's great. Craft every single part of it until you can't go any further.

Simplicity. Too complicated and you've lost your audience. Protect a simple approach as much as you can.

And lastly, don't eat too much of that free chocolate at the sound studios. It's not good for you.
Winning ad: EuroMillions - 'Rooms'
Man I can't seem to find my keys.
Woman Are they in the dining room?
Man No.
Woman Drawing room?
Man Nope.
Woman Ballroom?
Man Nope.
Woman Library?
Man Nope.
Woman Any of the bedrooms?
Man I checked the first 12.
Woman How about the other ten?
Man Nope.
Woman Spa?
Man Nope.
Woman Did you leave them in the orangery?
Man Nope.
Woman What about the cinema?
Man Nope.
Woman Billiards room?
Man Nope.
Woman Indoor pool?
Man Nope.
Woman Outdoor pool?
Man Nope.
Woman Tennis courts?
Man Ah.
VO EuroMillions. Nicer problems to have. Games rules and procedures apply. Players must be 16 or over.
Credits
Client Camelot (EuroMillions)
Agency Abbott Mead Vickers BBDO
Writer Paul Burke
Creative partners Rob Messeter, Mike Crowe
Executive creative directors Alex Grieve, Adrian Rossi
Producer Paul Goodwin
Recording studio 750mph
Engineer Ben Gulvin
Could you do better? Enter your work at aerials.co.uk
Hear all the winning radio ads on the Aerials Hub
The Aerials are awarded monthly by Radiocentre to the creative team behind the best radio ads entered at aerials.co.uk and chosen by an invited creative-director judge.