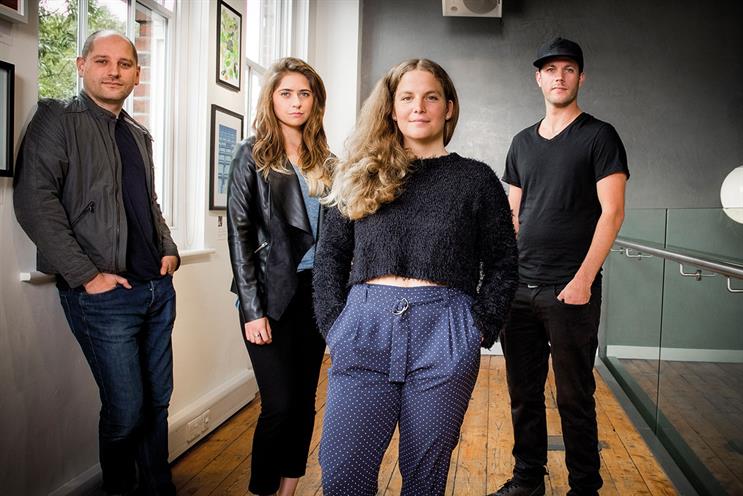 September's winners: Emmanuel Saint M'leux, Jessica Morris, Chloe Pope and Simon Pearse, creatives, Adam & Eve/DDB
Judge: Tom Ewart, founding partner and chief creative officer, The Corner
Winning ad: Harvey Nichols Beauty Lounge 'Car'
Tom Ewart, founding partner and chief creative officer, The Corner
I chose this ad because
I still remember my first Aerial Award, during the halcyon days of Abbott Mead Vickers BBDO, for a now defunct mobile brand called BT Cellnet. And I still remember the judge's comment (can't remember the judge though, sorry) was something about simplicity. So here we are, 17 years later, and history is repeating itself. "Car" is a beautifully simple little ad for The Harvey Nichols Beauty Lounge. A guy calls the police to report a woman stealing his car from outside his house, only to realise on closer inspection that it's actually his wife, unrecognisable after her manicure, pedicure and blow-dry. Job done.
My three golden rules for a great radio ad
Simplicity, because radio is all too often crammed full of everything, as if it's 30 seconds to fill rather than 30 seconds to sell. Simplicity always, always cuts through.
Craft, because it really does make a difference. The voice you choose, the mix you finesse, the sound effect you record because the library version doesn't cut it. It all matters.
Reward, because that's why I will keep listening. The chance of me wanting to buy the thing you're selling is slim, so the minute I know what it is, I'll switch off. Keep me interested, reward me with something smart/funny/surprising and I might reconsider. In fact, I'm thinking of popping into Harvey Nics on the way home to get my hair done.
Winning ad: Harvey Nichols Beauty Bar - 'Car'
SFX We hear a transcript between a man and an emergency services operator. The man sounds annoyed.
999 Emergency services.
Man Someone just stole our car.
999 OK, where was it stolen?
Man In front of the house. I saw the whole thing.
999 And did the person force entry?
Man She had keys.
999 She had keys? OK. Can you describe her for me?
Man Mid-thirties. Brunette. Really…nice… hair... .
999 Can you tell us anything else?
Man Yeah, she was wearing my wife's leather jacket. She loved that jacket.
Man Hold on… she's coming back.
999 It's alright. Just stay with me.
Man Sorry, she's trying to say something.
SFX We hear a car pulling up and a door slamming. In the background, we hear a woman's voice:
Woman I forgot my purse…
Man She says she's forgotten her purse. Oh hang on… whoops.
SFX (Hangs up, continuous beep tone.)
VO The new Harvey Nichols Beauty Lounge.
Now open in Knightsbridge.
Careful, they might not recognise you.
Credits
Agency Adam & Eve/DDB
Creative team Jessica Morris, Chloe Pope, Emmanuel Saint M'leux, Simon Pearse
Executive creative directors Ben Tollett, Richard Brim
Producer Kreepa Laxman
Post-production 750mph
Engineer Sam Ashwell
Could you do better? Enter your work at aerials.co.uk
Hear all the winning radio ads on the Aerials Hub
The Aerials are awarded monthly by Radiocentre to the creative team behind the best radio ads entered at aerials.co.uk and chosen by an invited creative-director judge.