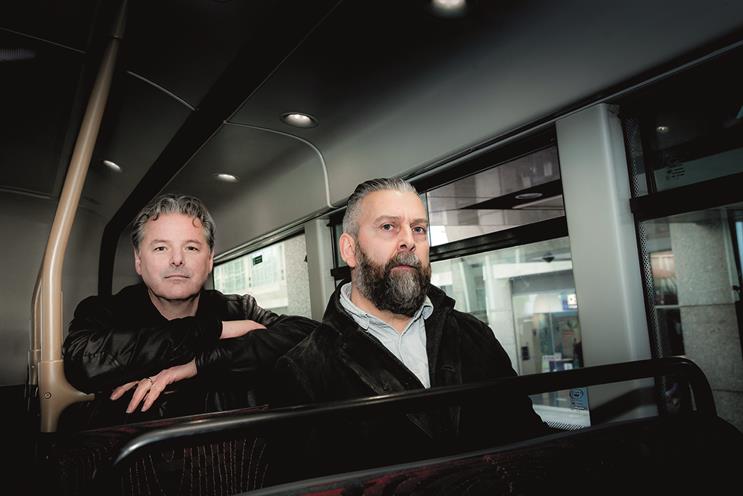 Winners: Huw Williams (left) and Gary Walker (right), VCCP
Judge: Matt Davis (below) executive creative director, Red Brick Road


I chose this ad because...
It's a moment to savour. You're in subterranean Soho, blood sugar high from complimentary mini chocolates. The sound designer leans back on the not-inexpensive chair, flicks some buttons, and aurally takes in 30 seconds of greatness.
A satisfied sound designer is music to my ears: they've brought to life a neat, underwritten script full of potential and imaginatively delivered a corker. Like this idea that buses, thanks to TfL, now run like clockwork: a true, nicely landed phrase, crying out for complementary and original sound.
Cue an anticipatory chin-scratch followed by the clever harnessing of effects, beats, tone, rhythm, ticks, tocks, bells and whistles into a taut bit of sound design that incorporates a chirpy-yet-not-too-cockney voice delivering a straightforward script. The sewing of sounds into a fun, simple and memorable radio ad.
How would you encourage creatives to 'See radio differently'?
Be in the right place at the right time
Do a forensic on your script. Is radio absolutely the best medium for it? If so, you've probably got something decent.
Reap the benefits of true expertise
Sweat the sound designer. Treat them like you would a director. They'll make a cake out of your ingredients and even put a cherry on top.
Make it fun for all involved
So what if a client wants to be at the recording? It doesn't matter if the script is good and signed off. Radio ads are fun, budge up and shut up.
Winning ad: TfL 'Bus performance'
SFX (Clocks, watches, ticking etc.)
Voice: Buses in your area are getting better. Not only are they more reliable, their journey times are also more consistent – which means, most of the time, if, for example, we say it'll take 15 minutes, it'll take 15 minutes. You could say, in your area, they're running like clockwork. So c'mon London, it's time to get back on the bus. Search TfL Journey Planner
Credits
Client TfL
Agency VCCP
Copywriters Gary Walker, Huw Williams
Creative directors Matt Lever, Hugh Todd
Producer Sydney McGauran
Facility house 750mph
Sound engineer Mike Bovill
Voice Ewan Bailey
Could you do better? Enter your work at aerials.co.uk
Hear all the winning radio ads on the Aerials Hub
The Aerials are awarded monthly by Radiocentre to the creative team behind the best work entered at aerials.co.uk and chosen by an invited creative-director judge.