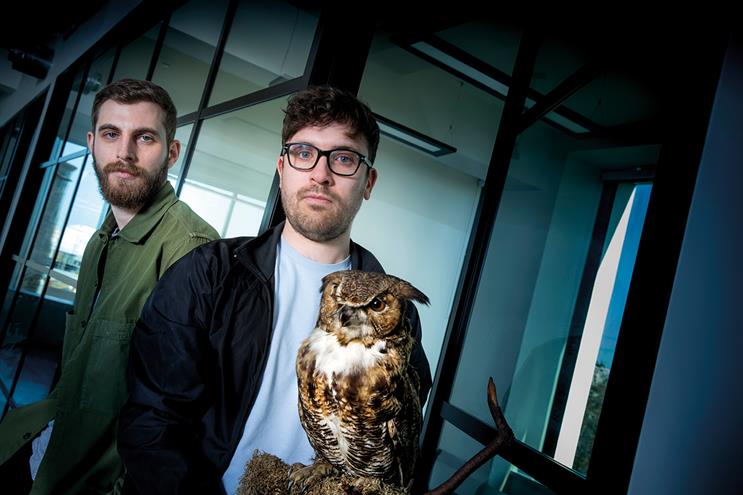 Winners: Ben Robinson (left) and Mike Whiteside (right), Anomaly
Judge: Rick Brim (below) executive creative director, Adam & Eve/DDB
I chose this ad because...
I used to work with someone who always delivered news with a smile. They irritated the shit out of me. It was fine for good news, but when it was bad, I would end up smiling… and thanking them?! But I was always a bit envious, because it worked: it diffused the situation.
How you say something is as important as what you say. So Virgin Trains is my winner this month. I struggled to pinpoint a specific script, as a number of ads from the campaign were entered, but I will go with "Owls" because – as with the others - the tone is memorable and I liked the writing, the voice, and the fact that the creative team tried to make each one feel specific (as opposed to writing the same thing five times and calling it a campaign).
It feels like these ads could have been a touch more fun, but they are great and definitely the best of this month's bunch.
How would you encourage creatives to 'See radio differently'?
Give it proper thought.
Don't see it as a non-brief.
Mess around with the medium.
Some of the best radio forms part of a broader piece of work and uses the medium in a smart and unexpected way.
Always order a salmon sashimi bento box in the session.
I'm not sure they exist outside the radio world and they're ace.
Winning ad: Virgin Trains 'Owls'
VO: Owls… they're everywhere in Leeds, aren't they? The gold one in the Civic Hall. Those little statues dotted around town. The coat of arms, the pub, you can't move for owls. But why are they here? They must have something wise to tell us. "Yes," they whisper wisely in their rich, owly voices. "Book your train tickets two weeks before and you will save many pounds." Mmm, wise words, owls of Leeds. "Also, try eating mice." Maybe I will.
SFX: Sax!
VO: Virgin Trains. Thousands of tickets from Leeds to London available from £22 each way two weeks before travel.
Credits
Client Virgin Trains
Copywriters Ben Robinson, Mike Whiteside
Creative director Craig Ainsley
Executive creative director Oli Beale
Producer Mich Bradfield
Facility house 750mph
Sound engineers James Cobbold, Mike Bovill
Voice Mike Wozniak
Could you do better? Enter your work at aerials.co.uk
Hear all the winning radio ads on the Aerials Hub
The Aerials are awarded monthly by Radiocentre to the creative team behind the best work entered at aerials.co.uk and chosen by an invited creative-director judge.