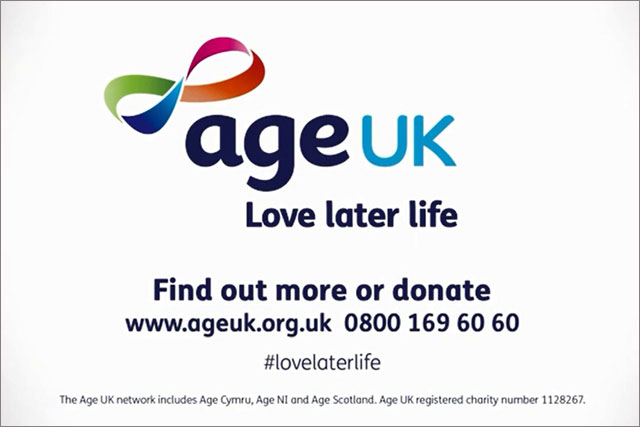 The campaign features a poem written by Roger McGough, with a 40-seond version read by actor Jonathan Pryce, and a 60-second version voiced by Christopher Lee.
The charity is replacing its "Improving later life" brand slogan with "Love later life". The marketing drive has also earned the endorsement of celebrities including Miriam Margolyes, Zoe Wannamaker, Sir Roger Moore, Barbara Windsor and Lionel Blair.
The ad, which was created by agency Karmarama, uses a series of moving portraits of people aged from childhood to 102, and will run for four weeks on TV, as well as in cinemas and across video-on-demand platforms.
McGough's poem stresses that "ageing isn't an illness, but a way of life" and aims to shatter preconceptions about growing older.
The ad concludes with the line: "Age UK is here to help with the challenges we face in later life. To find out more or donate, get in touch", with a call-to-action number.
The TV work is backed by social media activity encouraging consumers to engage in conversation with each other and Age UK on Facebook and Twitter using the hashtag #lovelaterlife.
Esther Jackson, Age UK's group marketing and fundraising director, said: "Through 'Love later life' we want to engage as many people as possible with Age UK and hope that our new, more positive and more ambitious approach will help us to encourage people of all ages to get involved and support the cause through volunteering, campaigning and fundraising with us."
Jackson said that the new branding was "critical to help us create more awareness and support for Age UK".