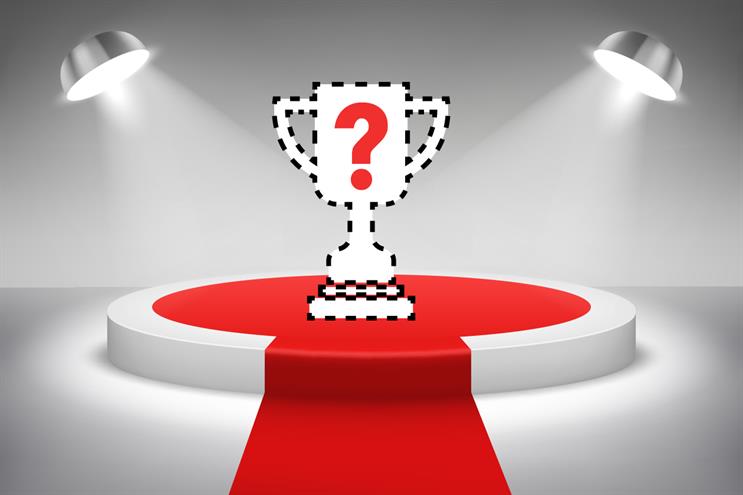 The 2016 awards show season has begun. Many agencies have said they are reducing the number of entries they submit this year, either across the board or by skipping some shows to focus on others. They say it's about the work, not the accolades.
The importance of industry awards is an old conversation, though the topic was reignited earlier this year by Amir Kassaei, chief creative officer of DDB Worldwide. In a column for Campaign, he said there would be "less work from DDB at some of the shows" in 2016. DDB didn't respond to requests for comment for this story, and only the awards shows know for sure who has entered, so it's hard to say whether that's actually happening. But other agencies are now saying that they're pulling back this year, as well.
A tighter focus
Tony Granger, global chief creative officer at WPP's Y&R, said his agency was "resisting the impulse to enter everywhere and everything." Instead, this year, Y&R is focusing on the most important shows. "Cannes and Effies are always going to be a big focus because our clients and the industry all come together there," he said, But "the enormous proliferation of new shows, local shows, and spin-off shows" had simply become too much, and the agency has felt the need to pull back.
However, Granger acknowledged the value of smaller shows for particular locations. "The aim is for our agencies to be number one in their markets, so they enter whatever leads them to that goal, and there are clearly different paths -- some local shows, some regional ones."
Droga5 is also being more selective. The agency didn't submit any entries to the Andy Awards this year, despite winning the Grandy in 2014 for the communal sharing platform Thunderclap, the same year David Droga chaired the awards. Instead, Droga5 is focusing on other shows.
"There are just a huge number of things to enter," said Ted Royer, chief creative officer, speaking at a panel discussion last month about what to expect this year at Cannes. "We can't enter them all, so we have to be incredibly choosy, and Cannes is certainly one of the ones we will always support." He noted he is on the board of the One Club and that the agency would continue to enter the One Show.
WPP's Ogilvy & Mather is taking a more comprehensive approach, saying it is cutting awards entries across the board — including at Cannes--despite winning the Cannes Lion for Network of the Year each of the last four years. "The costs of entering have become prohibitively expensive," said Tham Khai Meng, co-chairman and worldwide chief creative officer. "We are scaling back on our award show entries, including Cannes." When asked to elaborate, Tham declined to quantify what the reduction meant in terms of dollars or actual submissions.
Holding steady
But despite what the agencies say, the awards shows themselves — at least those who will discuss it — report no decline in submissions. Kevin Swanepoel, CEO of the One Club, the nonprofit group that hosts the One Show, said his organization hasn't experienced any drop in entries for 2016.
"We've heard some grousing in the industry about the proliferation of and an over-reliance on awards," he said. Yet the show has "held steady at about 20,000 entries, making us one of the largest awards shows in our industry." The One Show's reputation prevents agencies from pulling out, speculated Swanepoel.
That feeling of indispensableness seems common among the more prestigious awards shows. "There are so many awards out there that agencies are asking themselves, 'Okay, we will have to prioritize where we enter,'" said Neal Davies, CEO of Effie Worldwide. "Within the plethora of creative awards that are out there, that tends to narrow the field quite quickly, and the Cannes Lions seems to be the area that people focus on. Within the areas of effectiveness, there's kind of really only us. When people do start to prioritize, we tend to be on that shortlist."
Though he wouldn't share specific numbers, he did say, "Over the last few years, we've seen entries increase in virtually all programs that we've run around the world."
"The ANDYs is committed to spurring the idea that creativity and bravery in advertising are always meant to evolve, which is why we tend to see recurring and new entrants each year from agencies who want to beat out not only the best creative from other agencies, but also their own work from previous years," said Gina Grillo, president and CEO of The AD Club of NY. Representatives from the Cannes Lions declined to comment.
The other hand
If some agencies are cutting back on entries, that might just mean fewer hats in the ring for the biggest awards. Certainly, not every agency or network is reducing their representation at shows. OMD entries at Cannes are up 30% this year, and a spokeswoman for the agency said they aren't cutting back at any other shows.
Neither is BBDO. "We enter every year whatever we think is good, and that's what we're doing this year," said David Lubars, chairman and chief creative officer.
He cited awards shows as a draw for clients, as well. "They're here for creative. So they like to see that their creative has some sizzle and it pops out from the mass, and this is one way to see," he said. "If you look at most of our awards, it's for big, complicated clients with big, complicated problems."
As for determining which shows and categories to enter, Lubars says he leaves much of the decision making to his creative directors, but the overall strategy is relatively simple. "We just enter everything and let the chips fall where they may."
Other agencies are more calculated in their approach. "If you look across the shows, you start to see trends and spikes of which work is performing," said Chloe Gottlieb, executive creative director at R/GA U.S., at the Cannes panel. "If you were doing this in a smart way, an efficient way, you would see which work over the season you should continue to enter versus not enter."
Whatever a particular agency's plan for the awards season, it's apparent that the entire enterprise is far more complicated than just making work that deserves to win awards. "There's a whole science to it," Gottlieb said. "It's like fantasy sports."