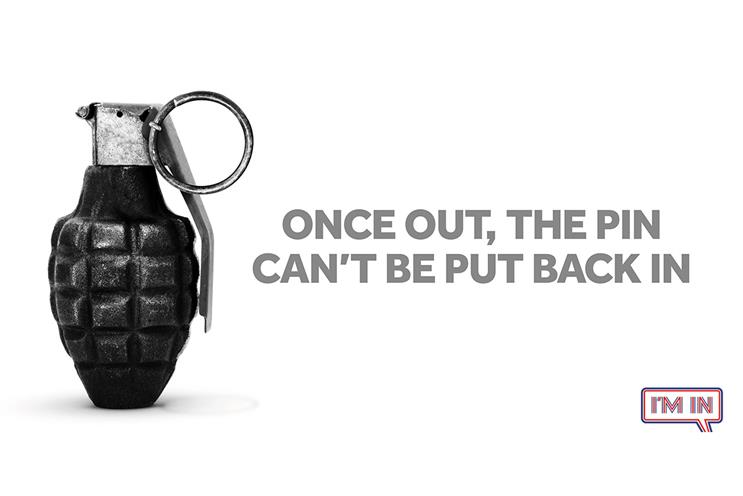 As the country begins to process the effects of last Thursday's decision to quit the European Union, there's consensus that Stronger In and its agency partners failed to create a compelling and cohesive communications campaign. So what went wrong?
After all, Stronger In had some of the country's best creatives and strategists to hand, working with agencies including Adam & Eve/DDB, M&C Saatchi and Saatchi & Saatchi, and WPP creatives such as John O'Keeffe. There was no shortage of advertising talent around the table.
All of the agencies involved that have commented – mostly off the record – for this piece insist they are not passing the buck for the failure of the campaign. But a clear picture emerges of an ineffectual, unfocused and strategically barren process led by a disjointed committee of cross-party middleweights. But more of that later.
Perhaps the agencies involved didn't have enough good, big ideas. Judge for yourself: several agencies involved have shared some of the executions that were rejected. "We never normally release work that we produced on behalf of a client but that hasn't run," Moray MacLennan, worldwide chief executive of M&C Saatchi, says. "But this time is different. We are still emotionally engaged, the issue is – and will remain – of vital importance and it might help to air some of these ideas."
Unapproved work for Britain Stronger in Europe, created by O'Keeffe
Certainly, the whole campaigning machine was against them. For starters, there was no definitive lead agency until M&C Saatchi was appointed in early May. Then, every Friday, the Stronger In communications committee would visit each ally agency in turn looking for ideas. The result was a series of disjointed executions, many of which were approved and then pulled at the eleventh hour.
But, without doubt, one of the key problems was that the Remain camp was determined to take a negative stance. MacLennan says his agency was clear on the need for a positive message. "We said don't try to cower people into submission – encourage them to see the positives," he insists. "We came up with a strategy based around 'Don't leave it, lead it' but they didn't run with it."
James Murphy, chief executive of Adam & Eve/DDB, says his agency had also wanted to focus on positive messaging, presenting Remain as offering the best of both worlds (inside the EU but with special status): "But that didn't fit with the prevailing feeling in the camp that the Scottish referrendum and the general election had been won by emphasising risk."
So counter to the agencies' recommendations, Project Fear became the linchpin of what was a confused and disparate strategy. While the Leave campaigners were able to talk up all the good things about quitting the EU, Stronger In's agenda was almost unrelentingly negative and undynamic.
Unapproved work for Britain Stronger in Europe, created by Saatchi & Saatchi
Murphy adds that "the public mood was that too much of the Remain campaigning was based around statistics that were either boring, baffling or unbelievable". Moreover, Murphy believes Stronger In lacked clear focus. "If you want to have a memorable message when there's so much background noise, you need to be brutally focused and simple," he says. "The Leave camp had a consistent approach and a consistent articulation around sovereignty and immigration."
It didn't help that there were too many voices in the Stronger In camp. One agency chief says that when they first began discussing tactics, there were four key decision-makers from Stronger In around the table. "By the end, there were 24. To say there were too many cooks is an understatement," he says. "What's more, none of them were senior decision-makers."
"We didn't deal with the client on this," MacLennan agrees. "At no point did we deal with the senior politicians. Instead, we were dealing with a cross-party committee and it was desperately frustrating. It was a structure doomed to failure."
Another agency executive adds: "Some of the Stronger In task force were recently unemployed Liberal Democrat policy wonks and New Labour heavyweights who'd been sidelined by Jeremy Corbyn. They basically had nothing to do but throw themselves into interfering with the campaign." The result, according to one creative involved, was "too many opinions. It was a complete clusterfuck."
And while the Leave camp was relatively united across parties, Stronger In was very uneasy about collaborating. "It was like student-union politics," according to one agency chief. "The Labour politicians were queasy about working with the Tories and the Tories were reluctant to endorse blue-on-blue bashing – so any ideas we had that involved attacking senior members of the Tory party were nuked."
Crucially, though, "a lot of the politicians have very little respect for the craft of strategy and campaigning. They are high on ego and low on listening," another agency source says. "We were lions led by donkeys."
Strong – perhaps defensive – words. But it's a view corroborated by one of the agency strategists involved, who explains: "We were simply called upon to provide creative window-dressing, not political strategy. And because Stronger In had no political strategy, we had nothing to say. Of course we struggled to get our message across, because the real art is working out the message in the first place and we weren't allowed to help with that." For example: "They knew voter turnout among young people would be a problem but they didn't ask us to help solve that problem, so we were left drawing posters." And: "They had no creative nerve. Whenever we tried to take the gloves off, we were told to calm things down." So agencies were crippled from contributing at any meaningful level.
One agency strategist sums it up bitterly: "It was like the worst client relationship – dealing with un-unified people who weren't really in the driving seat, not being allowed to help shape strategy, only colour in pictures. It's bad enough when a brand's fortunes are at stake; it's disastrous when it's the country's future."
Lessons for marketers from the debacle
By Richard Huntington, chief strategy officer, Saatchi & Saatchi London
1. Ask your agencies to solve your problem rather than deliver creative ideas to your solution.
2. Be prepared to do what it will take to achieve your objective and nothing less.
3. Social media is a powerful force but it's now part of the paid media armoury – meaningful success isn't cheap.
4. Don't let your passion, well-founded though it is, take the place of solving the problem at hand.
5. Successful marketing, by definition, doesn't work on precedent.