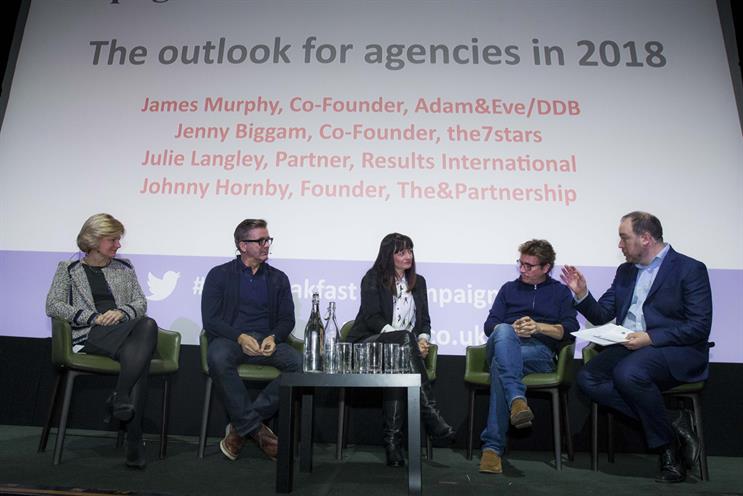 "We need to be more bolshy about our value, so we can win business and pay talent properly," James Murphy, co-founder of Adam&EveDDB, said.
He was joined by Johnny Hornby, founder of The&Partnership, and Jenny Biggam, co-founder of media agency The7Stars, in a discussion about the challenges their agencies are currently facing.
Fortunately, there are signs that clients are now looking for value rather than the lowest price, he continued. "We don't win pitches because our price is better but because our thinking is more insightful and about long-term ideas. If we can keep that energy, enthusiasm and momentum, we will prevail."
Media agencies too are starting to be valued for strategy, Biggam said. "In the last six months we've seen new business pitch briefs emphasise a move away from a race to the bottom on price. Advertisers now feel they've been hoodwinked into that vicious circle and are rethinking the value and service agencies can bring."
The panel was asked by the moderator, Campaign's head of media Gideon Spanier, for their thoughts about the encroachment of management consultancies into the "heartland" of advertising and marketing.
This followed a presentation on the changing character of mergers and acquisitions over the past three years by the fourth panel member, Julia Langley, a partner at M&A advisor Results International.
"In the past year the consultancies have made 33 acquisitions in the advertising and marketing space," Langley said. "They are acquiring some of the largest independent agencies out there in the digital and creative space. While the agency group acquisitions were higher at 88 deals, don't let that fool you. The consultancy deals are larger."
Acknowledging the threat from consultancies, Hornby said that agencies risk losing out on business if they don't grow as rapidly and if they don't develop the skills needed to help clients navigate data transformation,
"The biggest threat to us this year was during a re-pitch for a client in Canada. We were up against Deloitte and I believe they kept us on because, emotionally, the client wanted to work with us. [That came despite] Deloitte offering to give them what we do for free as part of its work on a big four-year transformation programme," Hornby said.
Consultancies are making headway because when a bank like HSBC, for example, is challenged by fintech start-ups, they're not interested in an ad campaign or changing how they buy media, said Langley.
"They want to know how to change all their systems processes so customer experience with the bank is seamless. About 80% of that is a UX project and that's where Accenture and Deloitte come in," she said.
But, any business that's just giving a service away won't be investing significantly in it, Murphy argued. "That is our mid-term advantage," he said.
The consultancies are not just competing for clients, but also for key talent, said panellists.
"People go to [work for] these consultancies and digital giants like Facebook not for £5,000 more but for a staggering amount more," Hornby said. "Maintaining talent in this industry is a growing challenge."
"Agencies have to focus on affording the best talent on the market," Biggam said, "and keeping them in the industry with culture and passion."
Culture does make a difference, according to Langley. "We work with agencies and the common thread among the most successful is always culture. More responsibility, opportunities, time-off, flexible working ... putting culture right up there is fundamental," she said.
It's time for creatives to own up to taking what they do personally, Nils Leonard, founder of Uncommon, said in the day's opening talk.
"You have to take it personally, because it's your life, it's every day of your life. It's all your energy. It has to come from somewhere. I want us to feel more panicked because we are our most creative when we are in the shit."