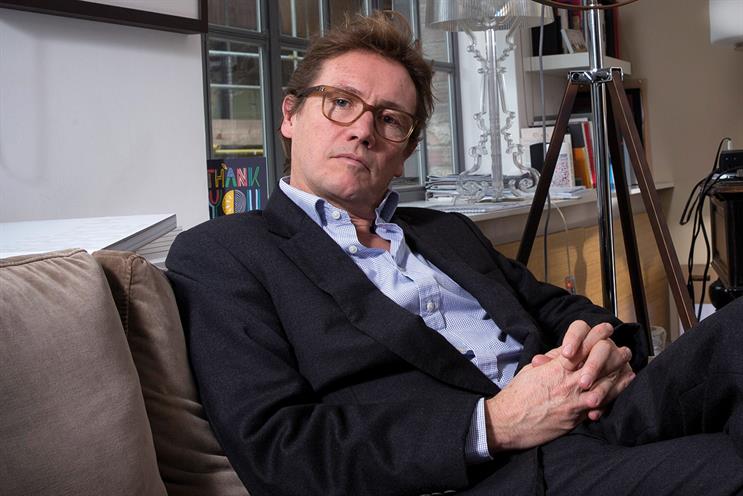 If Campaign's experience was anything to go by, the direct response ad in last weekend's Sunday Times for The & Partnership might not have wholly achieved its initial aim.
Entitled "Rip it up & start again" the print ad (see below) explained that while people were questioning the value of the old agency network model, The & Partnership was doing things differently.
The ad went on to list its successes, how its model worked and invited readers to call or email agency founder Johnny Hornby to find out more. Campaign's call to his mobile went straight to voicemail.
Nonetheless the central premise of a quarter-page ad seemed largely correct. Questions are being asked over the old agency network model, largely as a result of a fall in WPP's share price that has – to a certain degree – acted as a contagion and may or may not have contributed to the downfall of Sir Martin Sorrell.
The fact that WPP owns just under 50% of The & Partnership is neither here nor there given that the latter's model – where it embeds teams within its clients and offers multiple services with a single P&L – is its point of difference. Equally, it was refreshing to see an agency practise what it preaches by advertising its services.
While the ROI of this particular ad is not yet known, credit is due for it acknowledging the power of advertising. But, given that the industry is based on this very simple premise, why do so few agencies advertise themselves?
Dame Cilla Snowball
Group chairman and group chief executive, Abbott Mead Vickers BBDO
We're taking a collective industry rather than individual agency approach to advertising at the moment, in a collective push through the Advertising Association. With Brexit approaching, the case for the industry's economic, creative and talent contribution needs to be urgently and carefully co-ordinated. Karen Fraser et al are doing a great job for us all at the AA at a crucial moment.
Agencies have tended to promote their own brands to prospects through highly targeted, direct B2B ad activity rather than mass campaigns. The best advertisement for any agency is, after all, great work and happy clients. Agency house ads are a rarity these days – certainly corporate ads. They have historically run in the trade press, been tactical in nature and tongue-in-cheek in tone. Back in the day at AMV's launch in 1977 our founders' house ad carried the plucky headline "Watch out Colletts, we're only £34m behind you". I'm personally in favour of a model whereby we big up the industry collectively while competing hard for share individually. Dissing the industry and holding companies benefits no one.
Mat Goff
Joint chief executive, Adam & Eve/DDB
An agency's most potent calling card should always be the work it makes for its clients. Your creative output (alongside creative and effectiveness awards) should speak for itself. It should certainly speak loud enough to get noticed by the relatively small pool of decision-makers potentially looking to move their business. With agency models changing, some may feel the need to explain their new offering or reach out to new kinds of businesses in new channels, but I think it will take a more exciting combination of media and creative than this particular example to get that phone ringing.
Kate Bosomworth
Chief marketing officer, M&C Saatchi
It's good to see other agencies advertising in the national media; indeed we have too and there is no reason why we wouldn't consider doing this again.
Great agencies stand out through the quality, effectiveness and impact of their work. Many rely on this and awards to do the talking for them, but if you were to reframe the question slightly – "If advertising agencies believe in brand advertising why don't they do it more often?" – then it would probably be because very few advertising agencies have a strong sense of brand equity. I can count on one hand those that do.
In turn, agencies with strong brand equity are more likely to be independent, which is becoming a critical factor at this time in our industry – the holding company structure can dilute brand equity.
However, there are many ways of driving your business forward and if this works, then why not. We don't need to just play in our own backyard and talk to our own neighbours, do we?
Jo Sutherland
Chief executive, Carat
I'd suggest that great agencies do great marketing, they just do it in a smart way and spend their energy and their money precisely where it matters most.
So for us at Carat, reputation is built on the strength of the work we do for our clients. We invest our marketing energy and money talking to potential clients. We focus on thought leadership pieces, awards, industry press, supporting the IPA, conference appearances etc.
We care deeply about what our industry thinks of us but there is no need to advertise our wares to the general public. We have no desire to make a 30-second ad to run on broadcast TV but we want to win IPA Effectiveness Awards for our clients. We have a strong POV about the future of advertising or what's happening with Facebook and will happily voice our opinion to the people who care. Google "best media agency" and there we are. Turn on Love Island on Monday and you will see our clients being advertised but not us – and that's the way it should be. We spend our own marketing money as carefully as we spend our clients'.
Stephen Woodford
Chief executive, The Advertising Association
While the ad in question highlights some of our industry's challenges, it also highlights the unsurpassed power of advertising to transform a business. Advertising is a powerful engine of company growth, innovation and a successful economy and a demonstrable force for good. It is also a UK industry, which leads the world. The more we can do to promote this power of advertising, both together and as individual businesses, the more we can help our future prospects as a country, providing growth, exports, jobs and a diverse and plural media landscape with rich, creative content.
Johnny Hornby
Founder, The & Partnership
Bill Bernbach used to tell us nothing kills a bad product faster than good advertising. I'm not suggesting the reason agencies so rarely advertise is that they're all out there selling bad products – but I do think a product with a particularly differentiated offer and clear USPs is worth advertising – and that's what we have in our '&Model'.
Today's advertising market is very different to what it was three years ago – and today trying to sell creative deployment as separate from media and data is looking increasingly antiquated, and far too slow.
Creating bespoke agencies for clients on-site seemed radical when we started. Now it's moving toward the mainstream – and our five-year track record of doing it well for big companies and brands across Europe, the US and Canada is a story worth telling.
We've seen our &Model proposition drive significant growth for us and our clients, and it's proven as interesting to chief executives and chief financial officers as to agencies' usual target market of chief marketing officers. Hence our decision to go out to a pool of key business decision-makers via The Sunday Times.