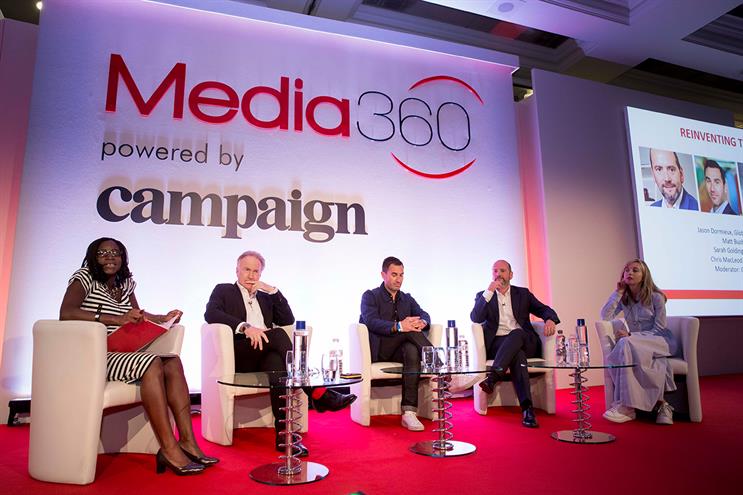 "Changes are constant and every business right now is looking at how to reinvent itself," said Wavemaker's chief transformation officer Jason Dormieux at Media360.

Agencies are facing immense pressure – to transform and deliver more value for clients. Is reinventing the agency model the answer? If so, how? What does transformation look like?

These questions underpinned a lively debate hosted by Campaign's deputy editor Gemma Charles, in partnership with Wavemaker.

The industry needs to… move faster
The pace of business in agency world is too slow and analogue according to Sarah Golding, CEO and partner at The&Partnership: "The industry isn't creating the work the world is talking about anymore."

Google's director of UK agency sales Matt Bush argues the increasing pressures on agencies to evolve is the way business is now: "You've got to be constantly reinventing the agency model, it's not a choice – you've got to do it. We do it – to keep up with the competition.
"The questions asked and challenges we face are different to five years ago. We've evolved. All agencies are talking about change – it needs to be accelerated dramatically. This means you have got real competition for the first time: consultancies coming in at a rapid pace and specialist agencies – some are fantastic and doing one or two things really well."
Dormieux believes his agency has the chance to lead this transformation: "What started with a blank sheet of paper for Wavemaker, has given us the opportunity to ask the question: what does the agency of the future look like?"
The industry needs to… focus on talent
One of the key questions Wavemaker is trying to answer is how can teams and talent – within the organisation and holding company – work more effectively together, according to Dormieux: "I'm a big believer that we can create collaborative, full-service behaviour."

Bush agrees talent is both vitally important to driving transformation – and a big challenge: "The agencies that are most successful are the ones really focused on data, tech and creativity. And that comes down to talent. The challenge at the moment is getting the right talent into agencies then retaining them. We need to find the right people to fill the skill."

The industry needs to… nail the product
Chris McLeod, marketing director at Transport for London questioned what change in agency world actually looks like: "Transformative change would be great but a lot of businesses are looking at incremental change. There are transformative challenges but a lot of marketing activity is incremental. So how do you convert incremental change into the real, transformative change you're talking about?"


Bush had a solution: "Data can power all the stuff we're talking about. It's good to have external partners to unlock the value of data insights to discover this is what consumers are thinking, feeling, doing on a daily basis."

Dormieux believes the industry should focus less on the agency model and more on product services within the agency: "We spent an awful lot of time thinking about what our offer needed to be – and we don't consider ourselves to be just a media agency – we're media, content and technology. We identified the need to have talent and capabilities at scale. My job is to make sure the plan we've developed happens, globally."

The industry needs to… be versatile
Golding believes the winning agency model will approach every client differently: "At The&Partnership we don't have a plug-and-play we put into every client. We build bespoke teams and models because businesses have different needs."

She explained that having staff work in-house in client offices is yielding great results and is an example of one of the ways the agency is adapting to a faster pace of change.

McLeod described this approach as 'encouraging' but called for more dynamism and innovation in moving the agency model forward.

The industry needs to… fixate on value, not price
"Clients use agencies to do things they can't do themselves," said McLeod. He explained that there are some good agencies and some bad agencies, the good ones add value and have a right to exist. "We don't deserve a place in the value chain unless we add value," agreed Dormieux.

Clients are asking agencies to answer big questions, according to Golding: "They want to know how to use data and tech better to transform their business, or they want to know how to stretch their budget, or increase efficiency or effectiveness – we need to be equipped to answer these big questions."

The industry needs to… be optimistic
There are certainly challenges for the agency world but there is plenty of opportunity and optimism, according to the panel.
Bush said he is "bullish" about the future of agencies but we have reached tipping point. "More decisions and changes need to be made".
"You've got to be positive – but we live in VUCA [volatile, uncertain, complex and ambiguous] time – and there are some real issues that people are grappling with," said McLeod.
Dormieux ended with an up-beat note. "I'm hopeful," he said.