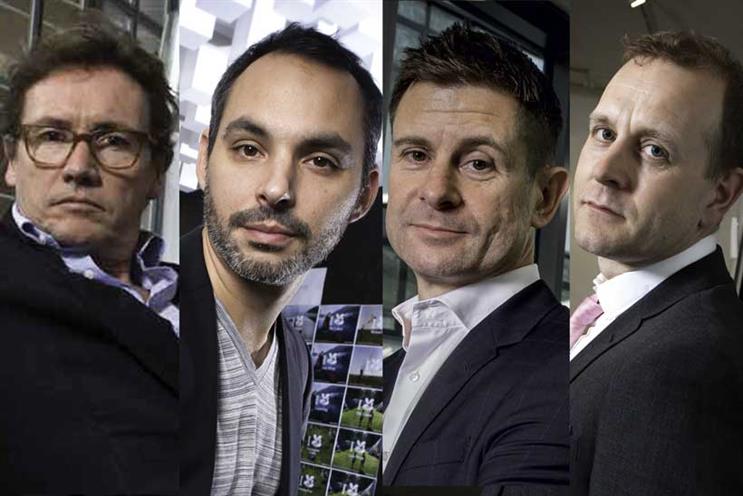 Johnny Hornby
Founder, The & Partnership
---
Given the ruthless winds of change blowing through our clients' industries and the radical ways they are reshaping their businesses as a result, why hasn't change in our own agency world gone further, faster? I expect to see things really accelerate in 2017, with the new-model agency a prevailing theme.
Change will be driven primarily by content and cost.
Content because clients will ask their agencies to embrace not just programmatic media but programmatic marketing; the targeted, tailored content they'll have us produce at scale will demand a different creative mindset and system for delivery.
Cost because, post-Brexit, currency and economic challenges will force procurement departments to find deeper cuts, with agencies one of the first places they'll look. The scale of savings sought will make a new way of doing things more appealing than yet another debilitating pruning of the old one.
Ironically, this new way of doing things will bear some hallmarks of a very old one: the full-service agency. Content creators working directly with media teams, now in the same physical space as analytics and tech experts too. It's this collabo-ration that will deliver the dynamic new creative needed, as well as the efficiencies required.
"Economic challenges will force procurement departments to find deeper cuts, with agencies one of the first places they'll look"
Efficiency will also come from being sited nearer, often embedded within, the client's marketing department. A fair share of tomorrow's marketing budgets will be handled by one joined-up client/agency team – without the ponderous bureaucracy of years gone by, and all in real time.
Data will become a critical centre of gravity for these new entities. Too much of today's online content is "blind"; the same seemed-like-a-good-idea-at-the-time work that research and effectiveness awards set out to eradicate in the old world of advertising. Data-driven communication, where we truly understand what's driving ROI, will make us more convincing in those procurement conversations. As data improves promotional efficacy, it will create the budget for the great brand storytelling we all believe in – the Lexus "hoverboards" that still bring home the Lions.
The years we have all spent establishing the power of a potent big idea, brought to life with real creativity, won't be rolled back by the need for agencies to reinvent themselves and get agile. The coming together of maths men and tech geeks with craftsmen and storytellers simply allows the former to better prove – rather than just assert – the value of the latter.
I am not suggesting The & Partnership has fully cracked the code for this modus operandi, but our clients TalkTalk, News UK, The Wall Street Journal and Toyota are increasingly living examples of the new model – albeit each is constructed slightly differently and there's always more to learn.
I am convinced that this change won't just be this year's and next year's fashion, though – it's here to stay. Consumers are driving it, technology is enabling it, clients are demanding it. It's up to us agencies to come to terms with it.
Jonathan Trimble
Chief executive, 18 Feet & Rising
---
Recently, we were debating which was best in current times: the tyranny of the few or the wisdom of the many. Leadership is so important. As a leader,
it's important to look beyond what people want and offer them something better. Take things beyond the status quo, the current dogma; see things others can't and shape the world around those visions. So the tyranny of the few was in the lead. But, given the events of last year, our gut instincts tell us that "the wisdom of the many" may have a point.
A cohort of people will view 2016 as a bad year – let's not go over it. But, for the vast majority, nothing has changed. There is no more or less opportunity. And there's certainly not enough hope – another constant of this decade despite many efforts to restore it. So the conclusion is this: there wasn't enough change in 2016. This happened because, for some time, we've not been listening.
It's the consequence of a world where the tramlines of constant economic growth have been squiffy for well over a decade. This has made it difficult to invest in our people and reap their inspiration. The consequences range from the scandals at the top among brands and agencies to highly creative but constantly exhausted and uninspired workforces. And let's not forget the nagging meta narrative that machine code is replacing flesh and blood.
"There wasn't enough change in 2016. This happened because, for some time, we've not been listening"
So the "disruptive" model I have in mind is back to people as the model. It's scarce and scarcity has value. For instance, B-Corporation, which we at 18 Feet & Rising have embraced, is one of the most researched and progressive sets of standards around how business can positively impact the world. But it's just one idea. At its heart is not just "be good in the world" but the concept of interdependence. That we rely on each other to go forward.
This is not a philosophical point, it's nature. Put that as a directive at the heart of an organisation, or any system, and I think we're going to get to a very positive and productive outlook. It's what great people-based companies have always done. In this automated age, people seem variable, emotional and slow. But if we believe that, that's what we're going to get. So 2017 is the time to overinvest in the power of human potential – in our people – and here's to some seriously big creative outcomes as a result.
Simon Martin
Chief executive, Oliver UK
---
I find it interesting how often I hear business leaders proclaim we are "this" or "that". Or "we must decide what we want to be and stick to it". There is an operational justification for such clarity of thought, but not so much a strategic one.
Business models should continuously adapt and evolve. To sustain success, they have to respond to the vagaries of the market. The market is made by the needs of the consumer and the activities of suppliers. In the world of marketing services, clients' needs are changing faster than ever. How fast are the activities of suppliers changing to meet these dynamic demands?
In a market as large, diverse and unstable as our own, there are plenty of opportunities for new operating models. There are also reasonably low barriers to entry and to change. Advancements in technology, information and education are making it easier for ambitious start-ups to rupture the status quo with radical new ideas.
"Agencies need to take heed: if there's a problem that you're not currently solving for your client, somebody else will"
And it's important to remember that the content trend – consumers shedding their loyalty to a brand and basing buying decisions on their own research – applies to businesses just as it applies to consumers. And so agencies need to take heed: if there's a problem that you're not currently solving for your client, somebody else will.
For the brave, and for those willing to disrupt their past success, there has never been more opportunity for inventing and implementing a new model. The idea should be founded in a genuine understanding of the client, combined with an imaginative approach to differentiation. Oliver's success over the past 12 years has been built on this kind of thinking; and although our basic model is the same, it has evolved substantially since we started out to respond and adapt to clients' needs.
Whatever the model, all agencies are going to need to cater for less loyal, better-informed clients who are increasingly inclined to jump ship if their agency isn't showing value. Whatever industry you operate in as an agency, you need to be actively thinking about how you can better prove yourself to your client through accurate reporting and closer working.
So while it's critical that agencies strive to deliver better, faster work to meet their clients' advertising needs, they also need to translate this thinking into their own way of working and become just as agile and adaptive themselves.
Chris Hirst
Chief executive, UK and Europe, Havas
---
A cynic may say the new model looks suspiciously like the old but, in 2017, nothing could be further from the truth. To survive and thrive, agencies must stay resolutely true to their raison d'être but prepare to challenge everything they previously knew in delivering it.
Agencies exist to help their clients solve problems. As the marketing landscape becomes more complicated, so has the agency world. In 2017, we will see increasing numbers of clients looking for hugely simplified, one-stop solutions where single agency teams deliver all – or the large part – of their needs. Technology will increasingly be used to add scale and reach.
To deliver client-side simplicity, agencies will need multiple capabilities in single locations under single P&Ls. Agency organisational structures will be broken down to build bespoke, continuously evolving teams around the ever-changing requirements of individual clients. Agency structures will be less organogram-like, more Play-Doh-like. Agency teams will continuously change shape to simultaneously deliver results for the client and maintain profitability for the agency.
"Agencies will become geekier, nerdier and more curious. Swaggering alphas (male or female) will become a liability"
The best businesses will make big strides in gender, ethnic and social diversity. And they will, at least in part, be the best because they have. And, to be clear, that is more non-white, non-male, non-posh university people at the very top of the agency.
Agencies will become geekier, nerdier and more curious. Swaggering alphas (male or female) will become a liability in organisations that need to be nimble, de-centralised and learn fast. Agencies will need to cultivate real learning cultures where a premium is placed on those who are naturally curious and willing to learn.
Agencies exist to deliver sales results. Our model is under threat as increasing numbers of gimlet-eyed new entrants, from Google to PwC, compete on our turf. We can't any longer simply say creativity sells. We have to bake effectiveness into our culture and show that it matters more to us than our shiny, funny-shaped awards. We must also recognise the changing face and role of creativity in our businesses.
The flirtatious dance between brands, entertainment properties and tech will come closer to consummation. The prize is huge and the barriers significant, but the best at all of the above will be trying hard to get this right this year. To do so may challenge most aspects of our existing model, but it may also be the future of our industry.
And I haven't even mentioned data yet…
Johnny Hornby, Jonathan Trimble, Simon Martin & Chris Hirst recommends
Read more